This post is part of an interview series in which I ask fellow bloggers and noteworthy people ten questions about themselves, their work, and their top advice for those living a whole foods, plant-based lifestyle. Are you a business or brand who's doing cool things and interested in being interviewed? Please contact me to chat further.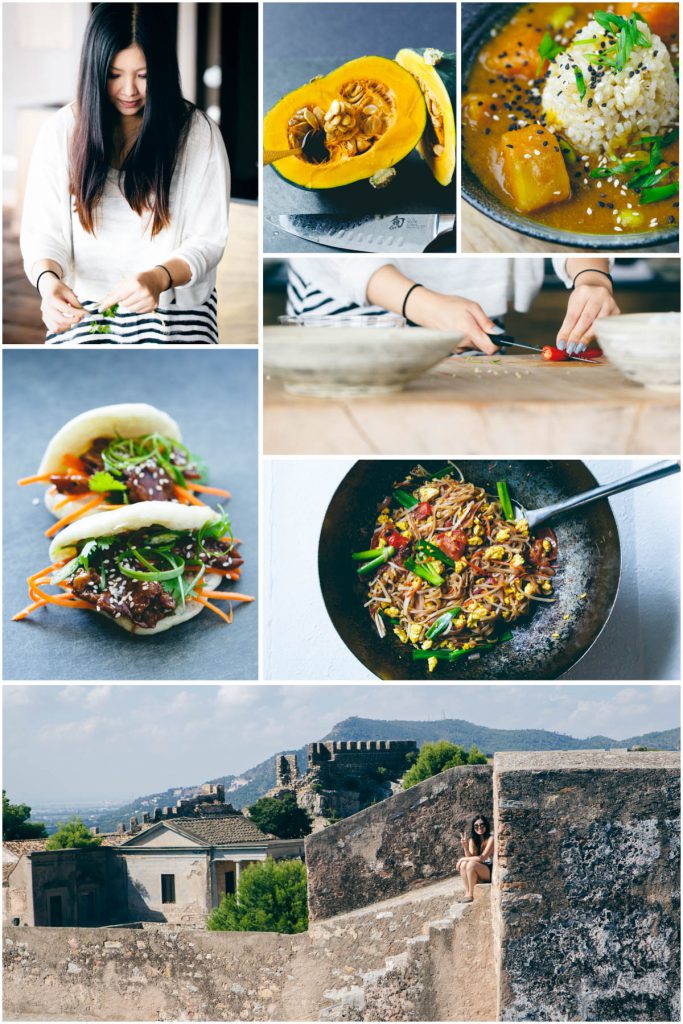 All photography courtesy of Vegan Miam
You know those blogs you stumble upon once in a blue moon that transport you to another place through their beauty and storytelling? Vegan Miam is that blog for me.
Rika runs this gorgeous food and travel blog with her partner, Doni, and together, they make one very talented team. Rika's posts will have you lusting to travel, wanting to experience new cultures and environments, and then taking that inspiration back to the kitchen to make truly creative vegan feasts.
Her interview is a particularly insightful and interesting one (see #2 for Rika's insider travel tips and #6 for who she would be if she were asked to choose another person), and she also offers some great advice for new bloggers, including helpful photography pointers (see #4).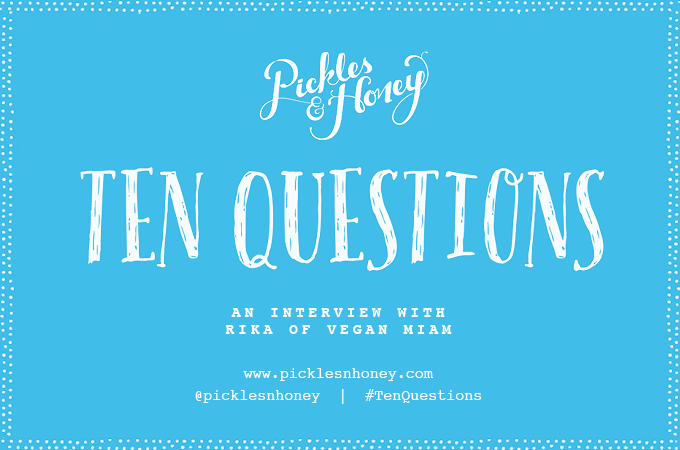 1.  What is your food philosophy?
My lifelong partner Doni and I travel with the hope of finding new influences, inspirations and motivations for what we do. Every experience from our travels influences me in the kitchen, so I see Vegan Miam as being very fluid. We aren't just one thing, this isn't just comfort food or Asian food or American food, our tastes and influences are ever-evolving and that's something I strive for.
My food philosophy could be summarized by a word – Fresh. I strive for fresh ideas using fresh ingredients, and I'm often inspired by fresh surroundings.
2.  If you could give one piece of advice to new vegans, what would it be?
Personally, given our experience and what we often hear from people it can be hard for many new vegans when they are out of their element – away from their personal kitchen or familiar restaurants. When you travel, it doesn't need to be difficult but one must prepare.
Always contact your hotel/resort in advance about dining options, most of them can accommodate you or even treat you well with a nice vegan breakfast.
If you are staying at an apartment or via Airbnb, make sure you have a list of common grocery stores (just google grocery in different languages + name of city) and health food shops nearby to pick up some food. After a long flight the easiest thing to do is usually find a grocery store to get some snacks or easy meals while you're still getting your bearings in this new locale. We often find that restaurants don't make the most practical first meals upon arrival since the hours may vary and navigating a new city when you're hungry is a surefire way to get frustrated, stressed or cranky.
Happy Cow is a good resource to find vegan food, but I would not recommend relying on them too much since their maps, addresses and hours are often incorrect. It's a good reference and starting point though. Always double check with additional sources such as local vegan/vegetarian forums, blogs and directories. For instance, one day we walked to three restaurants in Buenos Aires that were listed on Happy Cow and they were all closed – bummer. It's always good to have a backup in mind and just pay attention to your surroundings, I can't even count the number of times we have found a place serendipitously.
If you are traveling to a non-English speaking country make sure you have a list of ingredients in the correct language such as eggs, whey, dairy, lard, etc. Use a dictionary if you have to but google translate works a treat. If you are in Asia, of course, "bonito, fish sauce, oyster sauce, shellfish, etc." They are also useful if you are reading a product with ingredients on packaging. Please note, the word vegan is not universally known or used. As such, you will often need to explain that you're a vegetarian and list what you cannot eat beyond meat. If ever in doubt about someone else's understanding of your restrictions, always err on the safe side and pass – you can always find something else and never feel pressured into ordering when you aren't comfortable with their understanding of vegan.
3.  Why do you blog?
Just how addictive it can be to always want to craft new dishes and share everything I discover. You really get a sense of community when you start blogging and receive such positive responses that it motivates you to continue.
4.  If you could give one piece of advice to new bloggers, what would it be?
For new bloggers, I have three blogging tips for those who want to start their food blog:
1. Share exciting recipes and always cite your sources!
2. Submit your posts to recipe submission sites to gain exposure and connect with other amazing food bloggers!
3. And lastly, keep your website as uncluttered as possible and easy for your readers to navigate!
For photography, it takes time to perfect your photos but a few things that will go a long way towards shooting great photos are a keen eye for detail, patience and an understanding of shadow and light. Understand your light source and use it to your advantage – we love natural light whenever possible.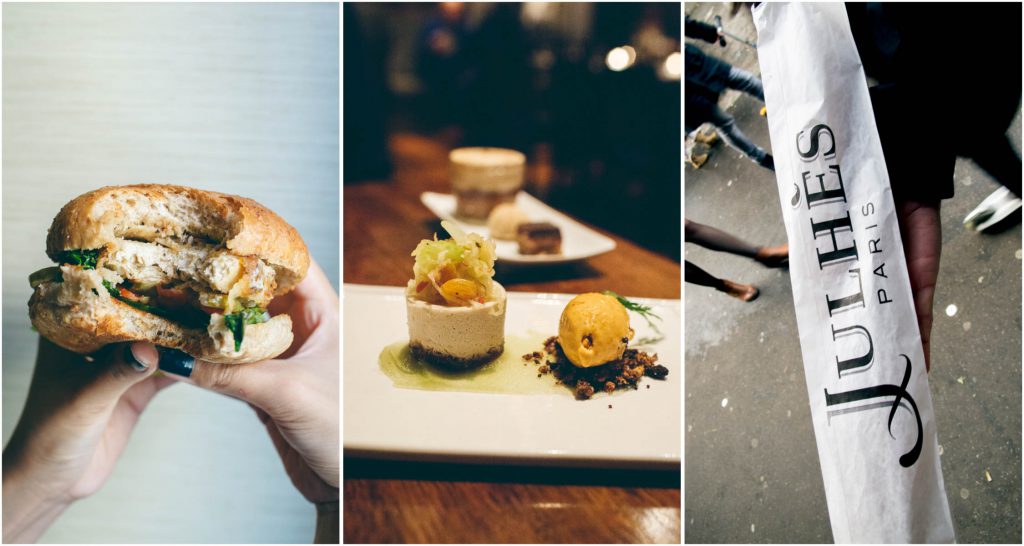 5.  If you had to choose a favorite and a least favorite word, what would they be?
My favorite word is 'Cheesy', I love anything cheezy and creamy, it's comfort food. My least favorite word is 'gelatin', the idea is always revolting and I still shudder when I see it listed on packaging.
6.  If you weren't you, who would you be?
Linda McCartney during the heyday of the Beatles, I have an old book of the portraits she took in the 60s and it's difficult not to be carried away to another time and place when you see these photos she took of such influential and creative people without their masks on.
7.  What is your idea of happiness?
A roof over my head, being surrounded by loving people and animals, and being able to eat fresh, healthful food.
8.  What makes you unhappy?
Animal cruelty, seeing people treat their dogs poorly, and ignorant people. Food waste.
9.  What is your best-kept beauty secret?
Drink plenty of water, it's no secret really but the significance is often overlooked by people. Along with constantly drinking water, I stick to freshly squeezed juices to stay hydrated and avoid as much alcohol and caffeine as possible. I drink alcohol and caffeine once a week. I use natural moisturizer
for both my face and body and moisturize often throughout the day and before bedtime – it is also a perfect makeup primer.
10.  If money did not matter, how would you spend your days?
I would spend my days building a series of animal sanctuaries, supporting and rescuing as many animals as possible around the world. I would love to travel the world, helping animals in need and meeting likeminded people.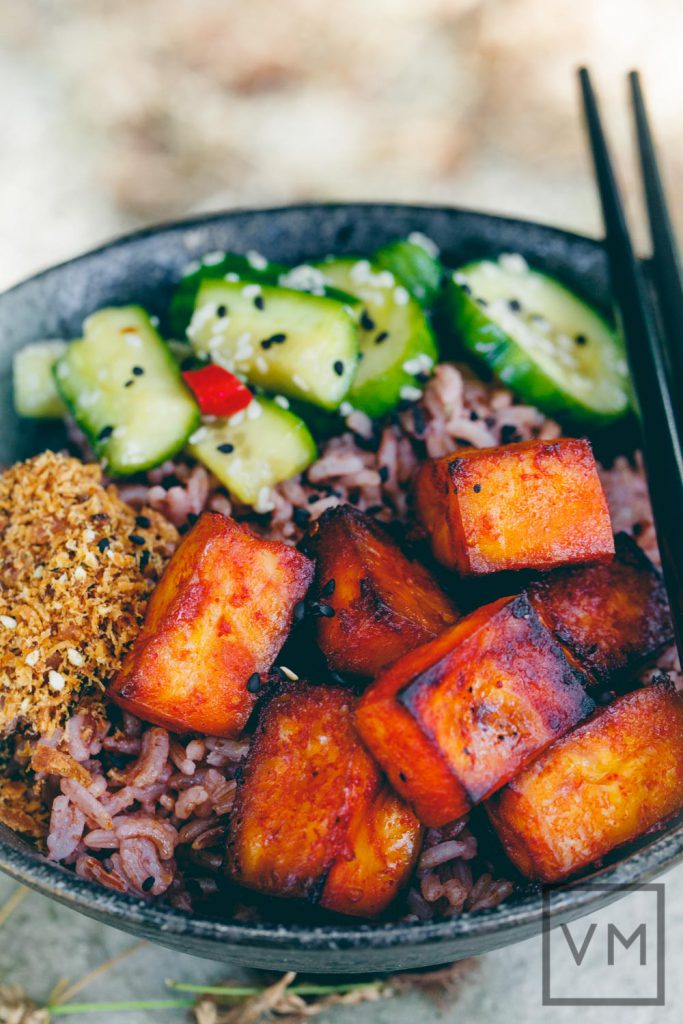 Recipe for this stunning gochujang bowl can be found here.
…
Rika is the recipe developer, food blogger and part-time photographer behind Vegan Miam. She runs a vegan food and travel blog with her photographer and partner Doni. They are based in Oregon, but living elsewhere as often as possible. The term 'miam' is just a way of saying yummy in French and represents their desire to discover decadent vegan cuisine and recipes around the world together.
Find Vegan Miam on Facebook, Instagram, Pinterest and Twitter.
…
Who else is totally inspired to do some vegan traveling?
xo
Amanda