Exciting update!
ALOHA launched a line of Plant-Based Protein Powders in Vanilla and Chocolate flavors. Right now you can get a free month of protein powder!
I've personally been enjoying their superfood protein powders ever since writing this post (the Vanilla is my favorite). Because they use real vanilla beans and cacao powder (as opposed to "natural" flavors), the taste is awesome—more like dessert than a protein shake. I highly recommend them.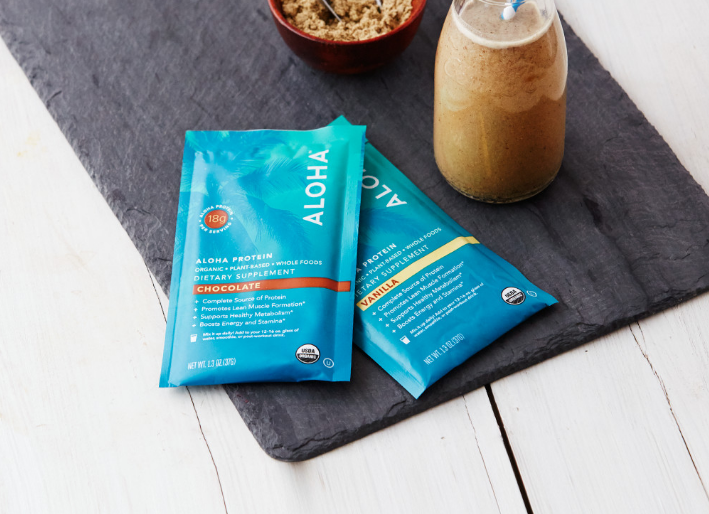 …
Original Post: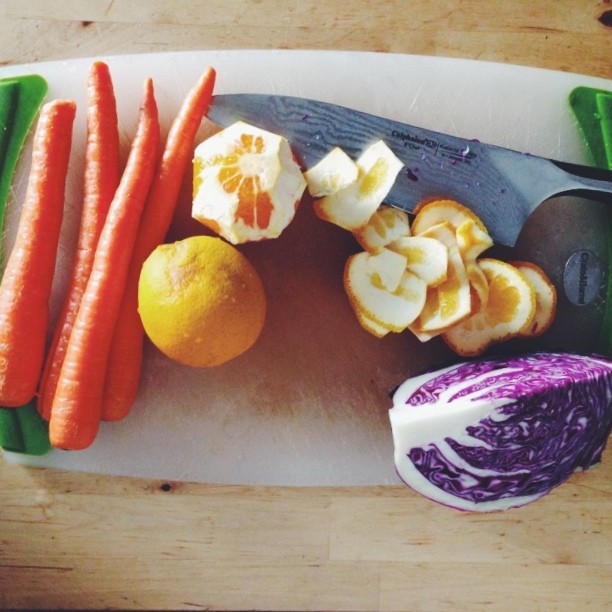 I'll often tell people I'm not that into supplements and that I believe we should be getting our nutrition from whole foods, not in pill-form. This is true, but if you look in my pantry, you'll see vitamin B12 (vegan insurance), DHA (omega-3s from algae), iron (my levels were a little low at my last physical), and D3 (have you spent a winter in Boston?), along with a calming magnesium drink I sometimes take before bed, turmeric (anti-inflammatory), quercetin (anti-histamine for allergy season), and zinc (immune support for flu season). So…I suppose I'm actually sort of into supplements, although I do still feel strongly that there is a distinction between supplements as a way to top off an already nutritious, alkalinizing way of eating, and supplements because you ate (vegan) cake all week. There's a balance, and no amount of pill-popping will undo a crappy diet.
I also really, really don't like green powders. I will choke down some things in the name of good health, but green powders, with their gritty texture and overpowering dirt/seaweed flavor, I cannot do. That is, until I tried one from ALOHA.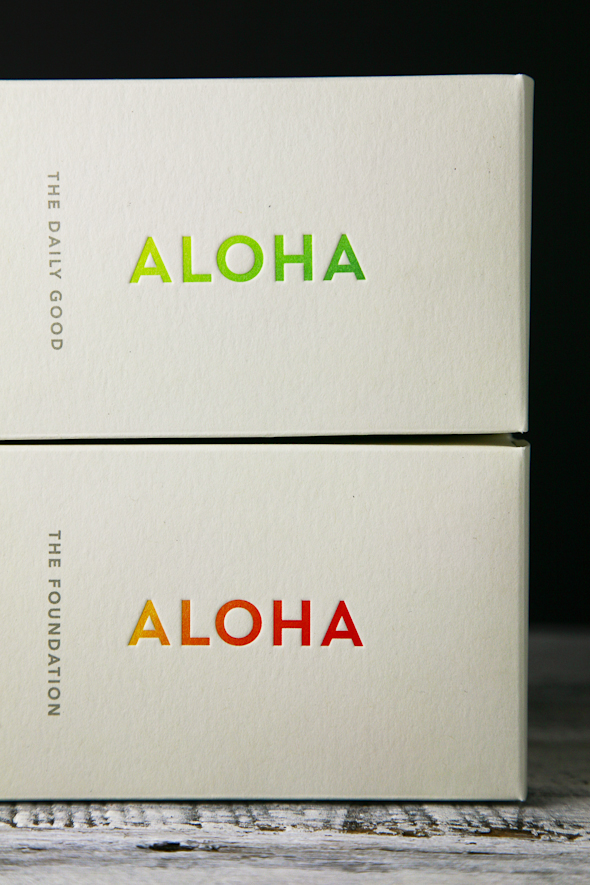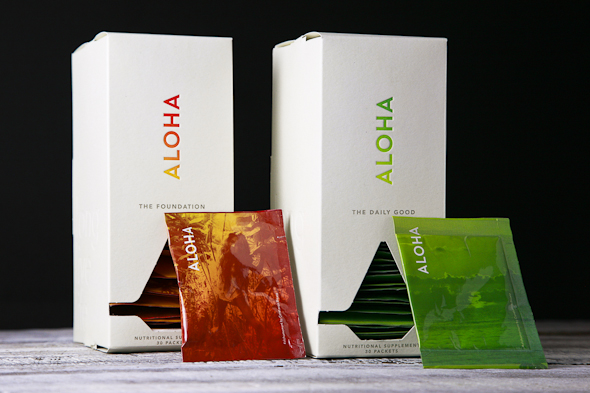 Aloha reached out to me a little over a month ago and asked if I would be interested in giving their products, The Daily Good and The Foundation, a month-long trial. The Daily Good is a green powder, which they call a dried green juice, though unlike juice, they use the whole food form to maintain the fiber. It's free of  "natural" and artificial flavors, colors, sweeteners, and fillers, and the organic ingredients are pretty stellar: spirulina, spinach, green peas, wild blueberries, raspberries, lemon, three different mushrooms, and ginger, among a few others. I'll be honest though – I was thinking I was going to have to hold my nose to drink it. Instead, I was pleasantly surprised when I mixed it with plain water and didn't hate it, and then added it to my smoothies and could hardly taste it at all. It also didn't yuck up the texture and blended in with zero grit.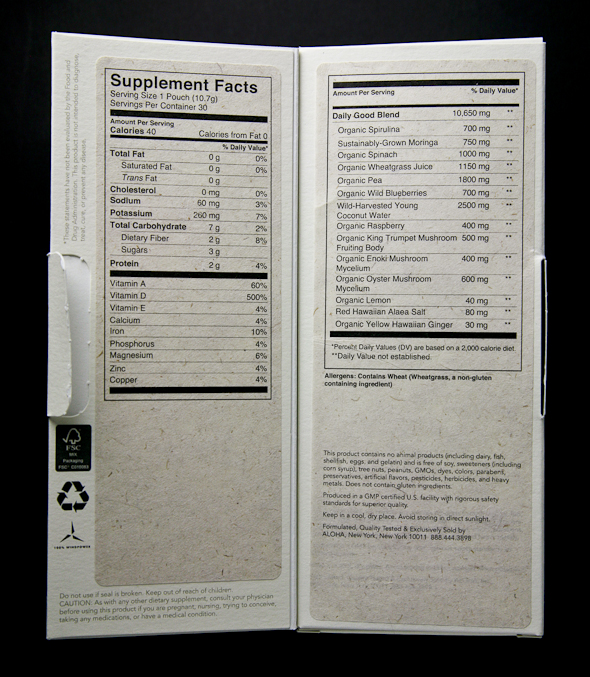 I was already impressed, but then The Foundation really blew me away. It's everything I regularly take, but in a very convenient five-pill daily pack. They've even included black pepper to enhance the absorption of the turmeric, which is something that many turmeric supplements lack. It's a very thoughtful multi-vitamin and it's obvious that a lot of research went into it.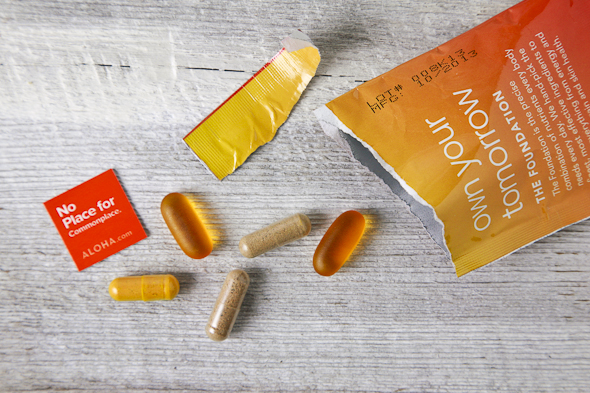 Other pluses: beautiful packaging and little inspirational reminders on each packet of greens powder and vitamins. The Foundation has these tiny paper notes inside that I found myself looking forward to reading (it's the little things).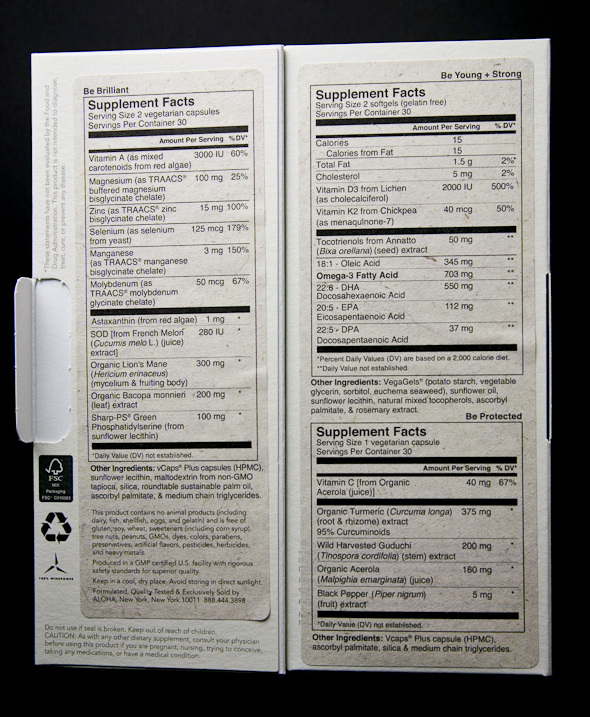 The only downside: price. The Daily Good comes in a 7, 15, and 30-day supply, with 30 days being $75, or $2.50/juice, and The Foundation is $95 for a 30-day supply. That's a lot to spend; however, you're paying for convenience and the quality of ingredients is top-notch. It would be a splurge for me, but if I were to add up the cost of my pantry full of supplements, it's probably not all that unreasonable. I would likely take them just a few times a week instead of everyday, both because I forget (though I found the individual packets helped with that) and because it would make them stretch out a bit longer. You can also sign up for a plan to save anywhere from $5 to $20 each month, and shipping is always free on any order, so that's nice.
If you're interested in trying the Plant-Based Protein Powders, you can currently get a free month!
xo
Amanda
Disclosure: I initially received Aloha's The Daily Good and The Foundation for free, but as always, all opinions are my own.