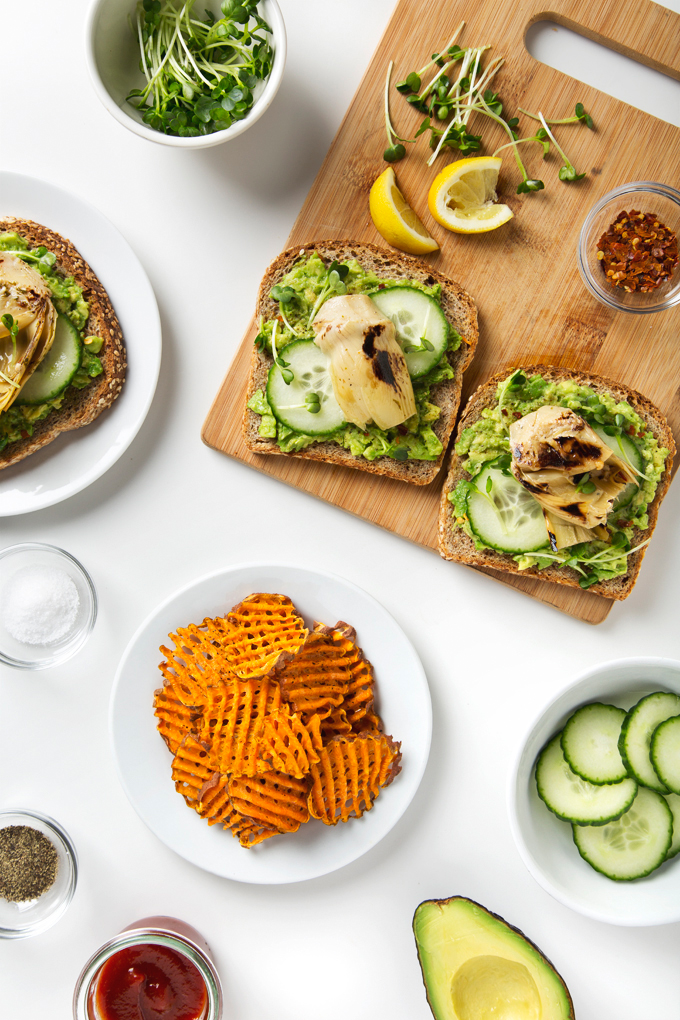 Similar to my "let's add some kale!" general life philosophy, I also have a "let's add an avocado!" mantra too. Avocado on salads, avocado on wraps, avocado on grain bowls…the only time I don't love avocado is in dessert (no amount of chocolate or sweetener ever completely masks it for me). And just like the rest of the plant-based population, I adore avocado toast. It's fast, filling, loaded with healthy fats, and the toppings possibilities are endless.
With Spring finally here, I've been adding grilled and marinated artichokes to my avocado toast. I buy the jarred variety (because why complicate a good thing?) and recently I've been taking things into total comfort food territory by serving my toast with a childhood favorite: waffle fries! Instead of using regular white potatoes, I prefer sweet potatoes. And instead of buying them pre-made and frozen (that would have been truer to my childhood), I like to make my waffle fries at home.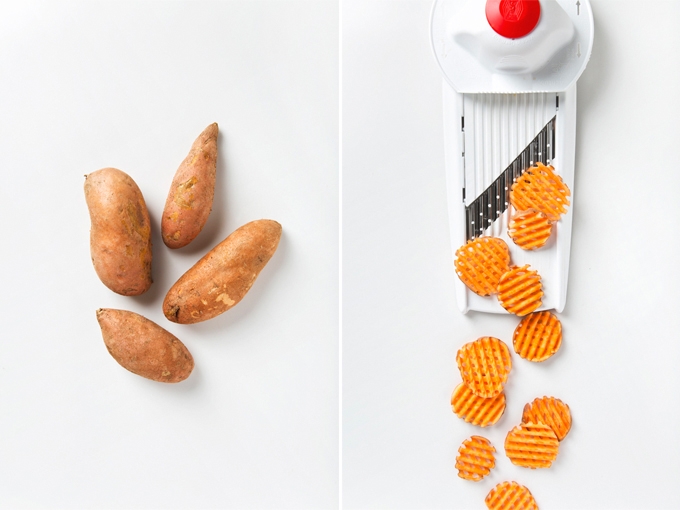 You might remember I've been all about the Börner mandolines and slicers for Tofu Banh Mi Bowls and Vegan Pho, and now I can't get enough of their Waffle tool for making quick fries and "fancy" cut produce. It's easy to use, it makes waffle and wave cuts, and you can choose between two different thicknesses (I went thicker for the fries). I have a feeling this slicer would be extra handy if you have kids who are picky eaters since waffle or wave cut vegetables are a lot more fun than plain cut vegetables!
Aaron and I have been enjoying our artichoke avocado toast and sweet potato waffle fries for quick, healthy lunches, but I also think it's a great meal for days when you need a low-key, no-fuss dinner. We pile our toast high with sliced cucumbers and sprouts for extra greens power, and always serve our fries with lots of ketchup for dipping.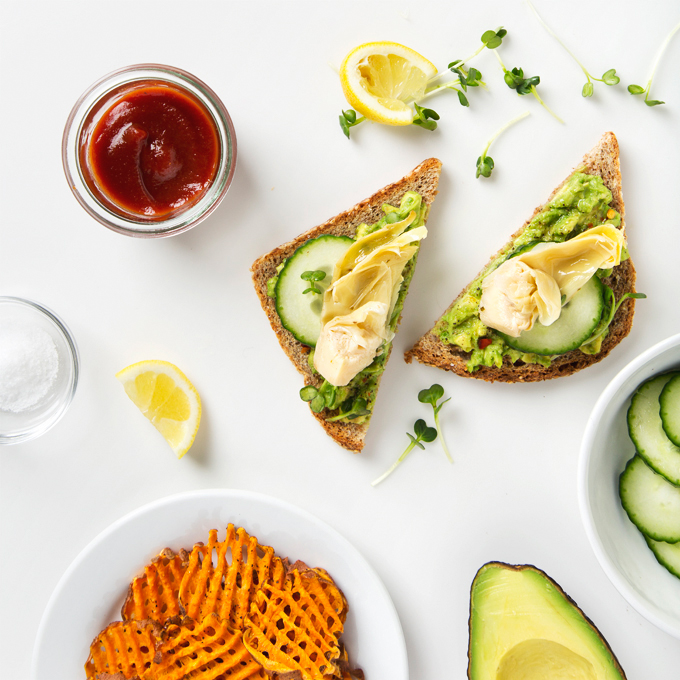 The Giveaway:
Börner is generously giving away their Powerline Waffle Slicer to one lucky P&H reader! Enter via the widget below!
a Rafflecopter giveaway

Can't wait to get your hands on a Börner slicer? Use coupon code "picklesnhoney" to get 10% off your purchase!
A quick PSA: For anyone considering adding the Waffle (or other Börner slicer) to your kitchen tool collection, make sure you always use their Food Safety Holder with it. The blades are razor sharp, and while amazing for slicing even the toughest of vegetables, they can do a real number on your fingers. Please be safe!
---
Thank you to Börner for sponsoring this post! Make sure you visit their website to see videos and tutorials for getting the most out of their kitchen tools. It's really impressive how much you can do with them!