Thank you to Sabra Hummus for sponsoring this post!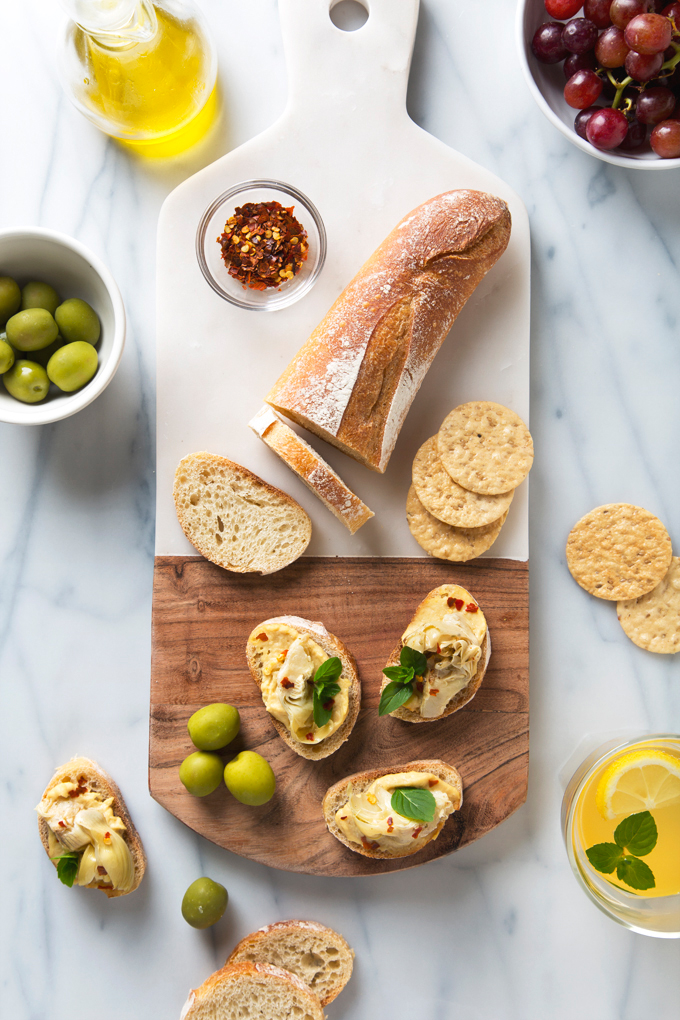 One of the things I've learned about myself over the years is that I like to take care of people, especially in the form of feeding them. It might be a simple peanut butter and jelly sandwich for Aaron to take with him to work, a batch of carrot cake cupcakes for a friend's birthday, or homemade granola for my local animal shelter's bake sale (because I also love to take care of animals). And as an extension of this, I've learned that I really enjoy hosting small gatherings of family and friends.
The only hold up for me was that I used to think hosting needed to be an elaborate production—lots of made-from-scratch food options, a few different drinks, and my house in tip-top shape. It was a lot of work and it quickly became an obstacle to inviting people over in the first place.
Slowly but surely I've been letting go of my perfectionistic tendencies and realizing that when life gets busy, or I don't feel like adding another to-do to my list, it's absolutely worthwhile to go semi-homemade. This mental shift means more time to relax and socialize, while still doing what I love: feeding people. In the afternoons, instead of inviting family and friends over for a set meal, I'll instead put out what I like to call the Unofficial Meal. It's a low-key, pre-dinner hangout that's more about having meaningful conversations than trying to keep up with doing the dishes.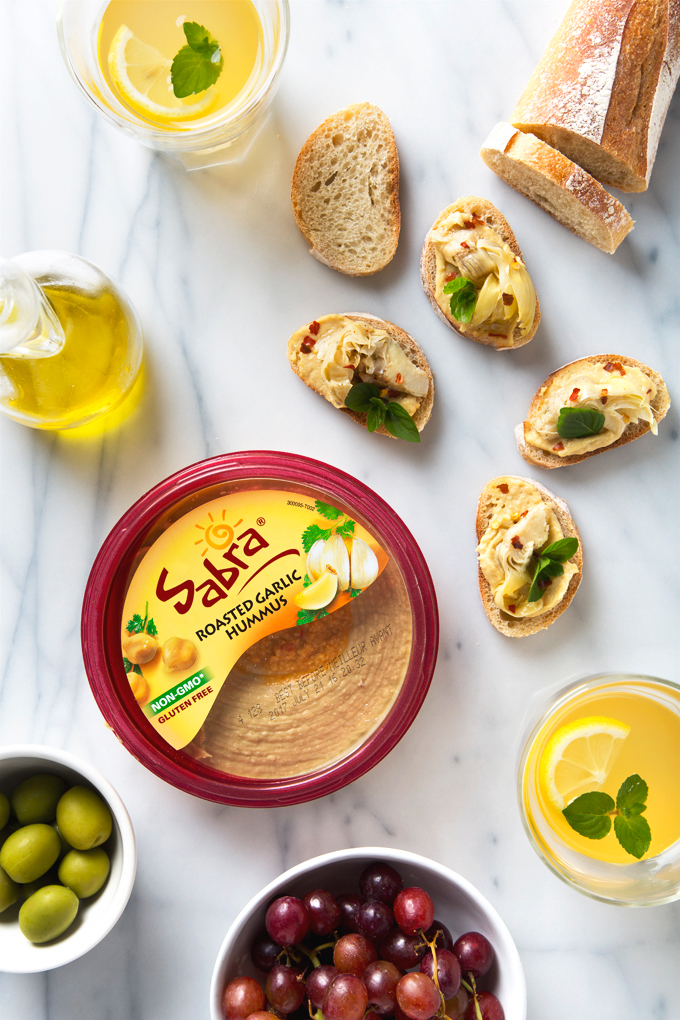 To keep things simple and wholesome, here's what I've been serving:
sliced baguette + gluten-free crackers
Sabra Hummus (the Roasted Garlic and Olive Tapenade flavors are two of my favorites, and Aaron loves their Roasted Red Pepper)
fresh fruit: grapes, strawberries—whatever looks best at the market
olives, especially castelvetrano
kombucha or water kefir (because I always have at least one batch brewing)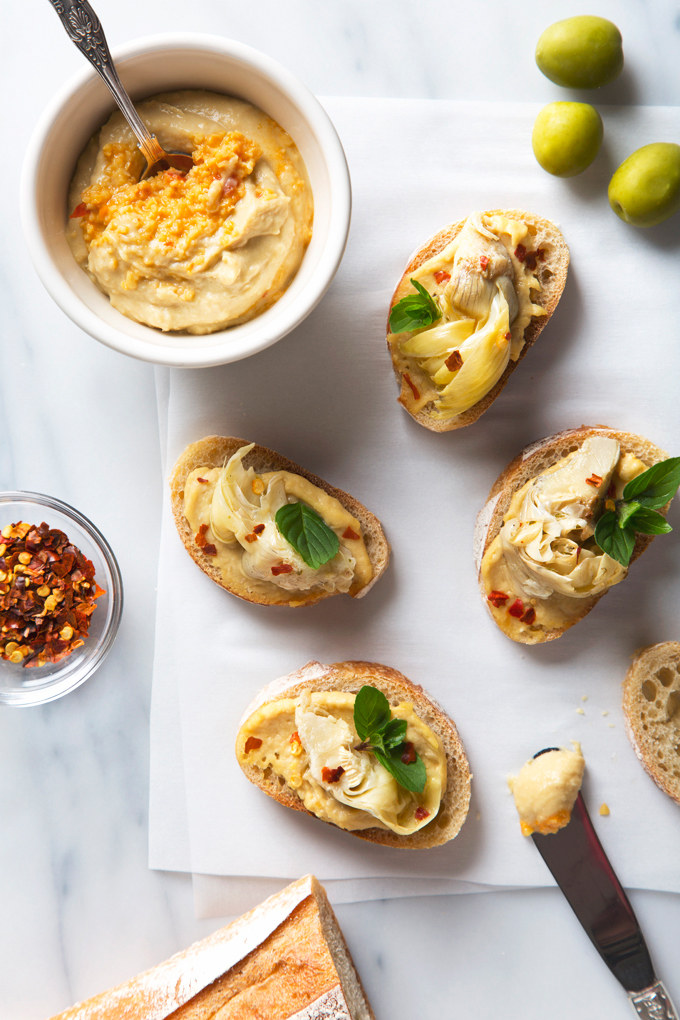 From there, I'll assemble a few ingredients to make something that feels homemade. Crostini is my go-to because I already have the baguette and hummus, and then I'll add to it based on the other ingredients I have on hand. For this week's version I made grilled artichoke crostini with Sabra Roasted Garlic Hummus, a sprinkle of red pepper flakes for heat, and garnished them with a few mint leaves from our thriving potted plant. It ended up being a really delicious spread and it took me less than 15 minutes to prepare.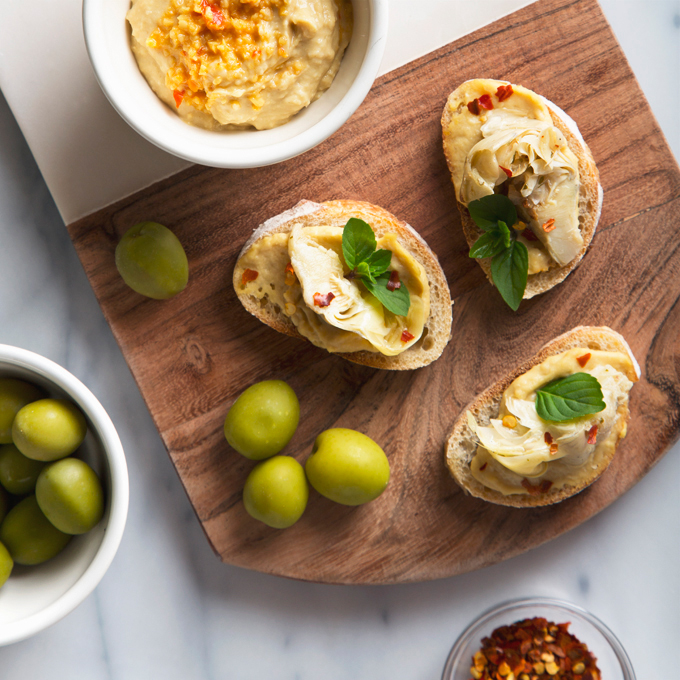 I hope you all had a wonderful 4th of July! I'm wishing you a stress-free week with at least one Unofficial Meal. ♥ Here's to chill, pre-dinner hangouts and making the time to connect with the people around us!
---
This is a sponsored post written by me on behalf of Sabra Hummus. We love their simple, fresh ingredients and beautifully garnished hummus.