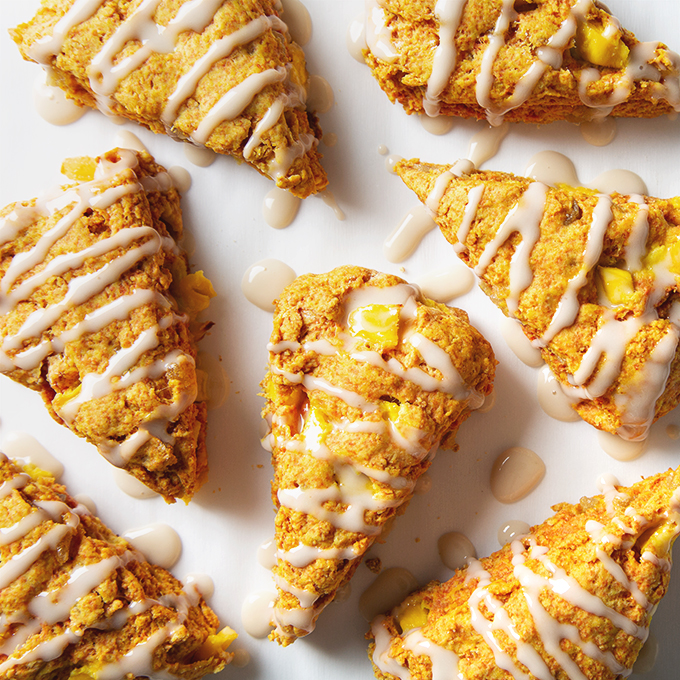 If you've ever felt intimidated by baking, you must make a batch of these warm and cozy Mango Spiced Scones. They're a great beginner recipe and an instant confidence-booster because they're made from simple ingredients that get combined together in one big bowl. You can mix your scones by hand and get in a quick arm workout, or do what I do and let your stand mixer (with the paddle attachment) handle all of the heavy-lifting. 😉
The star ingredient here is REBBL's 3 Roots Mango Spice Elixir, which serves as an extra flavorful stand in for milk. It's made from Alphonso mango and banana, with just the right kick of heat from cayenne pepper at the end. It's bright and fruit-forward, and incorporates anti-inflammatory turmeric, black pepper (which helps increase the bioavailability of curcumin, turmeric's star antioxidant), ginger root, and ashwagandha. Ginger is wonderful when it comes to aiding digestion, and I love ashwagandha for helping me manage stress.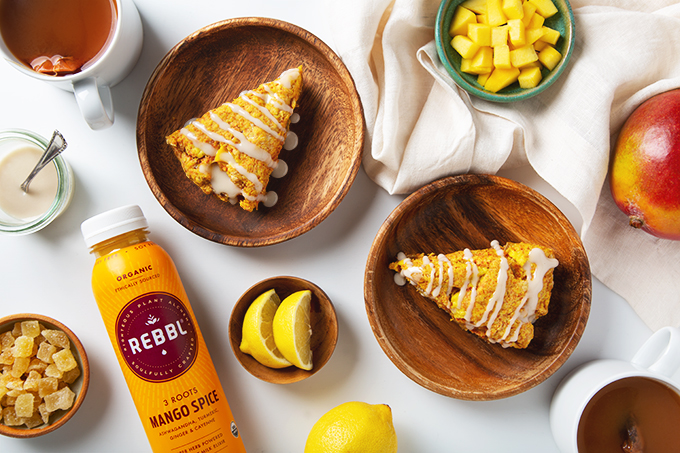 These perfectly Fall-spiced scones are gluten-free and vegan, and lightly sweetened with just a small pour of pure maple syrup. To make them gluten-free, I use a combination of gluten-free all-purpose flour and fine almond flour from blanched almonds. And instead of butter, I like to swap in unrefined coconut oil. From there, my motto is to go heavy on the spices and mix-ins to really amp up the flavors—a little extra ground ginger and turmeric, plus lots of chopped fresh mango and chewy crystallized ginger studded throughout. You could stop there, but what's a scone without a little icing? I highly recommend topping them with a drizzle of my 3-ingredient coconut butter glaze.
This mango spiced scone recipe makes 1 round, which slices into 8 small-medium scones. Aaron and I always devour them within a couple of days, but it's worth noting that they freeze well too. If you decide to go that route, simply let your scones thaw on the counter at room temperature, then drizzle on the icing and enjoy!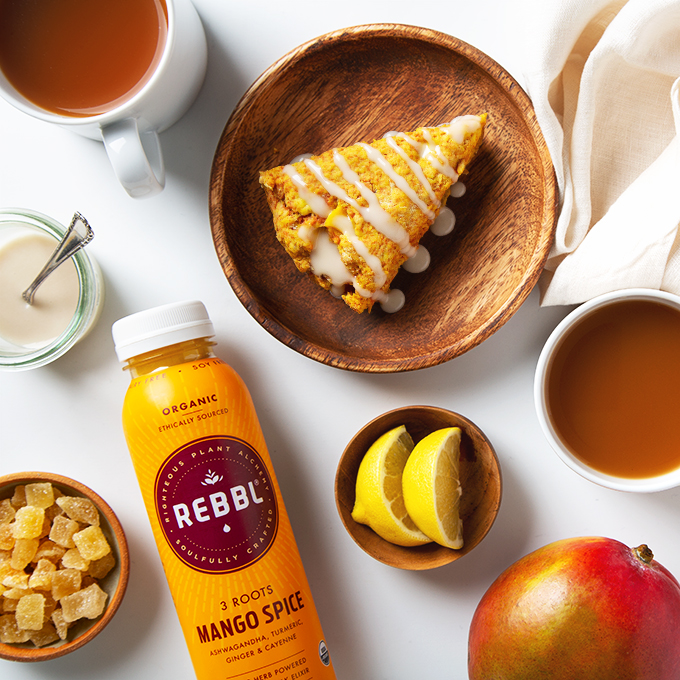 ---
Thank you to REBBL for sponsoring this post! We love their Super Herb Elixirs and Plant-Based Proteins, especially because when you buy any of their beverages, you help give back 2.5% of every purchase to Not For Sale in their mission to eliminate human trafficking and uplift vulnerable communities around the globe. Check REBBL's store locator to find their drinks near you!