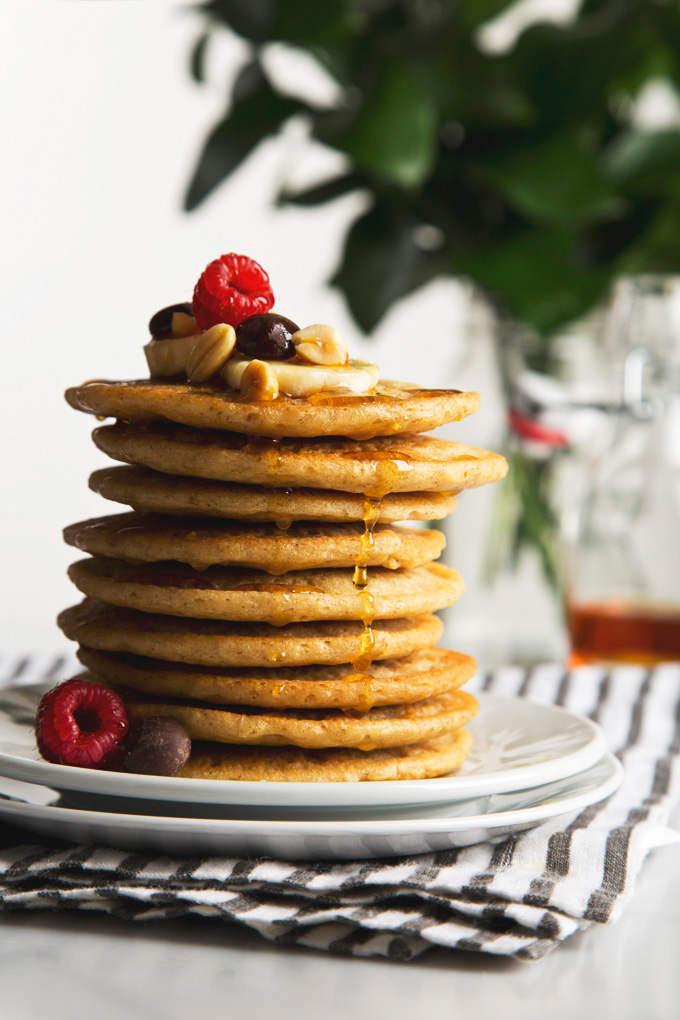 Lately I've been in a bit of a breakfast rut that involves toast topped with hummus or mashed avocado, homemade sauerkraut, and broccoli sprouts that I've been growing in a mason jar. I love this combo, but I'm worried that I'll soon get burnt out, especially because some days my lunches and dinners also involve "fancy" toast. In an effort to switch things up and work some more variety into my mornings, I've rounded up a handful of my favorite healthier vegan breakfast recipes, with notes in the descriptions for simple adjustments you can use to make them even more nutritious.
I hope these recipes help make your breakfasts that much better!
(Click on the recipe name below the photos to go to each recipe)
Pictured above: Gluten-Free Peanut Butter Protein Pancakes
These continue to be one of my go-to pancake recipes, especially when Aaron and I are craving breakfast for dinner. They're simple and wholesome with only 7 ingredients, no added sugar, and no protein powder (because we get enough of that in our smoothies). Bonus: you can quickly mix up the batter in your blender to pour them straight into the pan.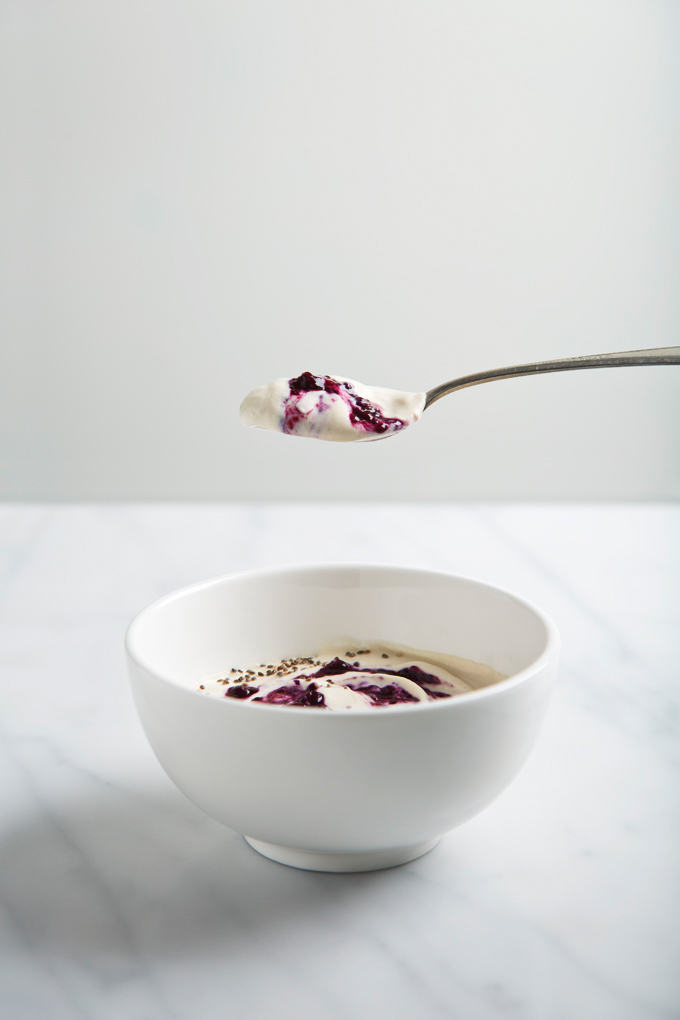 5 Minute Cashew Yogurt
If you're regularly buying yogurt at the grocery store each week, definitely give this recipe a try. You can keep your yogurt plain, or blend in some extras to make it flavored (I like to add a little lemon or lime zest, a splash of vanilla, or a handful of berries). Homemade cashew yogurt is extra creamy, low in sugar, and so easy! All you need are a few simple ingredients and a blender.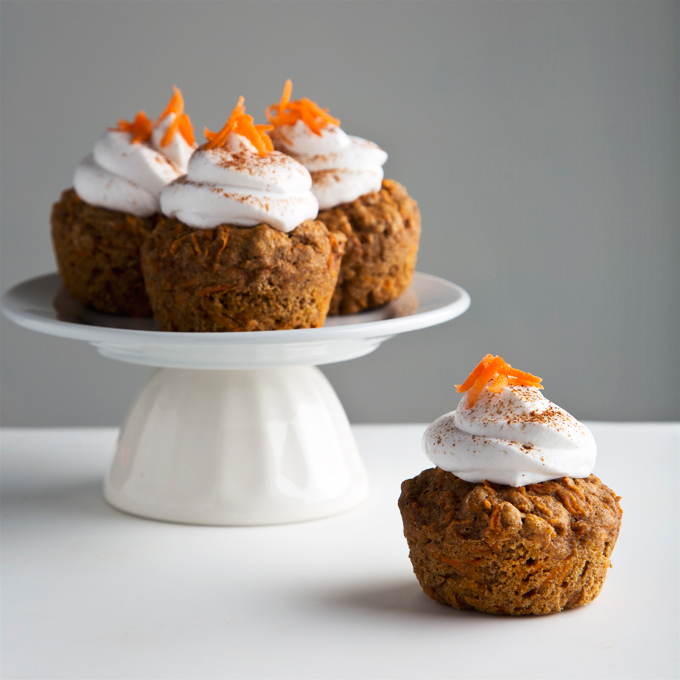 Hippie Carrot Muffins
These muffins aren't like most in that they aren't cupcakes masquerading as breakfast. They look a little like cupcakes thanks to that dreamy coconut whipped cream, but the ingredients are actually very wholesome (whole grain spelt flour,  almond milk, a flax "egg", a little coconut oil, lots of shredded carrots, and some coconut sugar for sweetness). I like to add a generous sprinkle of cinnamon to make them extra cozy and comforting.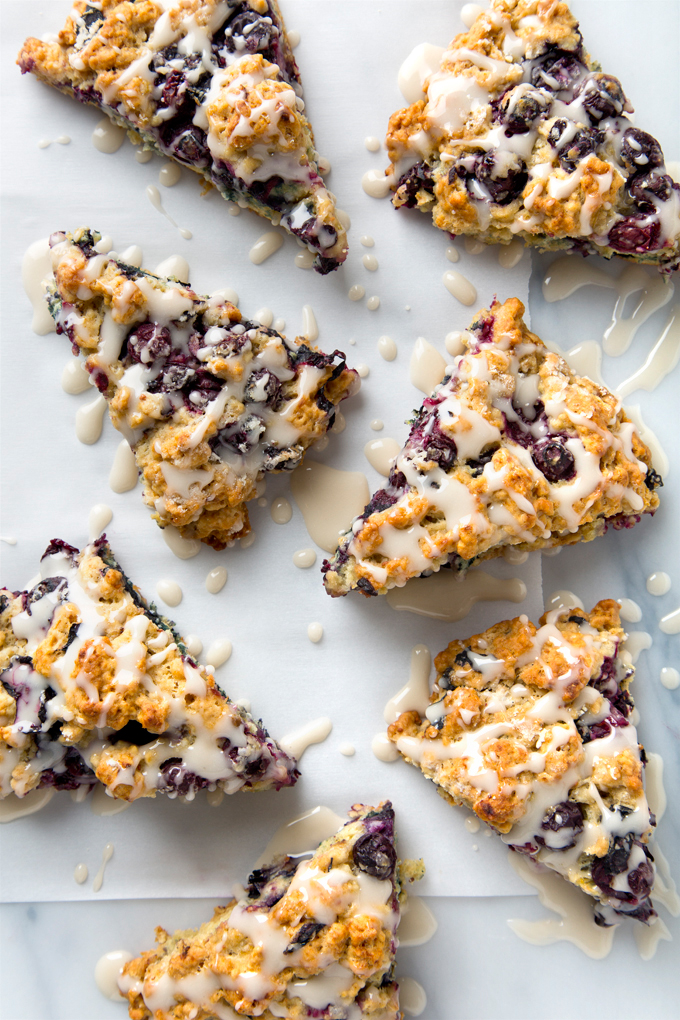 10 Ingredient Blueberry Scones (with a gluten-free option)
These simple vegan scones are studded with juicy blueberries and scented with lemon and vanilla. They're lower fat and lightly sweetened, and an especially great (easy!) recipe if you've ever felt intimidated about baking your own scones at home. Skip the optional glaze to keep them refined sugar-free, and swap the all-purpose flour for an equal amount of light spelt flour for extra nutrition.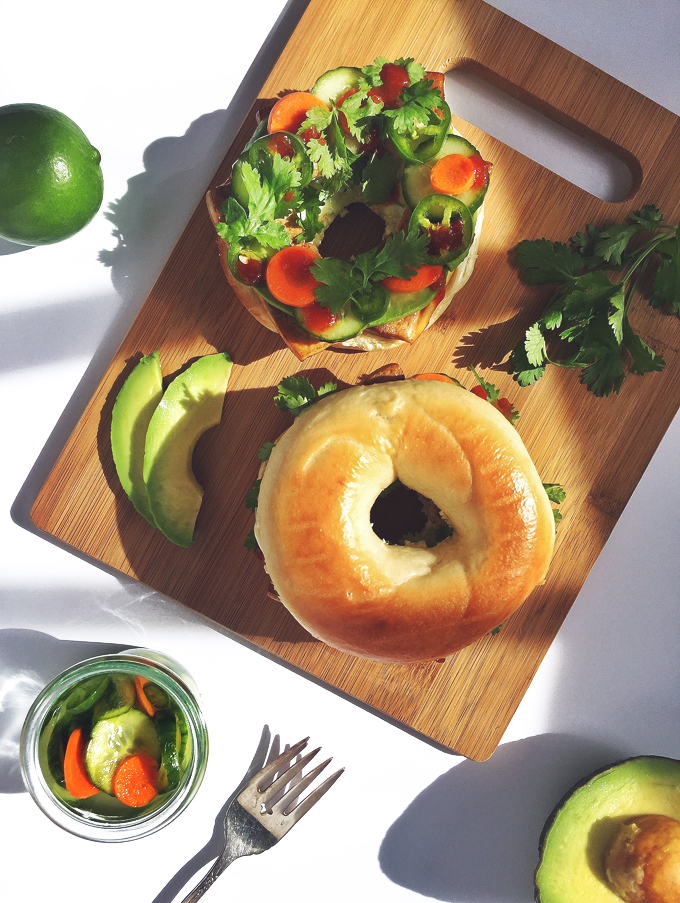 Tofu Banh Mi Breakfast Sandwiches
These very simple vegan banh mi sandwiches are made with tofu and quick, homemade pickles. They hit all the right marks in the texture and flavor departments: crispy, doughy, tangy, spicy, garlicky and extra creamy from some sliced avocado. Trade the plain white flour bagel for one that's whole grain or gluten-free.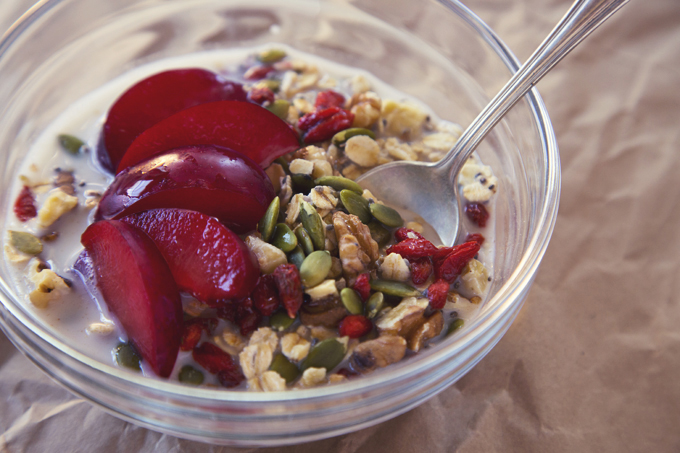 Cinnamon Plum Superfood Muesli
I adore this simple vegan muesli because it's loaded to the brim with good-for-you superfoods. I first made it when we were in the midst of a year-long road trip and staying in the tiniest AirBnB cabin just outside of Olympic National Park. I took full advantage of the town's small health food store and bulk bins, and a random plum tree in the parking lot of a strip mall, of all places. This is all just to say: make the most of the ingredients that are in-season and local to you, and feel free to sub in your favorite toppings!
---
We'd love for you to follow us on Instagram!
Tag photos you post of our recipes with #picklesnhoney so we can see.