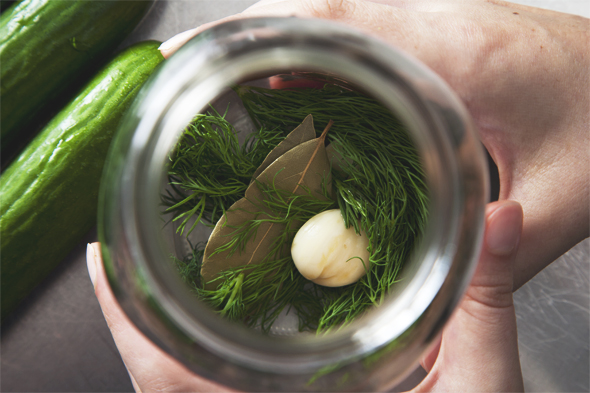 When Aaron and I went on vacation to Maine in early August, we ate our fair share of sweets. There was a little independent bakery in town that's famous with locals for their extra doughy, chewy bagels, and we quickly learned after visiting a little before 9am on a Monday that they were no joke—the bagels were completely sold out. Instead, we stocked up on an assortment of muffins, cookies, and a slice of over-the-top, rich dark chocolate mint cake, and vowed to come back earlier the next day for bagels. And we did. And the day after that. And the day after that. It was total sugar/carb overload.
When we returned from Maine, I drank my weight in green juice and ate all the kale (and my body thanked me big time). I also had the most intense cravings for pickles. I bought a couple of large containers of the real pickles from Whole Foods in the refrigerated section and I kid you not—I ate pickles for breakfast, pickles for lunch, pickles for snacks, and I may have eaten them for dinner had I not been cooking for Aaron too. The thought of sweets made me nauseated and there was nothing better than those crunchy, salty, garlicky pickles. This is slightly embarrassing, but I even used pickle juice as salad dressing. I KNOW.
Seeing as how my new pickle obsession was adding a solid $10+ dollars to our weekly grocery bill and I was worried the folks at Whole Foods would start to label me "that pickle girl", I knew I had to start making my own at home. Also, my blog is called Pickles & Honey and I didn't have a pickle recipe?! (FYI for newer readers: Pickles is my parents' dog and Honey is one of my dogs.)
Making homemade fermented pickles is not unlike making kombucha, though you don't have to handle or look at a scoby, so there's that. The process is unbelievably simple, takes just three steps, and will likely produce the best pickles of your life because you get to control the seasonings, saltiness, and how long you let them ferment. And instead of becoming "that pickle girl", maybe you become "that cucumber girl." Even so, it'll be worth it.