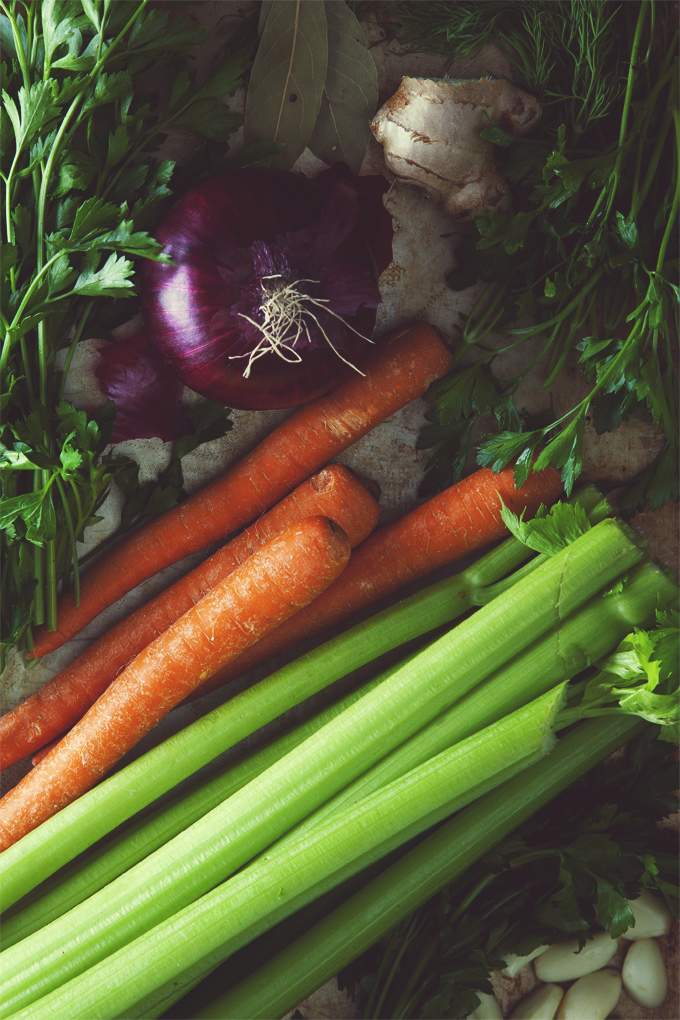 We seem to have abruptly transitioned from hot and humid to rainy and gray here in Boston. It's not the crisp Fall air I look forward to every year, but hopefully the rain will pass soon and it'll be all warm sunshine on my skin and crunchy leaves beneath my feet instead of sleepy clouds and soggy foliage stuck to my shoes. Either way, I'm feeling the itch to get back to making warming soups and stews.
In the past, I've simply picked up a container of my favorite vegetable stock to use as the base, but this year I'm going back to basics and making my own. Upon closer inspection, I realized that many of the store bought options contain yeast extract, which is another name for Monosodium Glutamate (MSG).
You can find a complete list of alternative names for MSG and the reasons for avoiding it here. Unfortunately, yeast extract in particular is included in many of the "healthy" snacks you'll find at the grocery stores. Just another reason to make your own meals!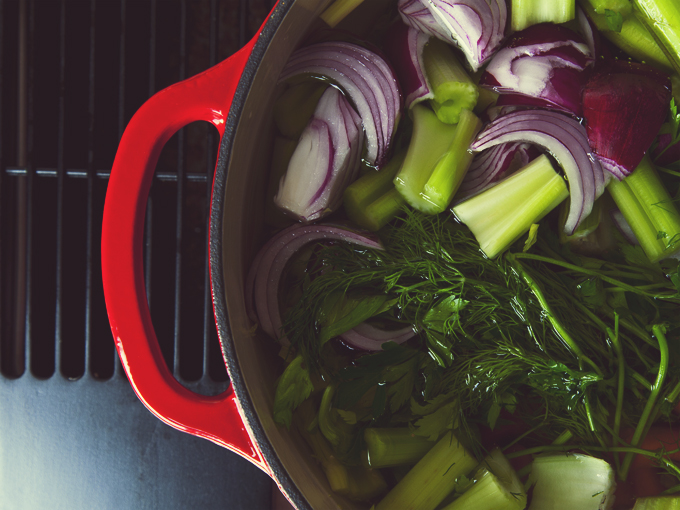 The good news is that homemade vegetable stock is a breeze to prepare and affordable, too. All that's required is gathering a bunch of your favorite vegetables and herbs (this is an excellent use for those leftover veggie scraps that would otherwise get tossed), and simmering them in a large stock pot filled with water for about an hour. A longer cook time will produce a more concentrated stock, but I find an hour does the trick. Then you can strain out the cooked vegetables and discard them (most of the nutrients are in the stock, though I like to stretch mine even further and puree the veggies for a creamy soup), portion the vegetable stock into jars, and keep the jars in your freezer to defrost as needed. I especially love that this method allows me to control the salt and adjust the seasonings depending on the recipe I'm planning to make.
Fun Fact: The terms vegetable stock and vegetable broth are often used interchangeably, but stock refers to the unseasoned liquid that's more of a neutral base for soups, sauces, and other dishes. Vegetable broth, on the other hand, is seasoned with salt, black pepper, and other spices to make something less neutral (and more tasty) on its own. I did not know this until last week.
Today's recipe will produce a fantastic stock, that you can then go ahead and customize to make a more flavorful broth if you like. It's wonderfully versatile and nourishing, and very easy to make and keep on hand.