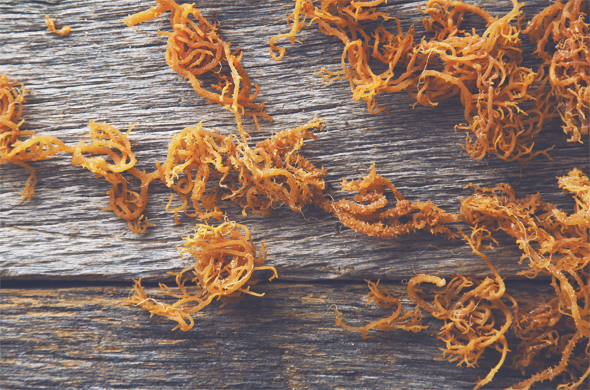 For the last few years, Irish moss (or sea moss) is something that's occasionally come up on my radar but that I quickly dismissed because it wasn't clear to me why I should pay it more than a moment's attention. It's certainly not the nicest thing to look at, and the posts I had read didn't ever go into why I should consume it. Until the CNE program, that is.
Meghan Telpner gets excited about a lot of things, but she gets really excited about Irish moss (how to prepare Irish moss, how to use Irish moss, Irish moss recipes) and it was mentioned in some form in most of our workshops. Of course, her enthusiasm eventually sparked my intrigue and I had to see what this stuff is all about.
As far as why we should eat it, here's a very high level overview of what I learned: Irish moss is great for thyroid health, it helps us to detox from radiation in our everyday environments (as well as for those healing from cancer radiation treatment), and it can be especially beneficial in healing the digestive lining, like in inflammatory bowel diseases, because of its mucilaginous quality. Mucilaginous was not a word in my regular repertiore until the CNE program and now I find myself using it quite often when I'm talking about things like chia and flax seeds. It's charming, no?
As far as what it does as an ingredient, Irish moss is a thickening agent, so it can be used to replace things like cornstarch. I've heard some people refer to it as "vegan gelatin", although I've yet to try it in a similar application. I personally love adding a bit to nut milks and smoothies because of that mucilaginous quality. It makes an extra thick and creamy beverage and the flavor, once made into a gel and blended into a drink, is not at all detectable to me.
I think it's important to understand why Irish moss is good for you and why you would want to use it because the smell…oh, the smell! When I first opened the bag, it was like Home Depot's garden section on steroids. Such a weird thing to say, but I had instant smell memory and not in a good way. It's earthy and sea-y with a hint of plastic? I'm not sure. If you've been in a Home Depot you will know what I'm talking about. This smell lasts throughout the cooking process (which is the method I'm sharing below), but almost completely dissipates once the moss is blended and chilled. Thankfully, I can only smell it faintly when I stick my nose in the jar. Your home though, that will smell like Irish moss for a couple of hours. We were showing our apartment to prospective tenants and I made sure not to make or photograph Irish moss until after they saw our place.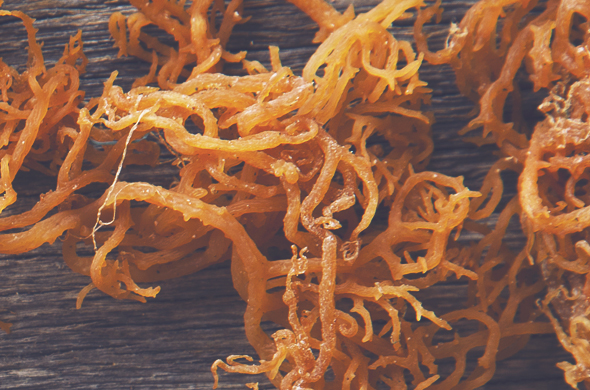 When it came time to take photos for this post, I warned Aaron that this stuff was super stinky and not photogenic and gently recommended that maybe our best bet was to try to make it look beachy? I'm not sure he fully heard me on the smelly part, but he got the message loud and clear when it was time to take overhead shots with his face a few feet above the moss. I noted his reactions because they were so entertaining and said with slight panic in his voice:
"Why is this in my house?"
"It feels disgusting."
"It smells like the plague."
Now yelling: "Seriously, Amanda! Why is this in my house?!"
(Barley comes running and thinks it's the best smell ever. He tries to hurl himself on the floor and roll in it.)
Takeaways: It's hard to make Irish moss look good. It will make your house absolutely stink while you prepare it. Your dogs will love it and your partner will hate it. Once it's in the jar and chilled, you will (mostly) forget the assault on your nose. You will love what it does to the texture of smoothies, and you will feel badass healthy drinking it. Mucilaginous is fun to say!
Update: Be sure to check out my super creamy Plain and Chocolate Nut Milk recipes using Irish moss gel.