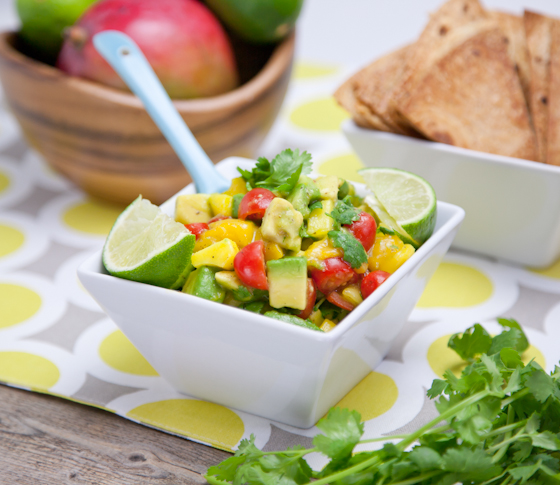 Lately, I've been loving turning appetizer types of foods into main meals. For example: hummus and veggie sticks for dinner. It's quick, satisfying, and leaves me more time to work on my gluten-free baking. Or to catch up on episodes of New Girl. Whatever.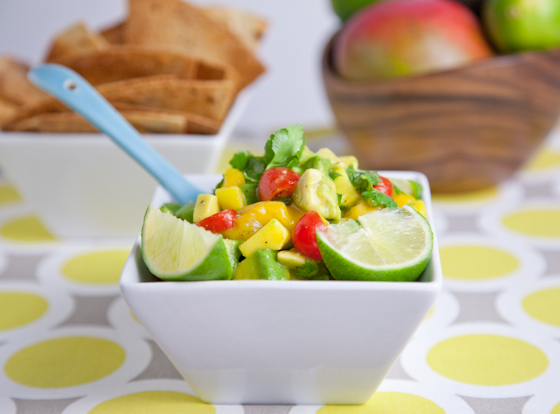 Mashed avocado on toast is also a go-to meal for me when I don't really feel like cooking, but I've been eating that for months (seriously, I am obsessed). However, even that gets old after a while. This week, I set out to change things up a bit, while still keeping with my need for something simple and easy. Oh, and it had to involve avocado, preferably in dip form. I'm not that sick if it.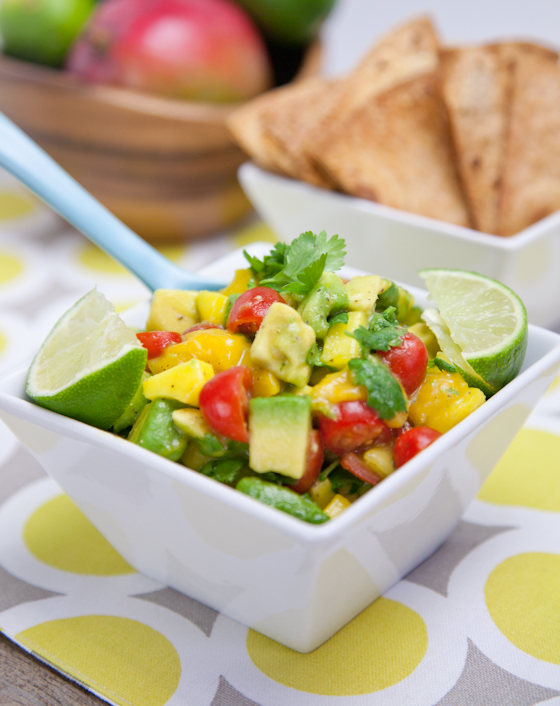 When I saw mangoes at TJ's this weekend, I knew I needed to use them in some sort of a salsa. Every time I buy  them, Aaron always tells me how mangoes make him gag and how he absolutely cannot eat them. Apparently, he spent two weeks in Morocco as a kid and basically subsisted on them for breakfast, lunch, and dinner. Of course, I did what I normally do and bought them anyway, and threw an extra one in my cart for good measure. Who doesn't like mango?!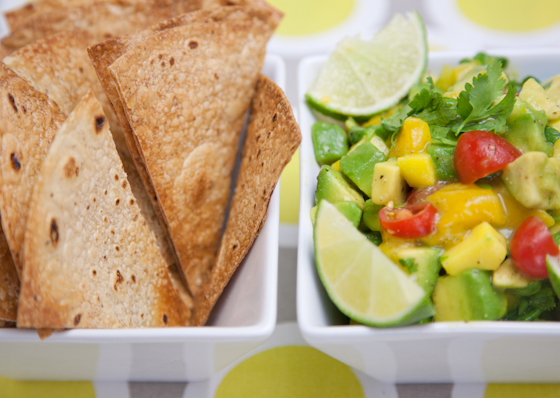 In order to make the salsa, I finely diced the mango and avocado, threw in some chopped cilantro and grape tomatoes, and covered everything in a generous squeeze of lime juice. I served it with some TJ's brown rice tortillas, cut into chips and baked at 350 for ten minutes. The tortillas are terrible when it comes to making wraps, but they make the best chips – super crispy and I love the subtle flavor.
I told Aaron this was dinner, placed the chips and salsa on the table, and walked away for a few minutes to do some dishes. And what do you know? In the span of five minutes, he ate more than half of the bowl and had to "take a break" so that I could have some too.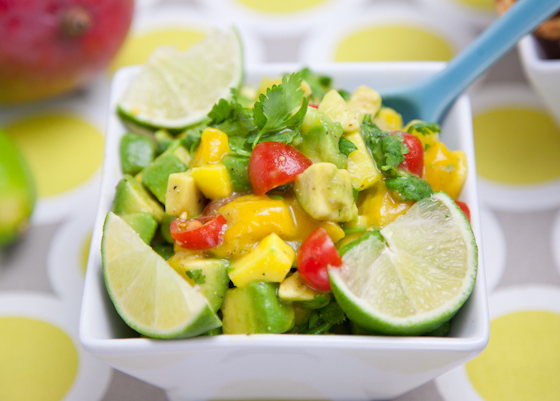 Next time, I plan on dividing it into two bowls. Better safe than sorry.
Recipe Type:
Appetizer or Main
Author:
As an appetizer or a main meal, this salsa is bright, flavorful, and too easy not to make. All it's missing is a margarita to drink between bites.
1 C. Diced Mango
1 Medium Avocado, peeled, pitted & diced
1/3 C. Fresh Cilantro, chopped
1/3 C. Organic Grape Tomatoes, diced
2 Tbs. Freshly Squeezed Lime Juice (approximately 1 lime)
Salt & Pepper to Taste
In a medium bowl, combine the mango, avocado, cilantro, tomatoes, and lime juice.
Toss to combine.
Season with salt and pepper.
Serve with your favorite tortilla chips and enjoy!
If you want to add some heat, a little finely diced jalapeno pepper would be a nice addition.
This recipe could very easily be used to make a mango avocado guacamole instead of a salsa. Simply pulse the mango and avocado in a food processor before mixing in the other ingredients.