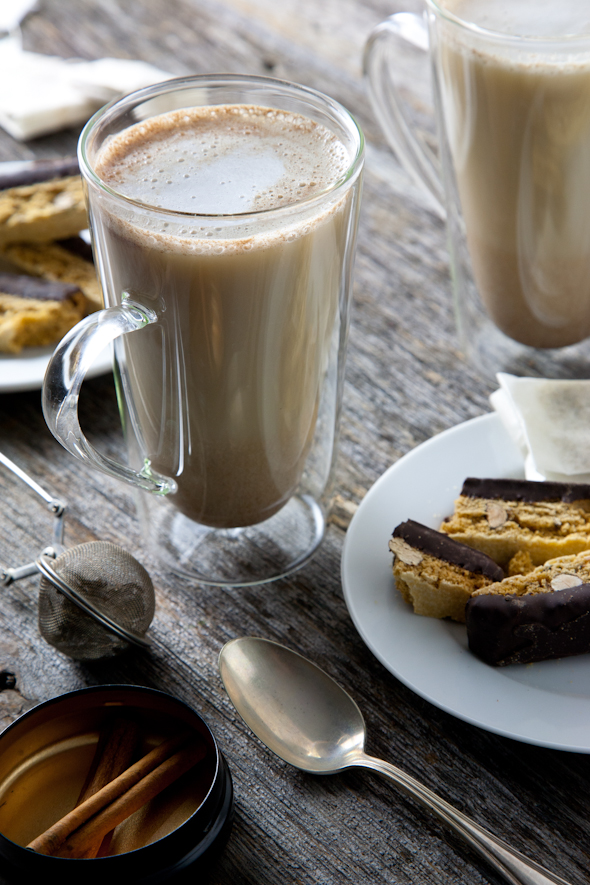 As a little kid, I remember being offered chamomile tea when I would get sick. I distinctly recall hating the flowery taste, and the fact that I only drank it when I had a cold or the flu…well, that certainly didn't help. For years, I avoided chamomile tea thinking that I didn't like it.
This past October, Aaron and I were enjoying an amazing long weekend in NYC. We stopped into Jack's Stir Brew Coffee on the recommendation of the woman whose apartment we were renting. It was so adorable, and having made it my mission to consume as many seasonally-spiced, hot beverages as possible while in the city, I ordered a hot apple cider.
Unfortunately, Jack's was all out. Instead, the barista enthusiastically offered to whip up something equally Fall-appropriate and I let her do her thing. She handed me a lightly sweetened chamomile tea latte made with soy milk and cinnamon and I braced myself to smile politely and pretend to enjoy it.
That's when I realized I actually do like chamomile tea. I really, really like it.
Maybe my tastes have changed, or maybe they were just off every time I tried it as a kid, thanks to those winter head colds that make most foods taste different and bland.  It's a little funny that it took getting sick this month to make me think of chamomile tea once again and finally re-create a variation of that latte I loved so much in New York.