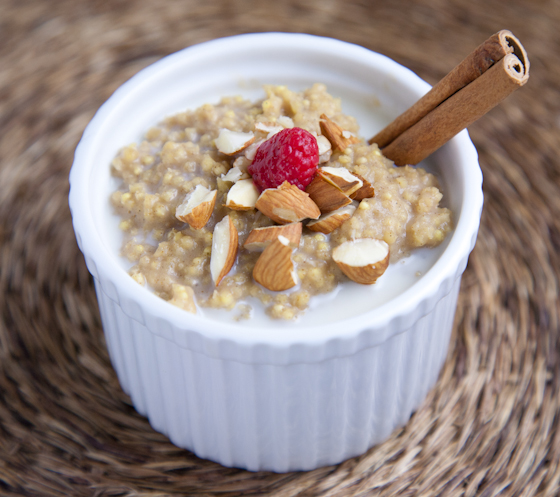 Lately, I've been on a quest to expand my dessert repertoire a bit. Less all-purpose flour and processed sugar, and more whole foods and natural sweeteners. Reaching for a caramel-like medjool date after dinner instead of a chocolate chip cookie, for example. That's where this creamy millet pudding comes in.
One recipe that I recently fell head-over-heels in love with was a raw, vegan chocolate mousse by my friend, Sally. Who knew soaked cashews could create the most perfectly rich, yet airy mousse? The only glitch was that I didn't have a key ingredient – raw cacao powder. Still, I made the mousse anyway, foregoing the cacao and adding in a little extra vanilla. It was fabulous! The flavor reminded me of a decadent rice pudding, and I had to summon all of my willpower to not eat the entire bowl of vanilla mousse in one sitting.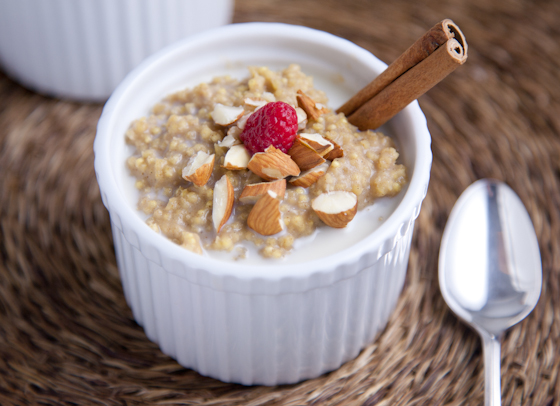 While I was successful in my portion control, I could not stop thinking about rice pudding and all of the directions I could go with it. Should I use almond milk? A combination of almond milk and light coconut milk would be even more creamy. Vanilla bean paste was a given, but almond extract would take it over the top. Something about the sweet, comforting smell gets me every time. But what if I didn't use any rice at all…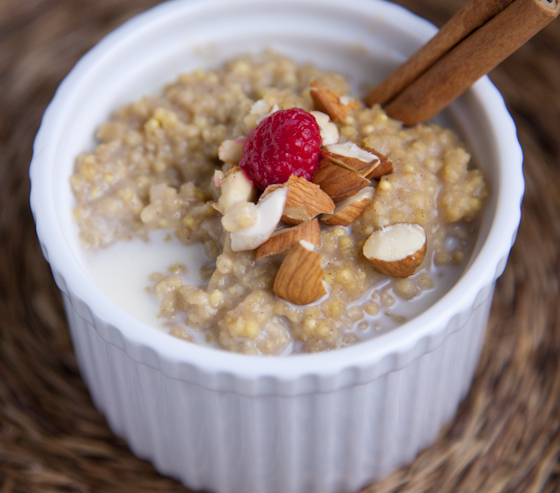 I honestly lost myself for a solid twenty minutes daydreaming about this simple pudding, and then I had it: millet pudding. Lightly toasted and fragrant millet in a sweet mixture of almond and coconut milks, with just a hint of cinnamon. This is a dessert that can be enjoyed at breakfast or as an after dinner sweet. Or both. Who am I to judge?
Creamy Millet Pudding
Recipe Type
:
Dessert, Breakfast, Snack
Cuisine:
Vegan, Gluten-Free
Author:
Cook time:
Total time:
This simple and wholesome millet pudding is an equally delicious spin on rice pudding, perfectly acceptable for breakfast or dessert!
for the millet pudding:
4 cups non-dairy milk (I used 2 cups canned light coconut milk + 2 cups plain unsweetened almond milk)
2/3 cup uncooked millet
1/4 cup agave (or sweetener of choice)
1 teaspoon vanilla bean paste (or vanilla extract)
1/2 teaspoon almond extract
1/2 teaspoon cinnamon
1/4 teaspoon sea salt
for serving: (optional)
chopped almonds
fresh berries
Add the millet to a medium pot with a lid, and toast it over medium heat, stirring frequently, until the millet starts popping. The goal is a light toast, so be careful not to burn it.
Once the millet is toasted, add the remaining ingredients to the pot and stir to combine. Cover the pot and bring the mixture to a boil. Reduce the heat to low and simmer for 20-25 minutes, stirring occasionally, until the millet is cooked through.
Serve warm with a sprinkle of chopped almonds and fresh berries, if you like.