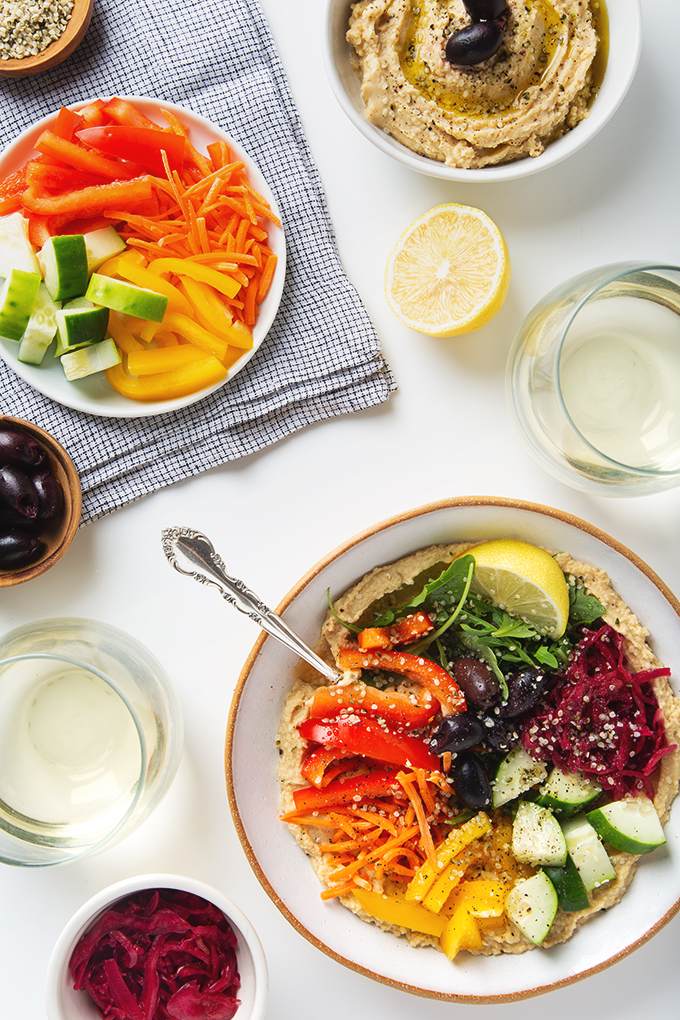 I'm perpetually on a quest to come up with weeknight meals that people (myself included!) will actually make. With Fall now in full swing and everyone's schedules considerably more packed than they were over the summer months, I'm feeling a renewed sense of energy to share more of these types of meals with you. Personally, I eat hummus at least once a day, and Aaron's always reaching for it too. So I came up with a meal that's so simple it's hardly a recipe,  turning my go-to snack of hummus and veggies into a legit dinner (or lunch).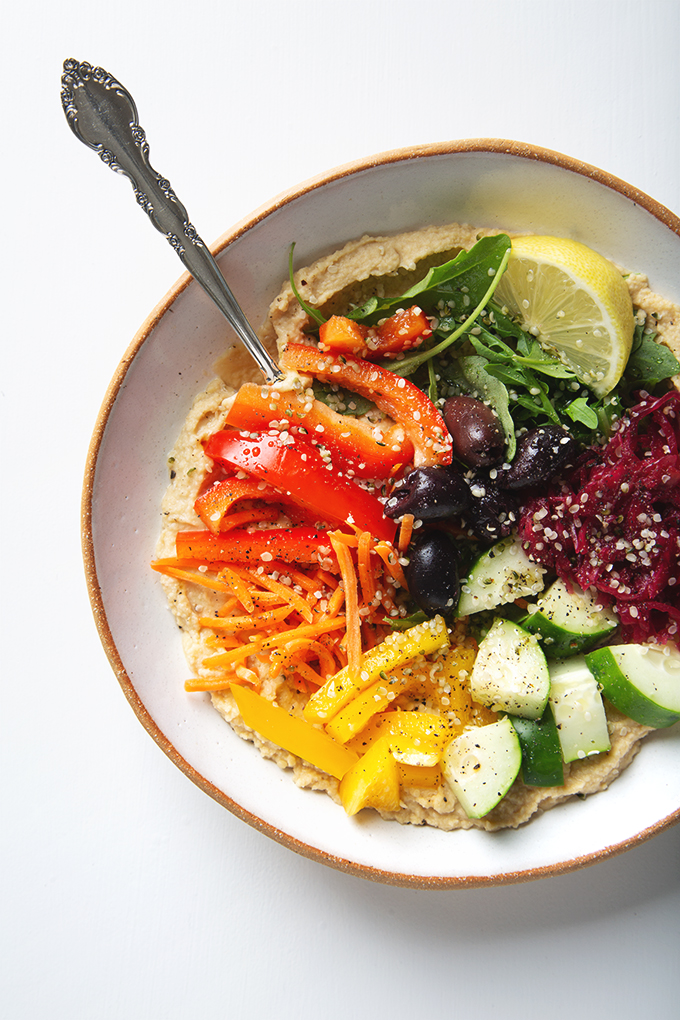 If you want to make life really easy, you can use your favorite store-bought hummus as the base; however, I'd strongly recommend that you opt for the five minute recipe I'm sharing below. Admittedly, I had been buying pre-made hummus all summer long, but one bite into this homemade version and I realized that even the good store-bought stuff doesn't compare in terms of flavor and texture. Plus, there's no question that homemade is at least four times less expensive, even if you use canned chickpeas (which I do).
That said, as far as the veggies are concerned, I fall more on the side of "do whatever you need to do to eat more of them." For example, if buying shredded carrots versus whole carrots is the difference between carrots in your hummus bowl and carrots wilting in your fridge, by all means buy the pre-shredded carrots. This bowl is more about nourishing yourself with good-for-you greens and the super antioxidant powers that come from eating all the colors of the rainbow—red bell peppers, orange carrots, purple beets, and whatever other local and/or seasonal produce you have on hand. From there, I'd recommend garnishing your hummus bowl with salty olives, something fermented (so good for your gut!), a pour of extra virgin olive oil, a squeeze of lemon juice, and some hemp seeds for extra omega-3s plus protein.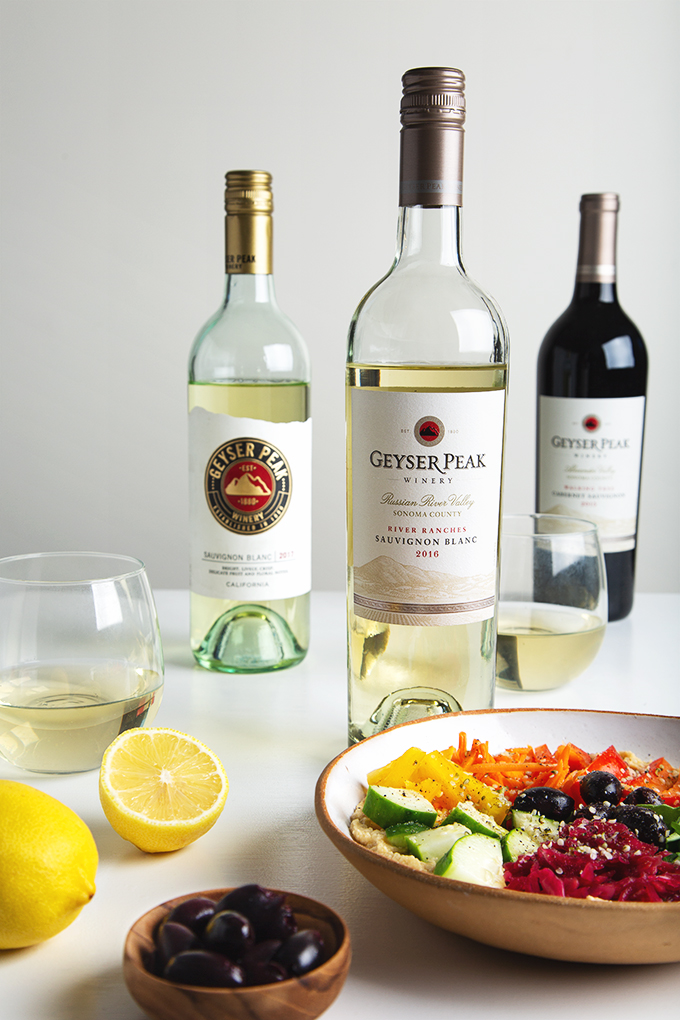 What really elevates this simple hummus bowl, though, is serving it alongside a good glass of wine. Staying true to my love for all things Sonoma, I've been reaching for Geyser Peak Winery's River Ranches Sauvignon Blanc from the Russian River Valley (as well as their citrusy California Sauvignon Blanc), while Aaron likes the bolder, dark red fruit and earthy profile of their Walking Tree Cabernet Sauvignon from Alexander Valley. If you're a sauvignon blanc fan like me, I think you'll really enjoy their River Ranches because it's juicy and acidic, with a lovely and almost exotic intensity of fruit (think: citrus but with guava and passionfruit). They describe it as having "hints of summer rain" and I totally get that. The aroma reminds me of freshly mown grass.
Geyser Peak Winery has a gorgeous tasting room in Healdsburg, CA overlooking the vineyards, which is how Aaron and I first discovered them back when we were living in San Fransisco a handful of years ago. (If you've not been to Healdsburg, you must visit—it's hands-down one of the most charming and beautiful places in the world.) What's really impressive about Geyser Peak Winery is that they've not only been making wine for more than 135 years and become one of the most award-winning wineries in Sonoma, they've also managed to stay true to making approachable and affordable wines. And as of this year, they have a new winemaker, so everything is getting a bit of fresh look. If you're looking for their bottles locally, you can see their updated packaging on the California Sauvignon Blanc in the photo above on the left. This will be rolling out to the River Ranches bottles soon.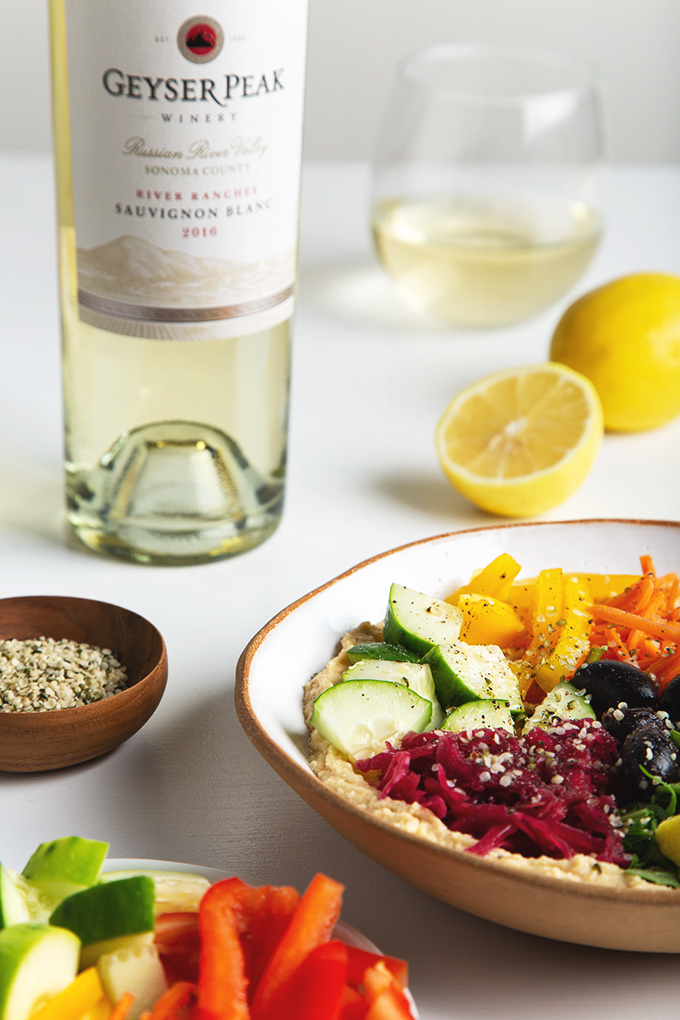 Geyser Peak is a supporter of the Field to Vase tour that celebrates local chefs, farmers, California wines, and local flowers and produce. If you have the opportunity to check that out, it looks like it will be an incredible event. If not, I hope you'll join me in taking a brief pause to enjoy this bright and vibrant Rainbow Hummus Bowl, and a good glass of wine.
Cheers to simple, seasonal food that we'll actually make on a weeknight! 😉
P.S. Want to win a wine picnic set complete with delicious local foods for your autumn adventures? Geyser Peak Winery is currently hosting a giveaway—check it out and enter on Instagram!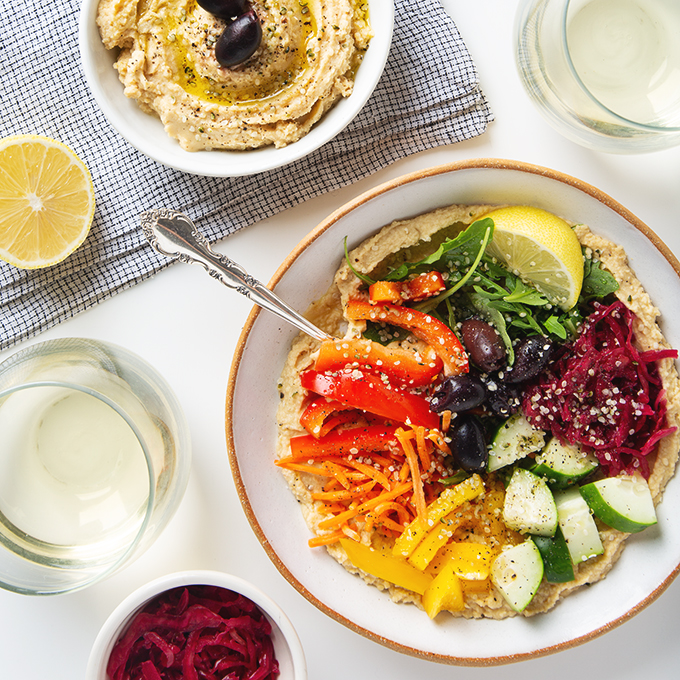 ---
Thank you to Geyser Peak Winery for sponsoring this post! You can find their delicious wines at a shop near you, ship them directly to your home, or follow along on Instagram.