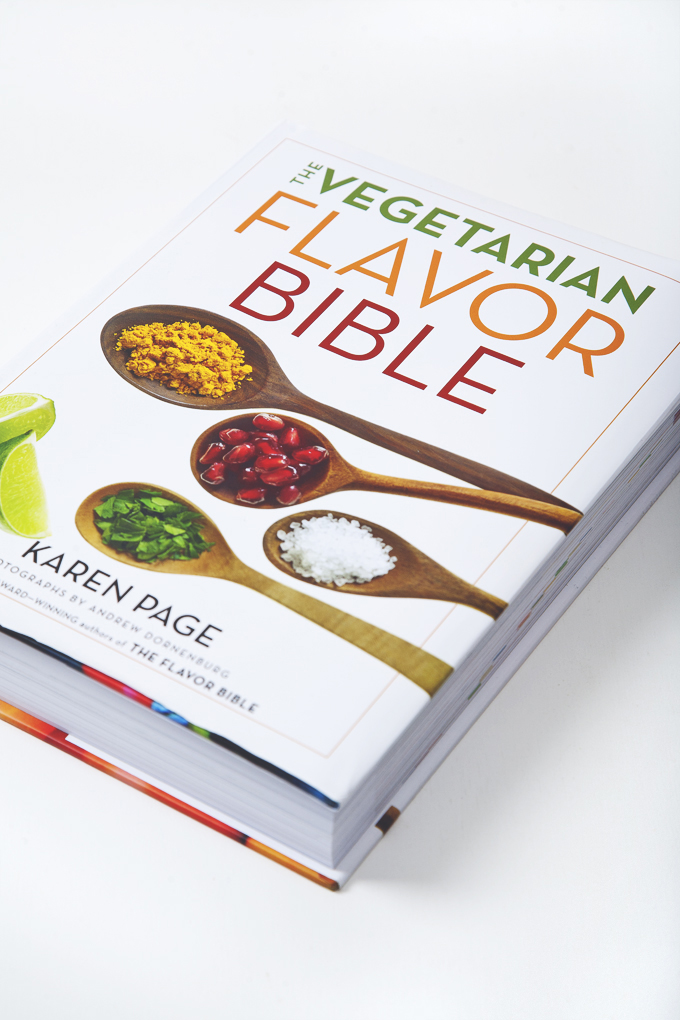 If there were ever an antidote to cooking ruts, this book would be it. You may have heard of The Flavor Bible before, authored a handful of years ago by Karen Page and photographed by Andrew Dornenburg (it earned a James Beard Book Award in 2009 and is currently the #1 best seller in the professional cooking category on Amazon). And now, Karen and Andrew have released The Vegetarian Flavor Bible—the same comprehensive guide to culinary creativity as the first, but tailored specifically to plant-based food. In a word, it is EPIC.
The Vegetarian Flavor Bible is not a recipe book, but rather a reference for all things flavor. There are hundreds (thousands?) of ingredients, listed alphabetically and paired with the seasonings that are best used to enhance them. It's an intuitive style of cooking that lends itself to seasonality and what you already have on hand. Too often, we can find ourselves making the same dishes over and over or always combining certain ingredients because we're not sure how else to use them. What I love about this book is that it takes the guesswork out of trying new foods and flavors, without inhibiting creativity. Instead, it's all about simple, whole foods, prepared in new and interesting ways.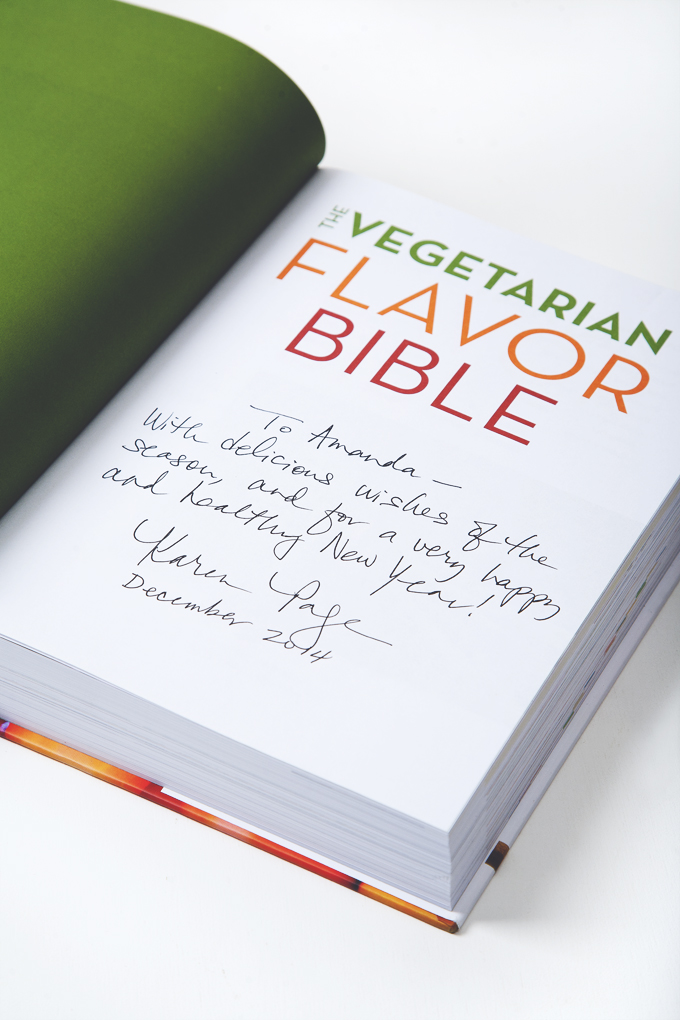 I'm honored to share a guest post from Karen on her secrets to making great salads. It seemed particularly appropriate for this time of year, as many of us are getting back to eating more fresh produce and greens after the holidays. Keep reading to find out how to pair your greens and dressings for salads that are anything but boring, and be sure to enter to win a copy of The Vegetarian Flavor Bible at the end of the post!
When it comes to greens, there are fewer better experts to turn to for advice than Annie Somerville of the renowned vegetarian restaurant Greens, which was founded in San Francisco in 1979. That's what I did when I was researching The Vegetarian Flavor Bible and seeking the secrets of great salad-making.
Annie's words now ring through my mind every time I step into the kitchen to make a salad:
"Every dish needs a vibrant quality to it. In a leafy green salad, when you toss it and serve it, it doesn't have all the leaves upside down so their backs are to someone. I call it 'fluffy and lofty' — the greens twins — that make the salad inviting. If you list a bunch of ingredients in the salad, don't hide them all at the bottom. Make sure the stand-out ingredients stand out. And don't go cheap: Three extra cherry tomatoes is not going to break the bank. You want a person to feel that you care every step of the way."
When seeking stand-out ingredients, it helps to think about which best enhance the flavor of the salad green or greens you're starting with. Each green has a different flavor profile that you're going to want to work with. I always open The Vegetarian Flavor Bible for ideas of various flavor affinities (i.e., groups of three or more ingredients) that best enhance various greens. For example:
Arugula:
arugula + apples + lemon juice + maple syrup + olive oil
arugula + fennel + grapefruit
arugula + fennel + hazelnuts + orange + radicchio
arugula + garlic + pesto + portobello mushrooms + white beans
arugula + olives + red onions
Romaine:
romaine + almonds + avocado + carrots + smoked tofu + tomatoes
romaine + avocado + pumpkin seeds
romaine + dill + garlic + lemon + scallions
romaine + Dijon mustard + lemon + olive oil + scallions
romaine + pears + sherry vinegar + walnuts
Radicchio:
radicchio + apple + fennel
radicchio + arugula + endive
radicchio + fennel + olive oil + orange + pear
radicchio + frisee + mustard + nuts + pears + red wine vinegar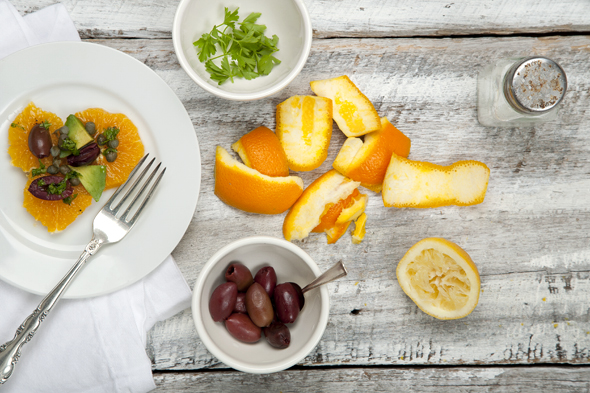 Orange Avocado Salad with Olives, Capers and Parsley
The Salad Dressing
The final secret to a great salad is, of course, a great salad dressing – which is why The Vegetarian Flavor Bible contains lots of flavor affinity ideas for salad dressings on pages 451-454. I love scanning the lists for ideas that make my mouth water that particular day. For example:
apple cider vinegar + cilantro + garlic + lime juice/zest + olive oil
balsamic vinegar + basil + garlic + mustard + olive oil
carrot + ginger + miso
garlic + lemon juice + tahini + tamari + umeboshi plum vinegar
shallots + sherry vinegar + walnut oil
Photography by Aaron Scott
…
Thank you, Karen! And now, the giveaway! Please note that this is open to U.S. residents.