Today we're taking a little break from recipes because I want to share a really cool and concrete example with you of how you can use SEO to do something awesome.
Back in May of last year, a PR firm reached out to me on behalf of a new company called ALOHA and asked if I would be interested in reviewing The Foundation (vitamins) and The Daily Good (greens powder). I was given samples of each and I ended up really liking their products in terms of ingredients, taste, and company mission. As I was clicking around the ALOHA website, I noticed they had a $5 referral program, where I could offer $5 off to people on their first order and also receive a $5 credit for each person referred.
When I first published my review post in May 2014, a few orders trickled in here and there from regular readers who had been curious to try the products. The ALOHA post received about 160 visits that month, 350 visits the next month, then 610 visits, 750 visits, continuing to increase at a steady rate. The first couple of months I was thrilled because I was able to use the referral credits to purchase vitamins, which meant I wasn't paying for them out of pocket. Free vitamins! (the things that get me excited)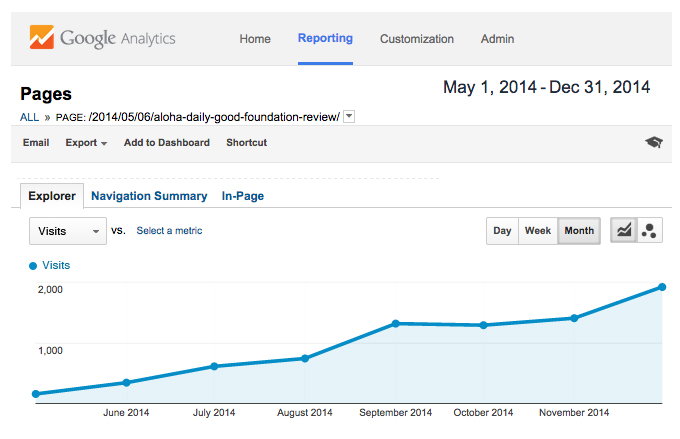 In November, ALOHA decided to increase the credit for first-time buyers from $5 to $20 to promote their new protein powders and superfood chocolates, which meant I also received a $20 credit on referrals (nice!). In December, traffic to my ALOHA post continued to grow, receiving 2,000 visits. I earned about $1,000 in credits, which got me really excited. We had been spending a couple hundred dollars each month on protein powders and supplements for Aaron's intense workout program, so this saved us quite a lot. We also ended up loving the ALOHA protein powders and chocolate bars—I truly think they are some of the best available (ingredients and taste-wise) and we enjoy them every day. Having a square or two of the dark chocolate at night is our new happy ritual.
So how did my ALOHA review post from May grow from 160 visits to 2,000 visits per month?
SEO, plain and simple. I employed a small amount of research to find out which keywords people were entering when they looked up ALOHA, and I optimized my blog post in a handful of strategic areas to include these keywords and be as SEO-friendly as possible. I probably spent an extra 10-15 minutes total on SEO, which includes tweaking my original post with updates as ALOHA added new products to their offering and I sampled them to report back.
While protein powder and chocolate doesn't pay the bills (wouldn't that be nice?), it does save us a couple hundred dollars a month on what we would be purchasing anyway. Bonus: it's also a nice stream of new visitors to Pickles & Honey who I hope like what they see and stick around.
I mention this ALOHA post in my SEO for Food Bloggers eBook, where I talk in detail about exactly what you should be doing to grow your traffic on search engines.
Side note: Since launching the eBook a little over a month ago, we've now sold over 100 copies and the feedback has been so positive. THANK YOU!
The ALOHA post is a compelling case study and worth considering as an alternative source of revenue.
Think about it:
Are there products you would buy anyway, that perhaps offer referral programs that could either significantly decrease your costs or eliminate them altogether? Could you write a review post about those products and spend a few minutes on SEO to get them to the top of Google searches to grow your traffic?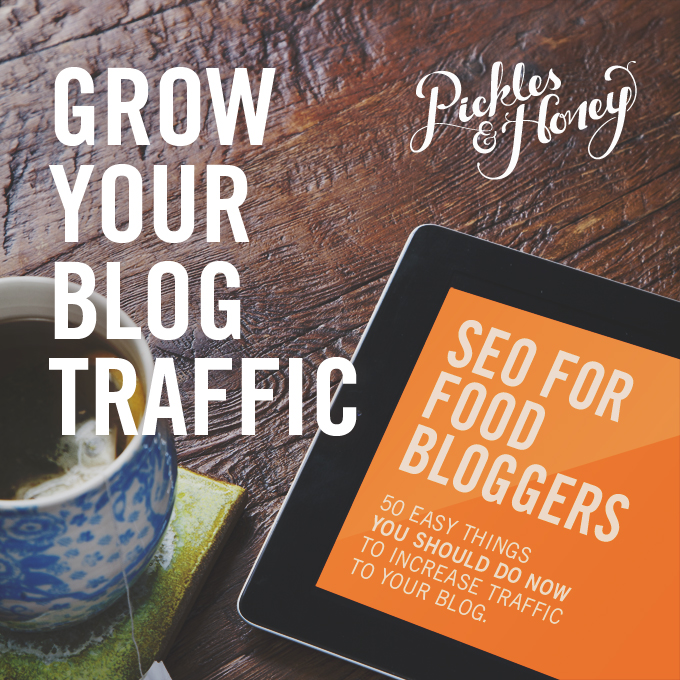 xo
Amanda
This post is not in any way sponsored by ALOHA. We have personally been purchasing and using their products since June 2014 and truly think they're awesome.