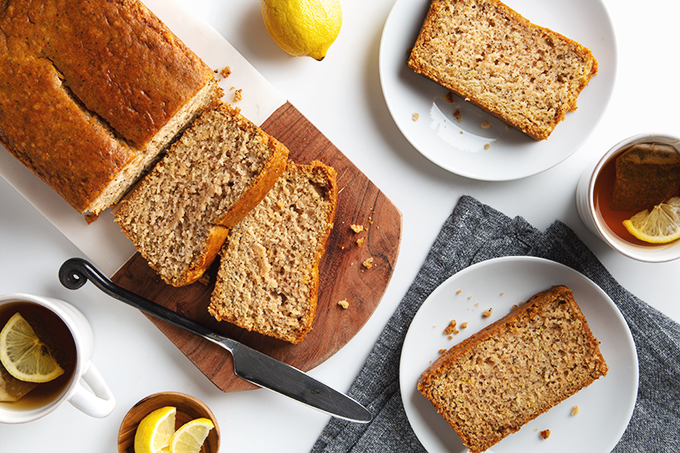 We've definitely entered the season of all things baked goods—pies, cookies, cakes, and if you're a member of the Scott family: lemon poppy seed bread. Aaron's mom makes it for holidays throughout the year and I always indulge in a slice (or two) because I can never turn down a lemon dessert.
This year the baking bug hit me hard and I decided it was high time I came up with my own recipe for vegan lemon poppy seed bread. My version is lightly and naturally sweetened with coconut sugar, but make no mistake—the texture is more cake than bread. That aside, I'm still me and I couldn't resist healthify-ing it just a little. I used a combination of plain non-dairy yogurt (my homemade cashew yogurt works really well here) and unsweetened applesauce in combination with a small amount of extra virgin olive oil to keep it lower in fat. The applesauce also doubles as an egg replacer, so wins all around!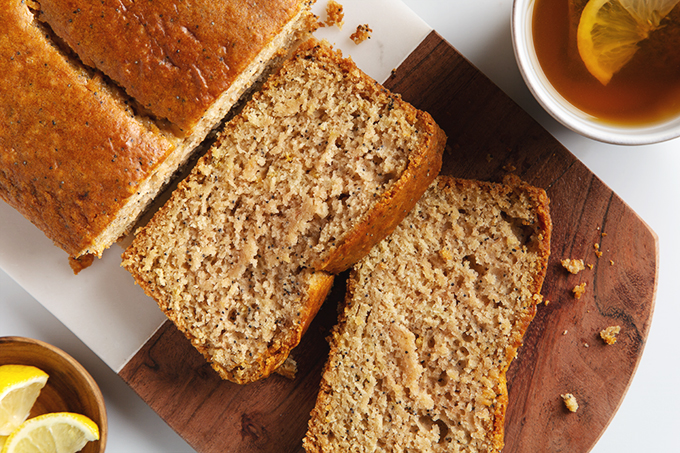 This bread takes about 50 minutes to bake, but just 10 minutes to prep. It's also only 12 ingredients, many if not all of which you probably have on hand. In other words, this lemon poppy seed bread is EASY. (and bright, and very lemony, and if you want to eat a slice for breakfast…why not?? January is for vegetables. 😉 )
P.S. You might also enjoy my Vegan Lemon Meringue Pie!