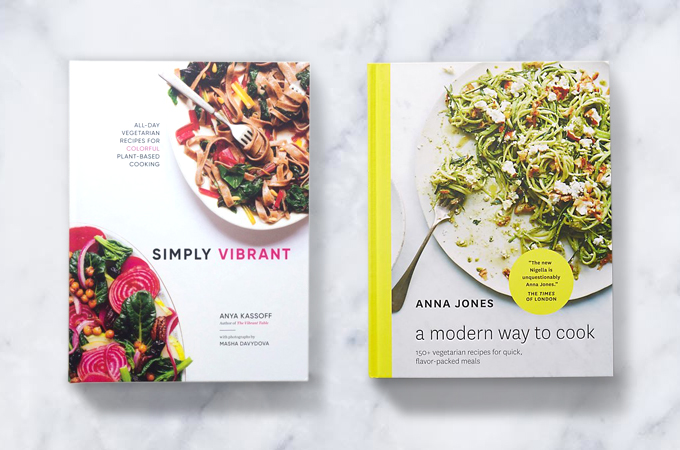 Every Sunday, Aaron has this really nice ritual where he spends the afternoon at the library. Sometimes he wanders around his favorite sections (history, design, and architecture) picking up all of the books that catch his eye, other times he uses the quiet of the library to hunker down and journal. His Sunday tradition has inspired me to take advantage of the library more often and get back into reading every day—from nutrition-related books, to self-help (I love a good self-help book!), to old favorites, and of course, cookbooks.
Here are a few cookbooks that have recently become Spring favorites for me, along with what I've made/hope to make from each soon.
Simply Vibrant: All-Day Vegetarian Recipes for Colorful Plant-Based Cooking
I loved all of the tahini-based sauces in the "Basics and Sauces" section (because I'm currently tahini-obsessed). I'm excited to try the Chocolate and Orange Bundt Cake next.
A Modern Way to Cook: 150+ Vegetarian Recipes for Quick, Flavor-Packed Meals
I loved the Zucchini Noodles with Pistachio, Green Herbs, and Ricotta (I used Kite Hill almond ricotta). I'm excited to try the Sweet Roasted Zucchini with Crispy Chickpeas, and also the Coconut, Rhubarb, and Lime Panna Cotta.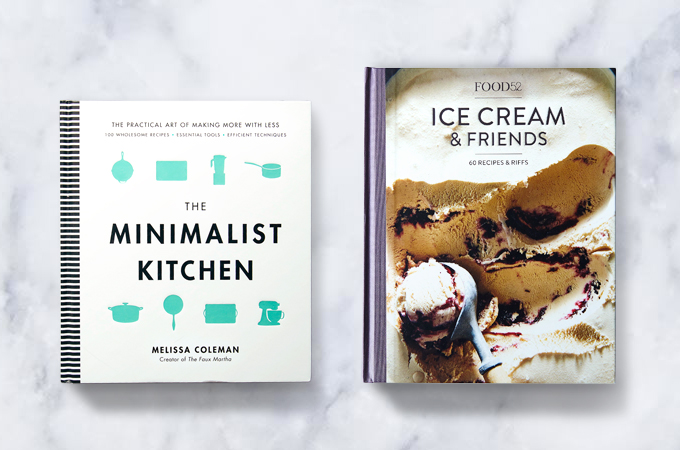 The Minimalist Kitchen: 100 Wholesome Recipes, Essential Tools, and Efficient Techniques
I loved the Pantry Oatmeal Dough Bites (get the recipe from Laura on The First Mess!). I'm excited to try the BBQ Black Bean and Quick Slaw Tacos.
Food52 Ice Cream & Friends: 60 Recipes and Riffs for Sorbets, Sandwiches, No-Churn Ice Creams, and More
So, this one is more Summer than Spring, but as someone who lives for ice cream, I'm already earmarking desserts in anticipation of hot summer days. I'm excited to try Better Chocolate Chunks, (dairy-free) Mint-Basil Chip Ice Cream, Blood Orange Negroni Pops, Fizzy Orange Sherbet Coolers…basically, I want to make them all!
What cookbooks (or other books) are you currently loving?
We'd love for you to follow us on Instagram!
Tag photos you post of our recipes with #picklesnhoney so we can see.