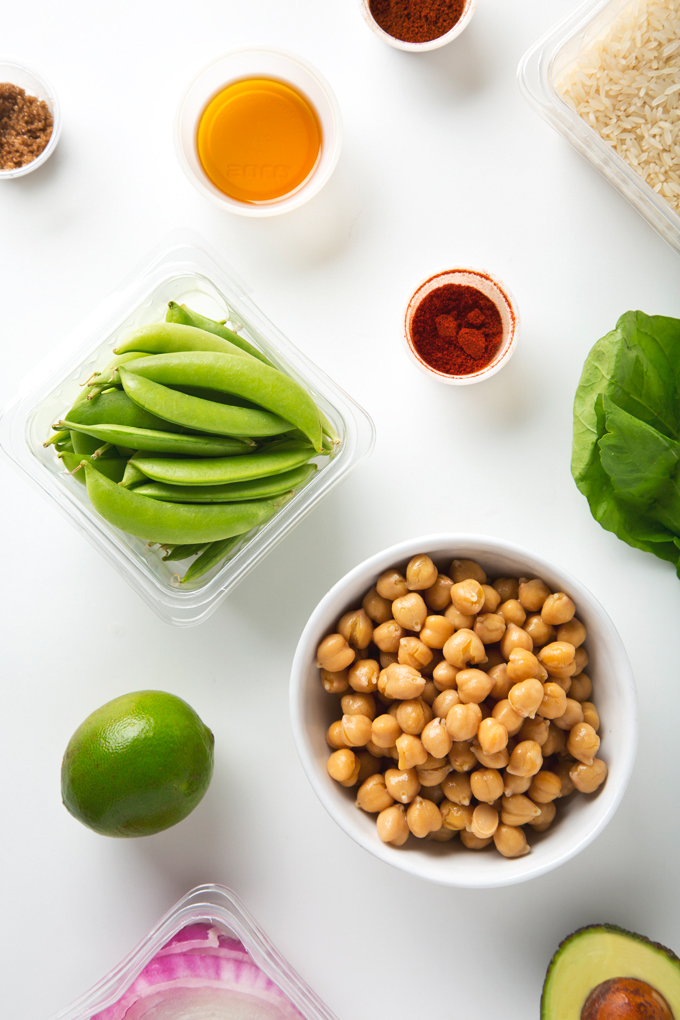 These last few weeks have been a lot more busy than Aaron and I expected. June and July were slower, and then August rolled in with lots of new projects and tight deadlines all at the same time. As self-employed business owners, this is an excellent "problem" to have. However, it does mean that we have much less time for other tasks, including grocery shopping and meal prep. When Terra's Kitchen reached out to us to see if we wanted to review their meal-kit delivery service, their timing could not have been better. We were a couple of weeks into a routine of muesli, tofu stir-fry, and beans + rice on repeat. It was getting old and I knew Aaron was going to be asking for pizza delivery at any moment.
Instead of caving and ordering greasy takeout, I quickly placed an order for a few vegan meals from Terra's Kitchen.

How It Works:
You sign up using your email address and enter your zip code.
You customize your meals or let their chefs choose. (I selected the vegetarian option to narrow the choices, then swapped out any meals that weren't already vegan.)
Terra's Kitchen sources fresh ingredients and portions/preps them.
You receive your meal-kit via an eco-friendly, refrigerated vessel, with step-by-step recipe instructions.
You make your lunch or dinner in under 30 minutes!

What We Ate:
Terra Buddha Bowl (pictured above) with avocado dressing, charred onion, greens, sesame rice, spiced chickpeas, and sugar snap peas.
Quinoa, Kale & Black Bean Bowl with black beans, chopped kale, cilantro lime hot sauce, quinoa, and red onions.
Vegan Power Bowl with cannellini bean dressing, kale, onion, spicy chickpeas, and sweet potatoes.
(Side note: we seem to gravitate towards bowls!)
Our Thoughts:
We love that there's a meal-kit delivery service with vegetarian and vegan options. It's surprisingly difficult to find vegan choices, and the Terra's Kitchen options were all clearly labeled with a handful of vegan meals for us to choose from.
The vessel they use to send the ingredients is reusable! It can be reused up to 100 times, and it's also well designed (little details like sturdy handles and magnets to keep flaps in place). After you've transferred everything to your fridge, you simply peel off your shipping label to reveal the return label, then leave it outside your door for pick-up the next business day. Super easy.
The meals are focused on healthy, whole foods. The vegan options we chose all happened to be gluten-free, protein-rich, and the portions were generous. We always had leftovers, which was a nice surprise.
The meals really do only take 30 minutes max to prepare. All of the ingredients are pre-portioned and pre-chopped, aside from needing to slice an herb or zest a lemon (quick steps that can't be done ahead of time). On busy work days, the last thing I want to be doing is prepping ingredients so this made me happy and definitely kept me from making us protein shakes and calling it dinner.
It's actually food you would cook for yourself. Not too many ingredients, no fancy kitchen equipment—simple, but well-balanced both nutritionally and flavor-wise.

Terra's Kitchen Coupon Code:
Are you interested in trying Terra's Kitchen for yourself? You can enter PICKLES at checkout to take $35 off your first order!
---
This is a sponsored conversation written by me on behalf of Terra's Kitchen.
The opinions and text are all mine.