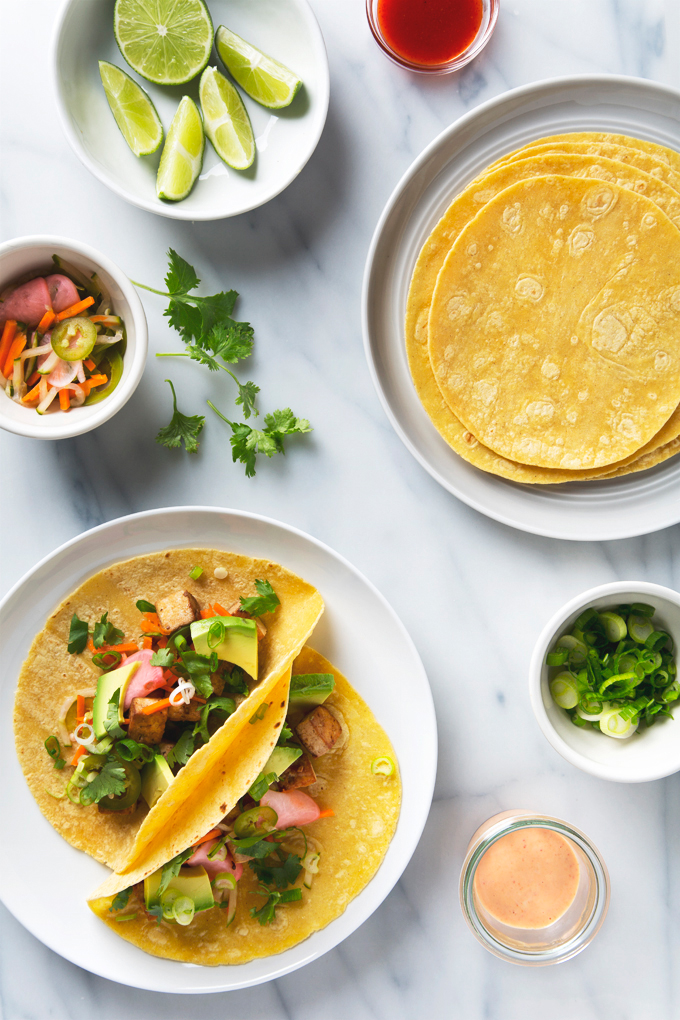 Last December I shared a recipe for Tofu Banh Mi Bowls with Spicy Pickles and it quickly became one of our most popular posts. It also happens to be one of my personal favorite meals, which is why I decided to fuse it with my recent taco obsession to make tofu banh mi tacos!
I used a similar tofu recipe as the banh mi bowls, marinating some pressed extra firm tofu in a simple mixture of soy sauce, fresh lime juice, garlic, and toasted sesame oil. I've found that the key to getting extra flavorful, chewy, and crispy tofu is taking the time to press it until it's about half of its original thickness so that it really soaks up the marinade (less water = more flavor). I use this tofu press because it makes life easy.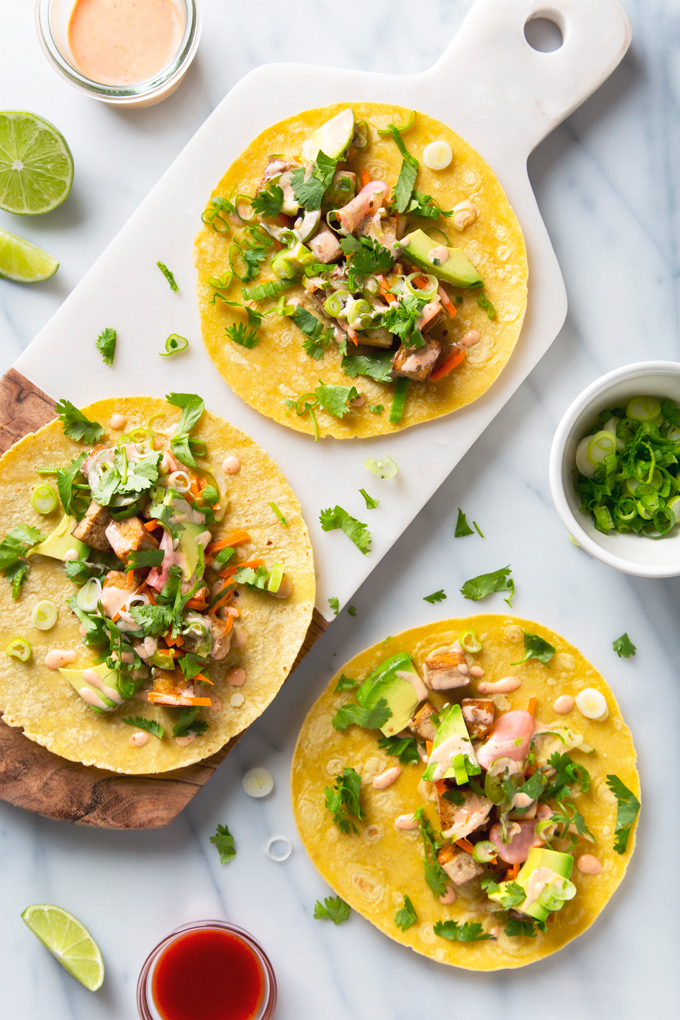 Another tip, and I know I'm super late to the game on this one, is to thoroughly warm your tortillas. For whatever reason I had been going through life not doing this, until a few months ago when Aaron randomly decided to use the neglected grill side of our stovetop to warm a few tortillas for burritos. No words. Since we moved here in 2014, the left side of our stove has gone almost entirely unused and I've been cursing the lack of burners (2 burners! why?!), but now I'm happily grilling tortillas pretty much daily because I love those barely burnt, crispy edges. Obviously, there are a million other ways to warm your tortillas—toaster oven, regular oven, stovetop, frying pan—the important thing is just that you do it because it's surprisingly life-changing.
One last note: don't be deterred by the longer than usual ingredient list for this recipe. Yes, these tofu banh mi tacos have a few components, but each is speedy and straightforward, and the end result will knock your socks off. We used some pre-prepped carrot sticks from Terra's Kitchen in the pickled veggie mix (part of their new option to add fruit and vegetable sides to your meal kit delivery order). With each wonderful bite you get crispy and perfectly browned tofu pieces, spicy and vinegar-y pickles, chewy (warm!) corn tortillas, creamy avocado slices, fresh cilantro leaves, and crave-worthy sriracha mayo + lime juice dressing. Basically, this is the meal that makes us want to skip going out in favor of eating tacos at home.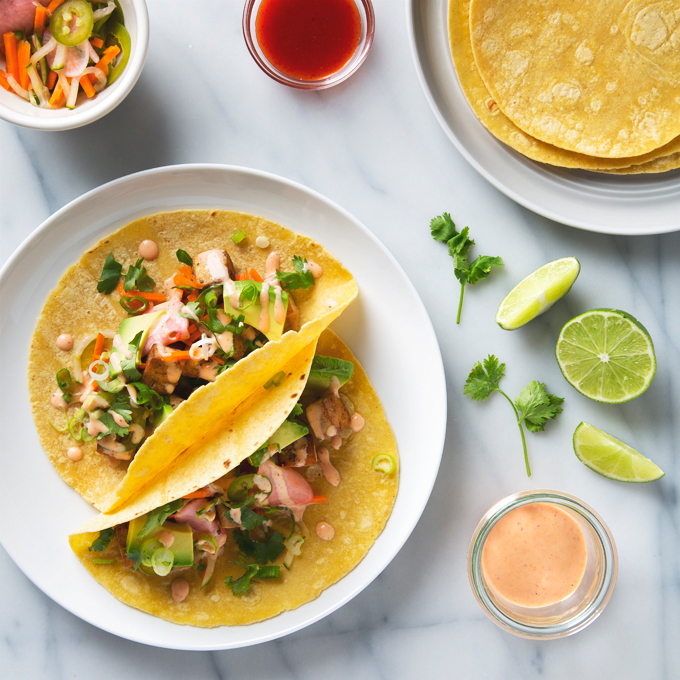 ---
Thank you to Terra's Kitchen for sponsoring this post! We love their wholesome, 30 minute (or less!), plant-based meal kits, plus their new option to add salads, smoothies, and pre-prepped fruit and vegetable sides to your order. You can read our full review of their meal-kit delivery service here, and enter PICKLES at checkout to take $35 off your first order!