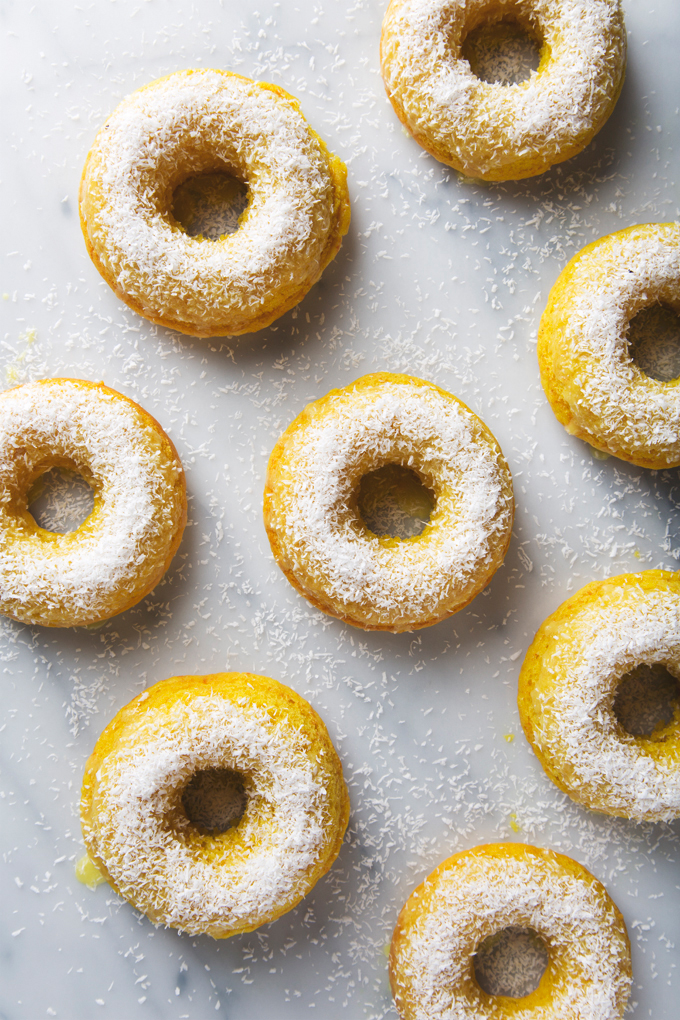 Around the time I started writing Pickles & Honey (about 5.5 years ago…!!), baked donuts were all the rage. I mean, donuts are always popular, but back then I kept seeing them everywhere. Being the minimalist that I am, it took me an absurdly long time to finally commit to buying a $10 pan so I too could enjoy them at home. I made donuts for friends and family, donuts for birthdays and holidays—I basically looked for any excuse to make donuts because they were easy, fun, and always well-received. Somewhere in between our many moves and traveling, my donut pan got relegated to the back of a cabinet behind a cake stand, cupcake tin, and popsicle molds, and while organizing our kitchen the other week, I suddenly felt a strong urge to bring back the baked donut craze of 2011.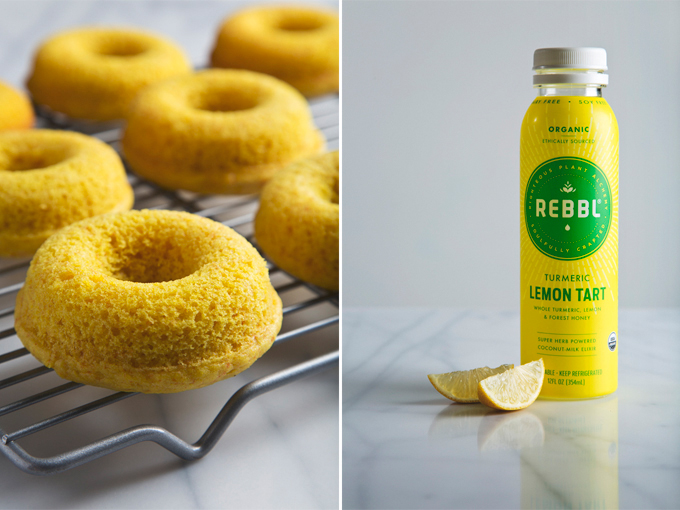 The turmeric lemon coconut donuts I'm sharing with you today are my #1 favorite donut recipe, hands down. I used REBBL's Turmeric Lemon Tart Elixir as the liquid, which I love because it's this perfectly tangy, creamy citrus combination that reminds me of lemon meringue pie meets golden milk. And similar to their other elixirs, the organic coconut milk base in this flavor creates a really stellar crumb. I'm especially smitten with the color of the Turmeric Lemon Tart; it's the most beautifully cheerful, sunny shade of yellow. I won't dwell too much on the nutritional benefits since these are donuts after all, but it's worth noting that this particular elixir packs a powerful anti-inflammatory punch thanks to the turmeric.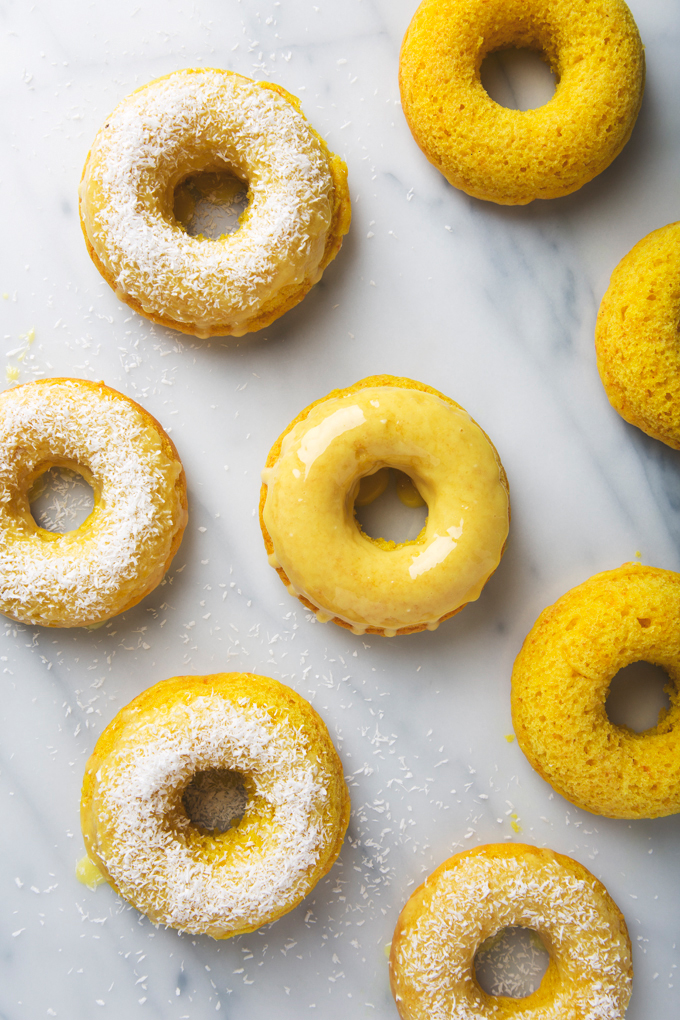 If you love cake donuts and you're looking for a good reason to either buy a donut pan or bring yours out of retirement, I highly recommend making this recipe. It's simple, the ingredients are relatively wholesome (turmeric, non-dairy yogurt, coconut oil, etc.), and the flavor is simultaneously familiar and new/exciting all at once. There's soft lemon cake with a subtle earthiness and spice from the turmeric, a sweet 2-ingredient glaze, and lots of shredded coconut. If I ever decide to open a bakery, these babes will for sure be going on the menu.
P.S. You'll have about 1/2 cup of the Turmeric Lemon Tart Elixir left after you make the batter and glaze. Feel free to enjoy it while the donuts are in the oven, or save it for dipping your donut at the end. ♥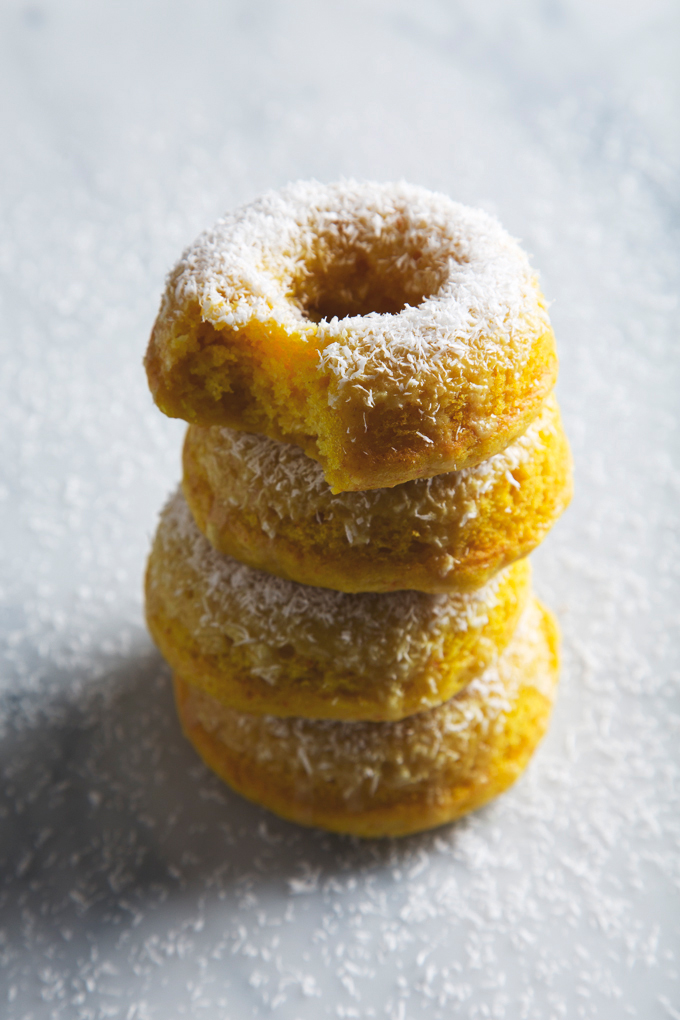 ---
Thank you to REBBL for sponsoring this post! We love their Super Herb Elixirs and Plant-Based Proteins. Check their store locator to find them near you!