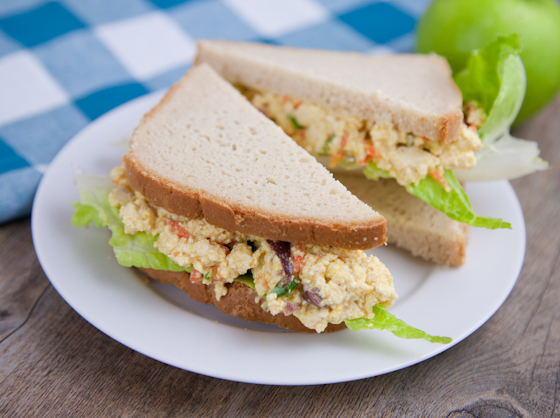 Egg salad tends to be one of of those polarizing foods, sort of like tuna salad. It's typically heavy on the mayo and kind of stinky. Not exactly the sort of food you wanted to bring for school lunches as a kid, or on your first day at a new job as an adult. Unless of course you don't mind being known as that new person who stunk up the break room.
While I've never been a huge egg salad fan, it's the type of thing that I'll crave every so often. And once that craving strikes, it's all I can think about. So, needless to say, after a couple of weeks on the 21-day Crazy Sexy Diet cleanse, I was in the mood for something a little more decadent than giant salad bowls and hummus.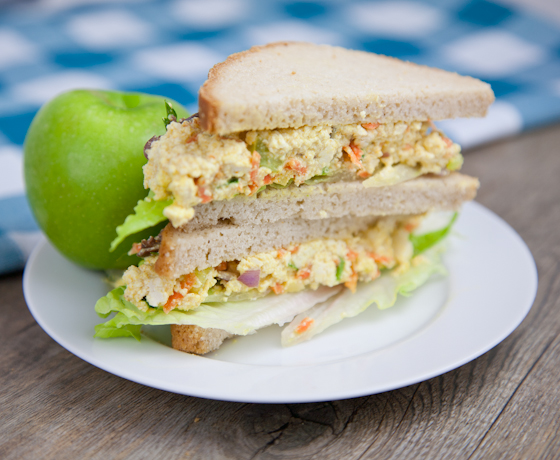 I was excited to see a recipe in the CSD book for tofu eggless salad and immediately got that once-in-a-while, intense craving for it. The original recipe is fantastic, but I couldn't resist adapting the proportions, spices, and add-ins, throwing in some salty kalamata olives and a little cayenne to give it some kick. Admittedly, perhaps too much kick. I have a bad habit of losing control of the cayenne container.
Though not an exact match for the real deal, this eggless salad takes on a similar texture and the flavor is spot-on, thanks to the vegan mayo, dijon mustard, and nutritional yeast.
And one of the best parts? No stinky hard-boiled egg smell. Your co-workers will thank you.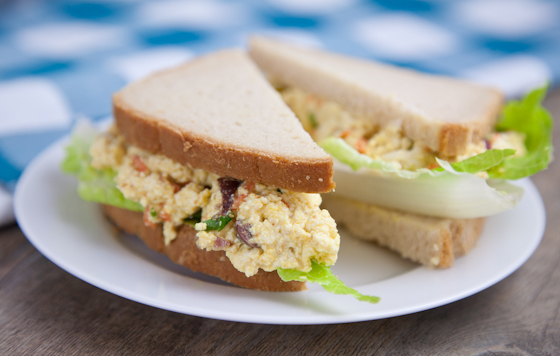 Author:
1 Block Extra Firm Tofu
1/2 C. Vegan Mayonaise (I used Nasoya brand)
1/2 C. Carrots, grated
1/2 C. Celery, finely diced
1/4 C. Red Onion, finely diced
1/4 C. Olives, sliced (I used kalamata, but olives are optional)
3 Tbs. Fresh Parsley, finely chopped
2 Tbs. Nutritional Yeast
1 Tbs. Dijon Mustard
1/2 Tsp. Turmeric
1/8 – 1/4 Tsp. Cayenne (optional)
Salt & Pepper to taste
Drain the tofu (no need to press it, just pour out the excess water) and place it in a large bowl.
Using a potato masher or fork, break up the tofu until it resembles the consistency of egg salad.
Add all of the remaining ingredients, and mix until they are well-incorporated.
Add salt and pepper to taste.
Enjoy as a sandwich or on top of some chopped romaine!
The tofu salad can be stored in the fridge for up to 5 days.
Go easy on the cayenne – you can always add more, but too much can ruin the entire recipe!
Not a fan of olives? Leave them out! Capers, pickle relish, or raisins would also be fun additions.