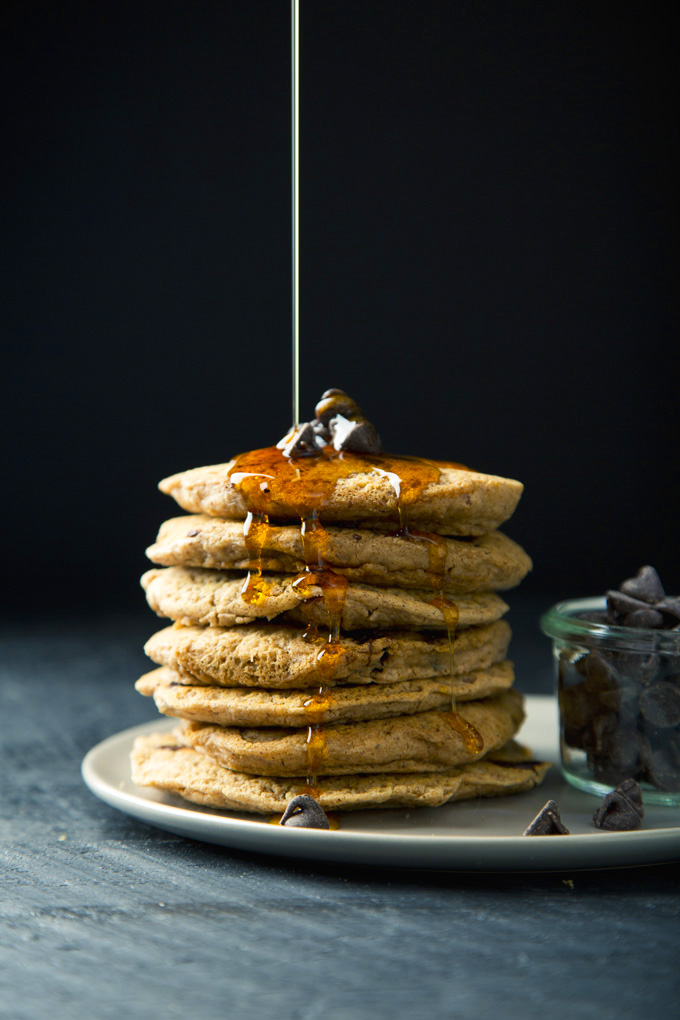 If I were to design an ideal workspace, it would be open with sunny floor to ceiling windows, crisp white walls, and a few plants for pops of green and air quality improvement purposes. My desk would either be white or made of reclaimed wood and it would be completely uncluttered, aside from my laptop and a big mug of peppermint tea with a splash of cashew milk. There would be sleeping puppies at my side and a warm breeze gently blowing through an open window, the perfect t-shirt, flowy-skirt, sandal-wearing weather. And equally important: it would be quiet.
I swear I feel calmer just having written that out. Where I sit now is a construction zone, and I'm not even really referring to the repairs we're having done on our place. We live in a two unit building and the new owners downstairs kindly gave us the heads up that before they moved in, they'd be refinishing their floors and painting. And then we ran into a group of guys who said "we're here for the demo".
It's been a couple of weeks of extremely loud (de)construction, exacerbated by the fact that our old building is definitely sparse on the sound-proofing between floors…as in, I don't think there is any. The floor below us has been gutted and the soundtrack of our days is loud banging interspersed with sawing, workers yelling, and an accidental electrical cut-off that killed our internet (the worst part of that though was 4 hours dealing with Comcast, not the lack of internet for two days).
Fortunately, I am really good at tuning out environmental noise. This was an immensely valuable skill I learned at one of my first jobs doing SEO, where I shared an open-office space with a couple hundred other recent college grads. Later, I perfected this skill at our rental apartment, which somehow was always surrounded by city construction during the day and rowdy college students during the night/early morning.
But what I would give for that sunny, quiet, minimalist, warm, and breezy work space right now. I try to take these noisy and transitional spurts in stride because the alternative is to let them get the best of you, but Aaron is waaaay less tolerant. This is actually surprising to me given that his workspace is often (in my minimalist opinion) more cluttered, messy (he is an artist, after all) and filled with the familiar voices of NPR, though I suppose those are all choices he's made and not had put upon him.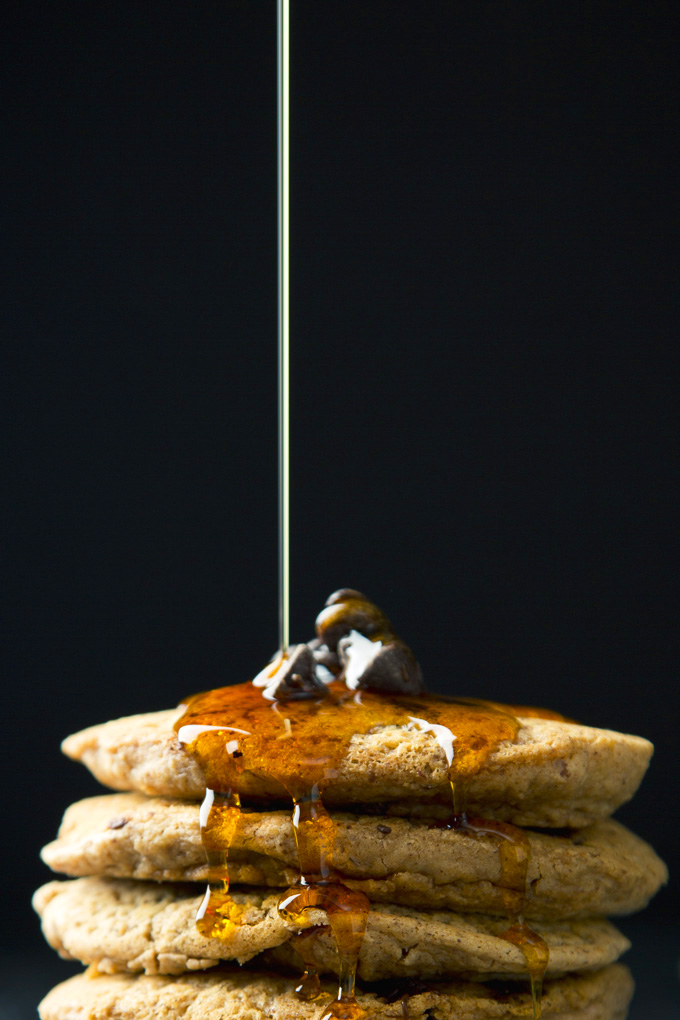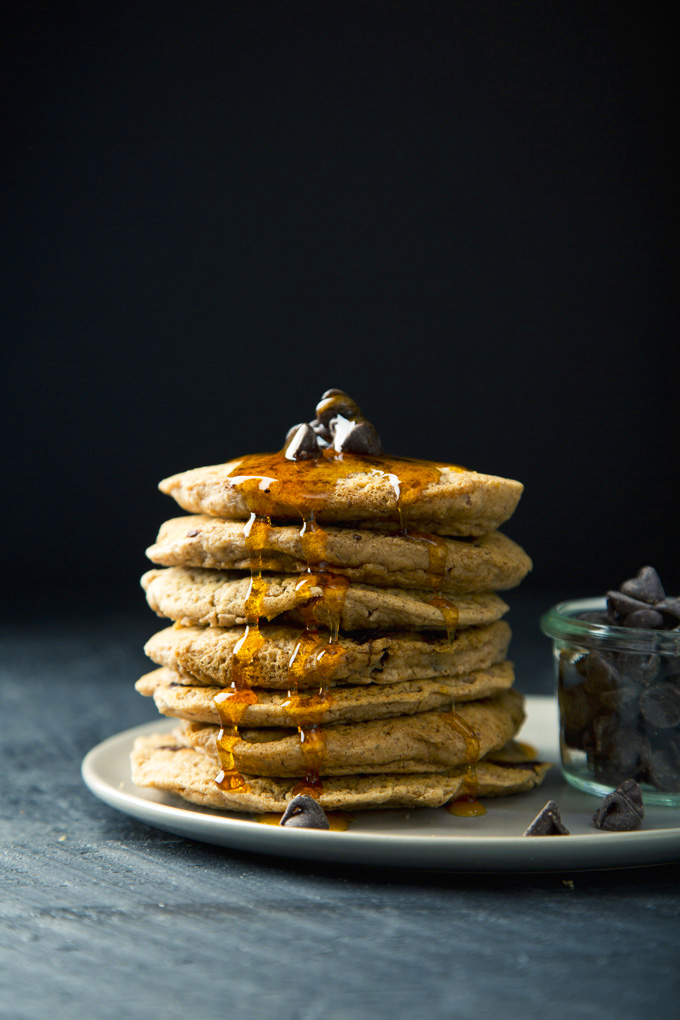 Two of the biggest keys to Aaron's heart are pancakes and cookies. They have the ability to lift his spirits in short-order, which is why I decided to combine both to make him chocolate chip oatmeal cookie pancakes. Naturally, these cookie pancakes are vegan, but they're also gluten-free and use a combination of gf oat flour and rolled oats. No fancy flours or xanthan gum necessary. Just 10 ingredients mixed in 1 bowl, and you don't even need to buy oat flour. Simply grind rolled oats into flour in your blender or spice grinder. It really is that easy.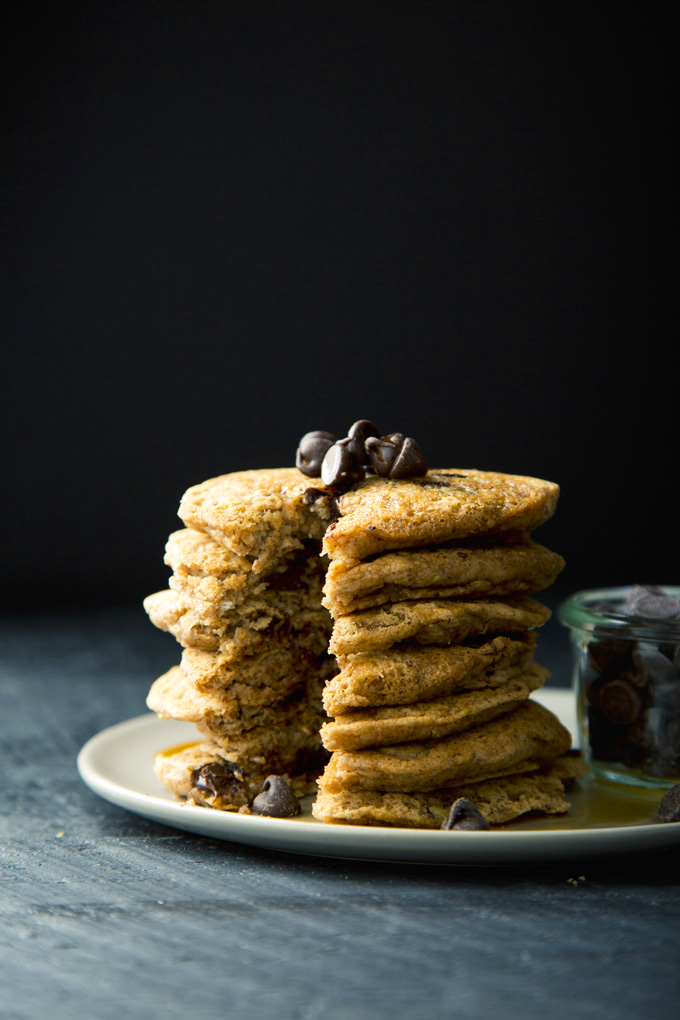 I adapted my favorite pancake recipe once again and both Aaron and I are very happy with how this new variation turned out. It's chocolate chip oatmeal cookie flavor in pancake form. What more could you ask for?*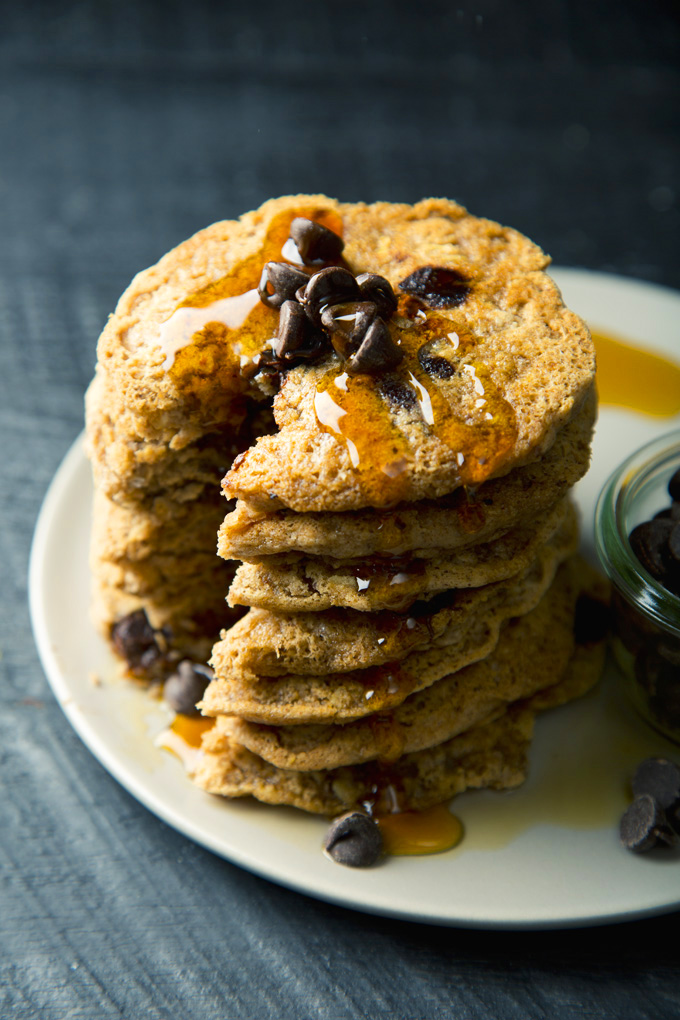 *Okay, not living in a construction zone would be nice.