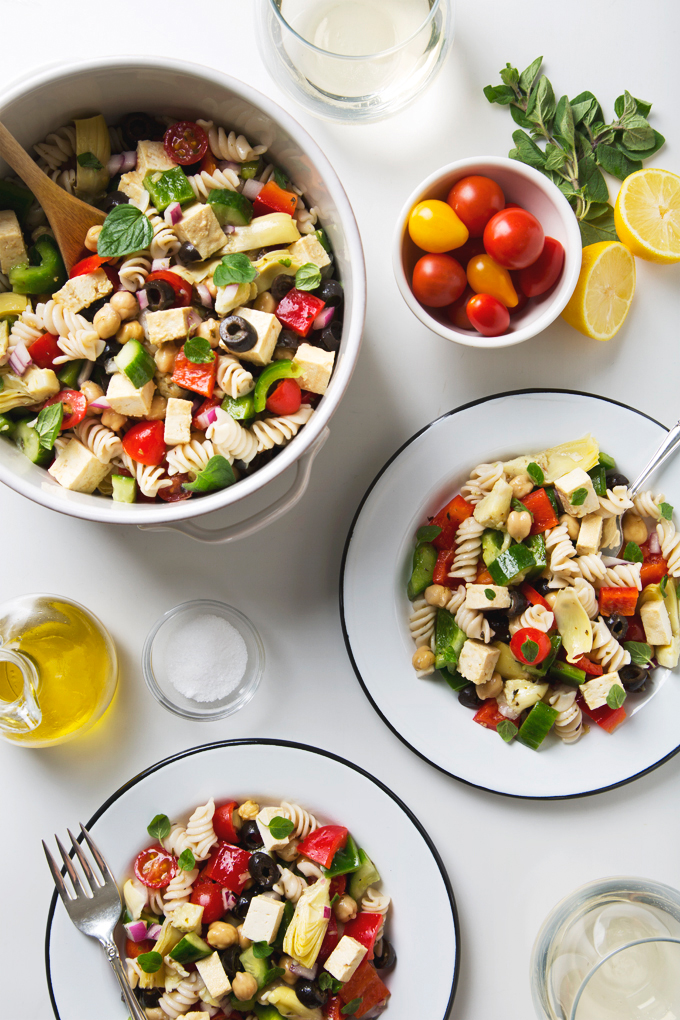 With the long Memorial Day weekend approaching and cookout season kicking off in just a few short days, let's celebrate warmer weather with a quick and lighter meal—no ovens, minimal dishes, and chilled drinks in hand. Sound good?
We've been receiving a lot of positive feedback on our recent tofu feta cheese recipe, which is making us super happy. Aaron and I keep a batch of it on hand most weeks to toss into salads and wraps, and lately we've been loving it in vegetable-heavy Greek Pasta Salad too. If you've been looking for a way to use your tofu feta or searching for something easy to bring to your next get-together, this is the recipe for you! Aside from cooking some gluten-free brown rice pasta (or whatever pasta you like), all that's required is chopping a few vegetables, whisking together a simple dressing, and tossing it all together in a big bowl. It's bright, colorful, and the tofu feta and chickpeas make it higher in protein and a lot more filling than more traditional pasta salads.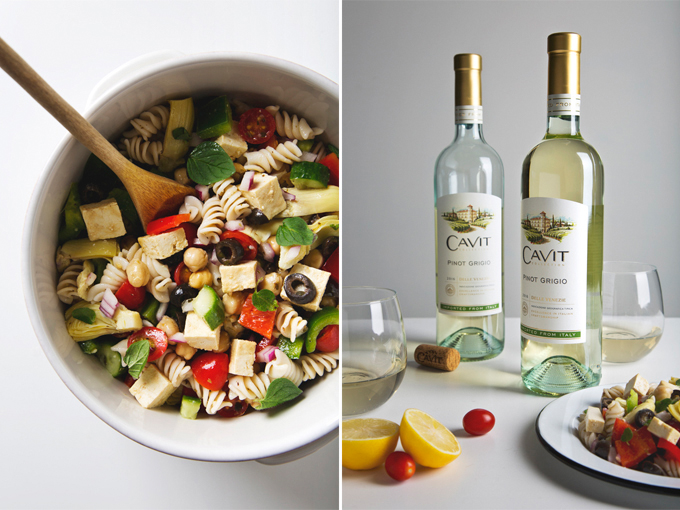 This recipe makes a big batch, and Aaron and I have been making the leftovers more fun by pairing them with a chilled glass of white wine. We like the Pinot Grigio from Cavit because it's light and citrusy, with a subtle green apple flavor that's really refreshing on warmer days. If you're a Pinot Grigio fan, you'll be pleased to know that the first National Pinot Grigio Day is happening this Friday, May 26th, just in time for the long weekend. We think it's the perfect way to kick off the season of cookouts, beach days, and more produce-heavy meals. Gah, I am so excited for summer!
---
Thank you to Cavit Wines for sponsoring this post! We love their light and citrusy Pinot Grigio!