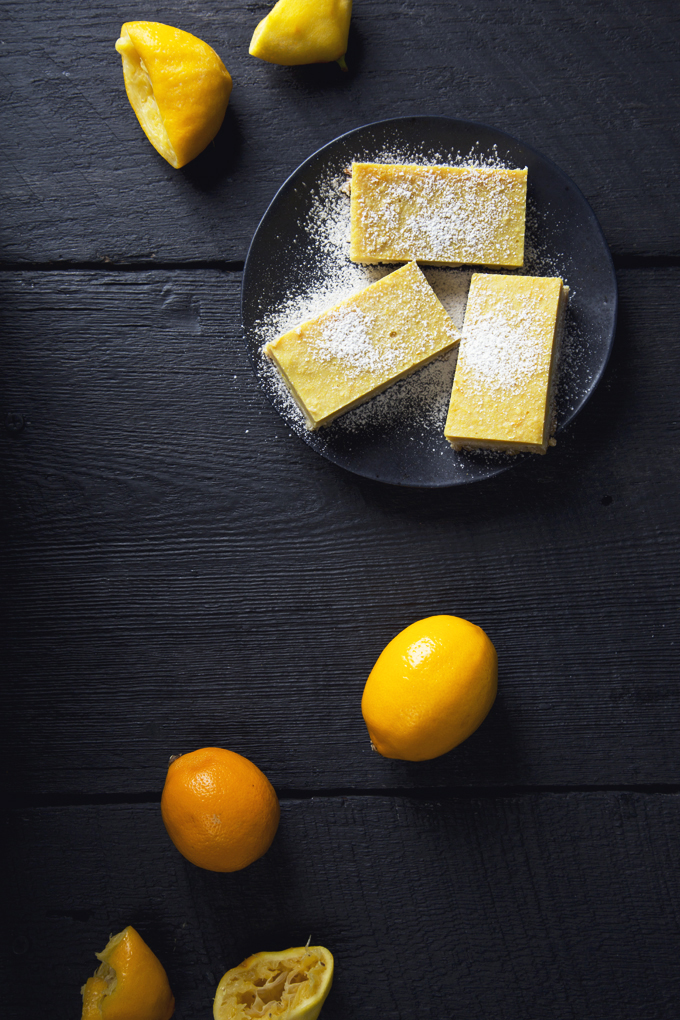 Before we talk about these gluten-free and vegan lemon bars, I feel like I need to acknowledge what a whirlwind this last week has been. As I mentioned in my vegan chocolate cake post, things took an unexpected turn for the worse at the end of last week with sudden swelling in my neck which landed me at urgent care, then the emergency room, then an overnight stay at the hospital, and then at an endocrinologist appointment yesterday. It was my first time in the ER and oh boy, have I learned a lot in a very short time about the variance in care in one hospital versus the next. If you ever find yourself needing to go to the ER but you have a choice in where you go, choose wisely.
Normally, I wouldn't name names, but if you're in Boston, I would stay far away from Mount Auburn Hospital. I waited around for hours, there was a revolving door of eight bumbling, incompetent doctors lacking any kind of empathy, they mistakenly ordered me a chest x-ray (which I declined), I sat in a wheelchair in the hallway for twelve hours before getting a room, only to be woken up hourly for blood draws and vitals checks, and they told me I couldn't eat or drink anything the entire time I was there (I stopped listening after a full day because no water for that long is just stupid, especially with no IV fluids—though they insisted I keep an uncomfortable IV in the entire time).
We called around Monday morning to the big Longwood Medical area hospitals and Beth Israel scheduled us in immediately. They even pulled up all of my medical records over the phone, and yesterday I went in for an ultrasound and met with an endocrinologist—who saw me early and called to follow up before we were even home to tell me it's a common type of thyroid cyst that she's not overly worried about. I go in tomorrow to finally have that biopsy (for which there are no food or drink restrictions! WTF) and hopefully put all of this to rest.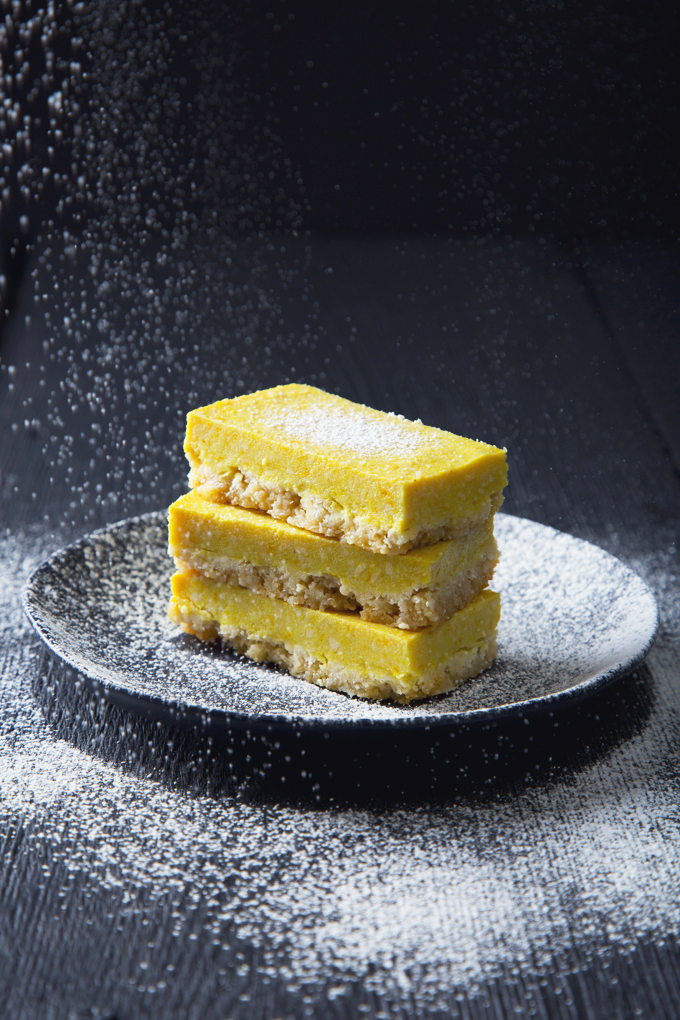 In the midst of all of this chaos and stress I:
Slept for a solid 11 hours when I got home from the hospital. Like, passed out didn't even change positions, then thought about sleeping some more.
Made a giant list of what Aaron and I need to do to take our epic road-tripping adventure this spring/summer. (list-making is calming to me)
Baked vegan lemon bars that are gluten-free, grain-free, and refined sugar-free (well, minus the optional powdered sugar, which is entirely for looks). These bars took me quite a few trials, but I was so determined to get something right. I needed these bars to be awesome!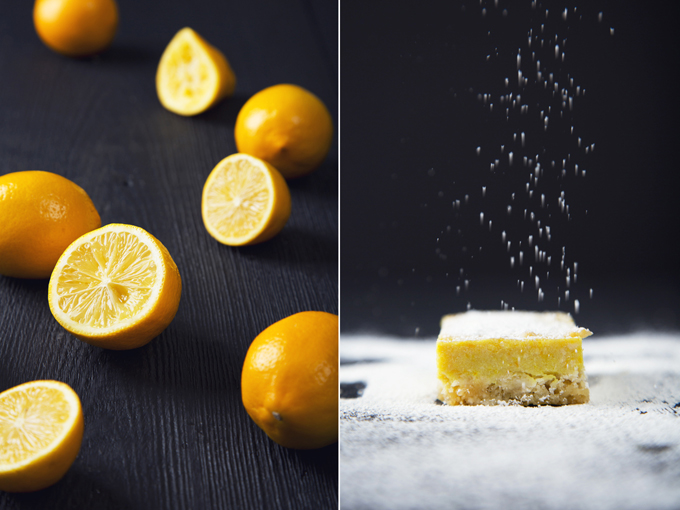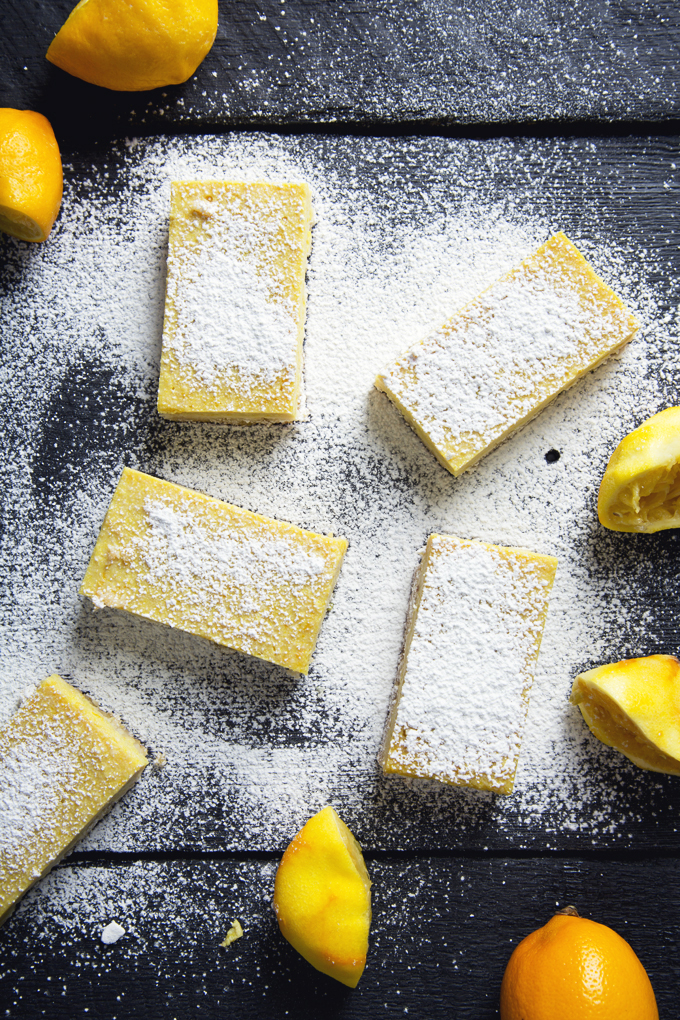 And awesome they are!
Awesomely simple (less than 10 ingredients), awesomely wholesome, and awesomely delicious. If there's one flavor I love almost as much as chocolate, it's lemon, and these gluten-free and vegan lemon bars are extra lemony. I used Meyer lemons because that super saturated, sunny yellow is most welcome this time of the year. I think I need a giant bowl of them on our dining room table at all times.
I hope these lemon bars will bring you a little extra sunshine just as they did for me!