When Aaron asked me what recipes we would be photographing this past week, I told him "a mushroom cioppino that I think you're going to love, and vegan lemon meringue pie—my magnum opus." I've been wanting to make a lemon meringue pie sans eggs for the last six years and every time I put it on my content calendar, I would get cold feet and swap it for something else. Vegan lemon meringue pie is a tall order because the traditional version relies so heavily on egg yolks in the filling and egg whites in the meringue. But a few years ago, after a whole lot of practice, I finally got good at making pie crust, and a year after that, I discovered the magic of aquafaba (aka chickpea liquid) and nailed a vegan pavlova. When I told Aaron lemon meringue pie was my magnum opus, his response was that he was surprised I hadn't made it immediately after the pavlova win. I think I would have, except we left for our epic year of road tripping soon after and there was no way this pie was happening via tiny hotel kitchenette or a questionable airbnb rental.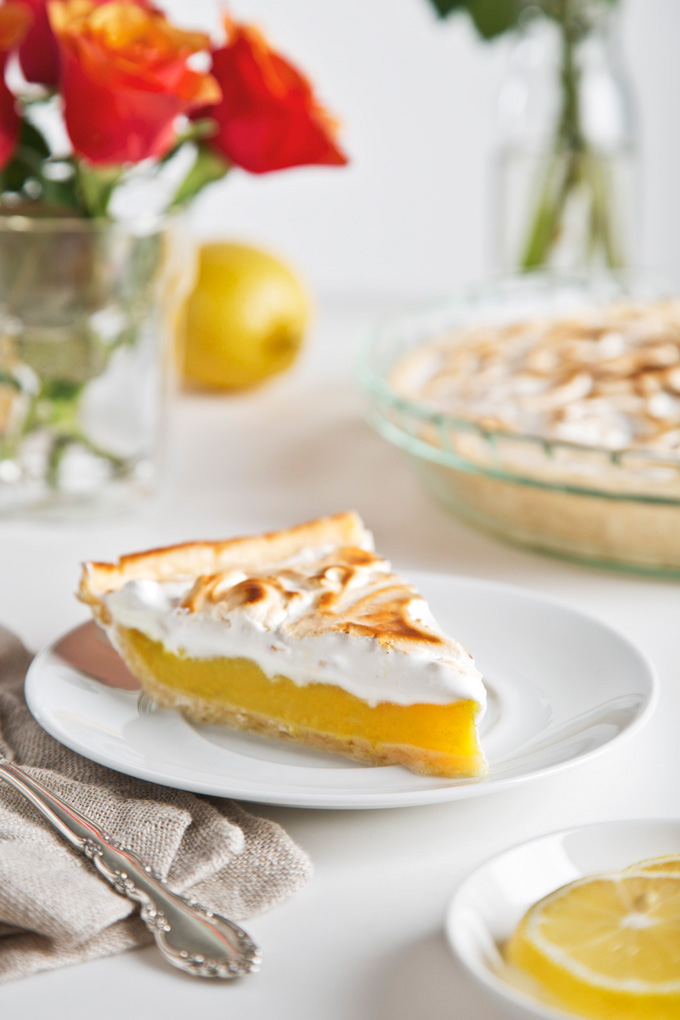 It sounds kind of silly to say this, but I tackled this recipe the way I do most other lofty goals: I broke it down into mini steps and gave myself pep talks along the way. "Okay, so your crust looks pretty good. Now all you need to do is make a lemon filling that holds its shape but isn't too firm. You've made puddings and lemon bars before…you can totally make pie!" (please tell me you also have these kitchen talks with yourself?) Six years and many anxious trials later, I finally did it. I made vegan lemon meringue pie!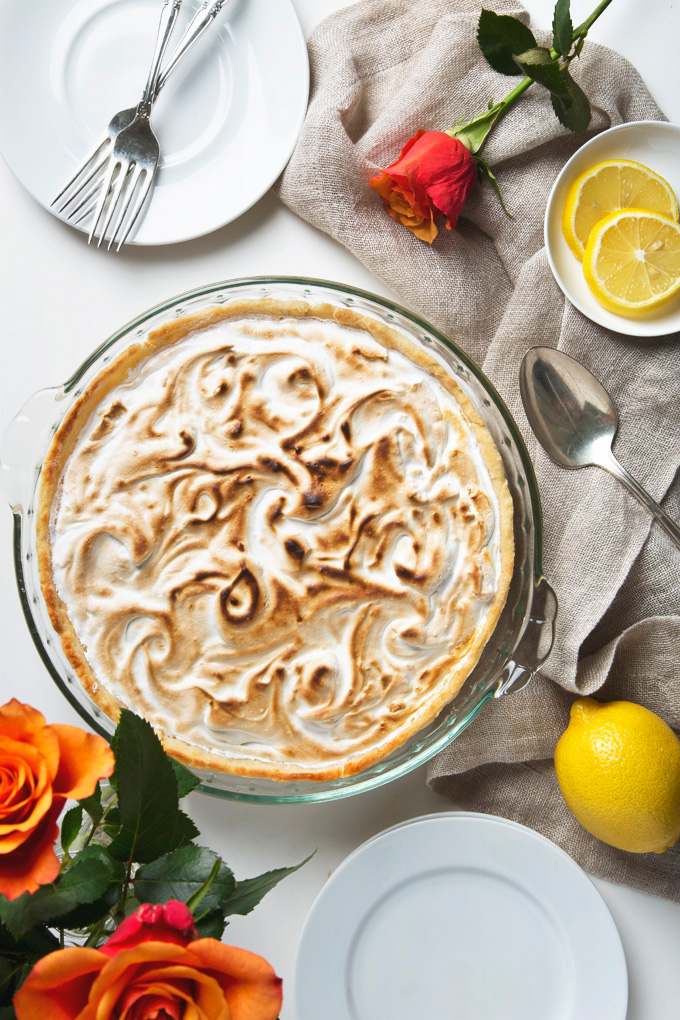 Similar to my pavlova, this pie recipe is actually rather simple. It looks more daunting than it is because there are multiple components, but if you take each one step-by-step (and give yourself a little pep talk in between each), you'll happily be eating vegan lemon meringue pie in no time. I tried to be extra thorough and detailed in my instructions because while it is a simple recipe, it does require some precision, especially when it comes time to make your aquafaba meringue.
If you've baked with aquafaba before, you probably know that it has a tendency to get super fluffy and dreamy, and then almost as quickly deflate into a puddle of liquid. In order to avoid that, I decided I would try reducing the chickpea liquid to remove a lot of the water, then follow my usual recipe as-is. And hooray, it worked! The consistency is much thicker—very similar to flufernutter—and even after several days in the fridge, it still hasn't deflated much.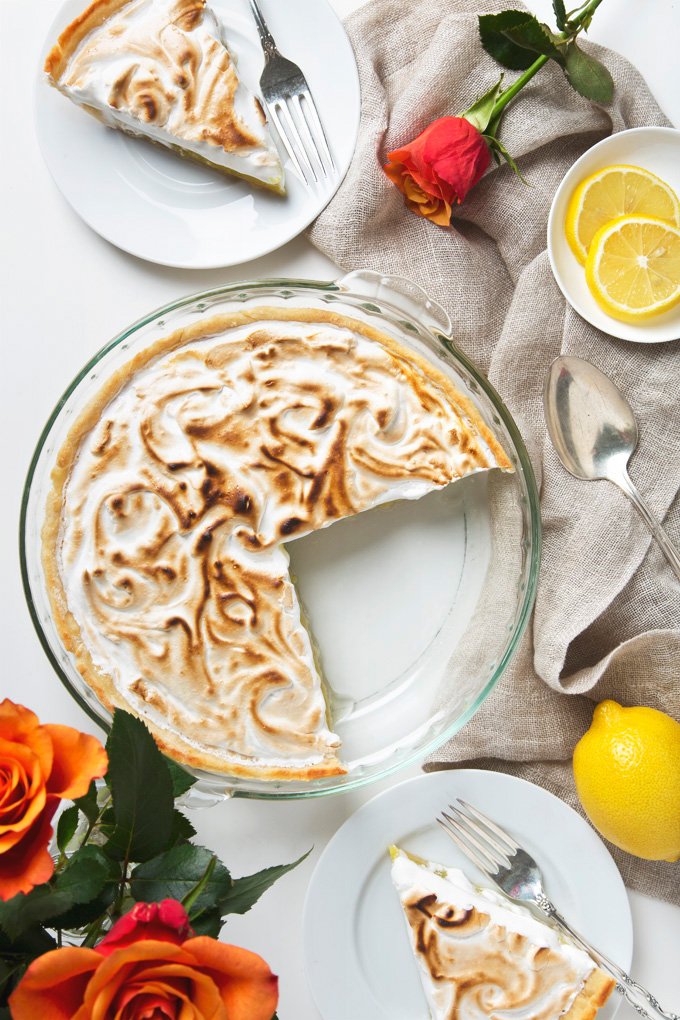 Here are a few other learnings you'll want to keep in mind, since I know I'll get questions:
You can definitely buy a pre-made pie crust and bake it according to the package instructions if you don't want to make your own. Just make sure it's large enough to hold the filling (about 9.5 inches in diameter).
The filling relies on agar agar flakes and arrowroot powder as thickeners. Agar flakes are not the same as agar powder so please don't use them interchangeably (agar powder will almost certainly work, but I haven't tested it to determine how much less you would need). If you don't have arrowroot, cornstarch works just as well.
For the meringue, it's imperative that you reduce the chickpea liquid and then fully chill it in the fridge or it won't reach the necessary stiff peaks stage. You also need to use fine white sugar to avoid grittiness from the sugar not dissolving. Don't replace the white sugar with liquid sweetener—it won't work.
If you want those pretty toasted meringue swirls like you see in the photos, you need to swirl your meringue before you broil it. You want shallow peaks to create some dimension, but not any bigger because the topmost peaks will burn before the rest of the meringue can brown.
And finally: watch the meringue like a hawk while you're broiling it! Take it from me, it can burn in under 10 seconds and fill your oven with smoke. I happen to like mine a little burnt (it's how I always make my s'mores), but if you don't and this happens to you, you can always use a spoon to scrape off the very top layer, re-swirl your meringue, and broil it once more…this time more carefully. Alternatively, a butane torch is probably a more easily controlled way to go.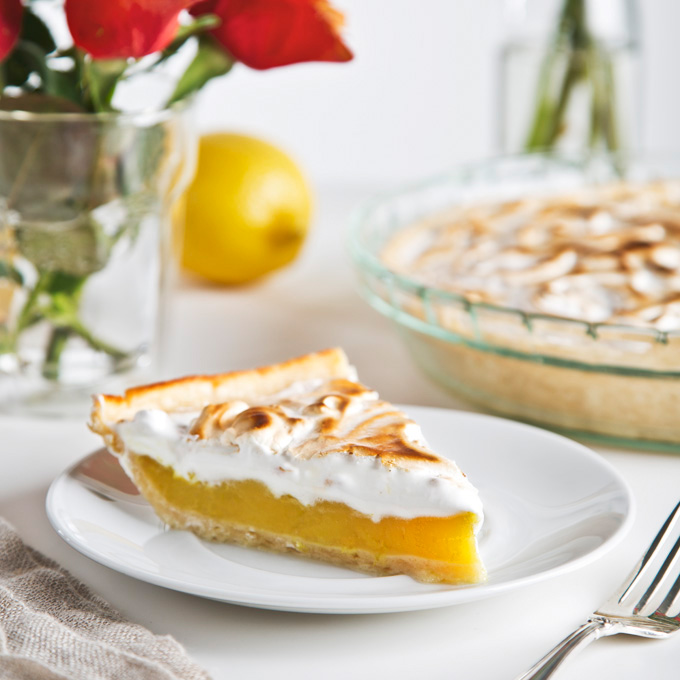 I'm currently working on an agar-free filling to eliminate the need for a specialty ingredient, so I'll plan to update this post with that filling recipe once I figure it out. In the meantime, happy vegan lemon meringue pie making! Reach out if you need clarification on anything and I'll do my best to help!