I had a serious urge to bake last week, so I made Aaron and I a batch of vegan raspberry scones and topped them with a decadent white chocolate drizzle. Raspberries and white chocolate are a "thing" for a reason—these scones were SO good! I'm not sure I want to admit how many I ate that day, but what the heck…I ate four! (aka half the scones.) I know. I was borderline out of control and even after eating one mid-morning and one post-lunch, I ate another two for dinner, not a vegetable in sight. #worthit
These raspberry scones are very lightly adapted from my favorite blueberry scones, but where I changed things up is in how I incorporated the fruit. For the blueberry scones, I mixed them straight into the dough and wasn't gentle at all, which resulted in a lot of mashed berries (still delicious). For these scones, I divided the dough into four pieces, rolled each piece into an equal-sized round, and then added halved raspberries in between each layer of dough. From there, I formed all of the layers/filling into one round that I cut into scones. It worked out perfectly! Since raspberries are more delicate than blueberries, this method helped to keep them from turning into mush and instead resulted in layers of extra flaky dough with juicy bites of raspberries throughout. Highly, highly recommended.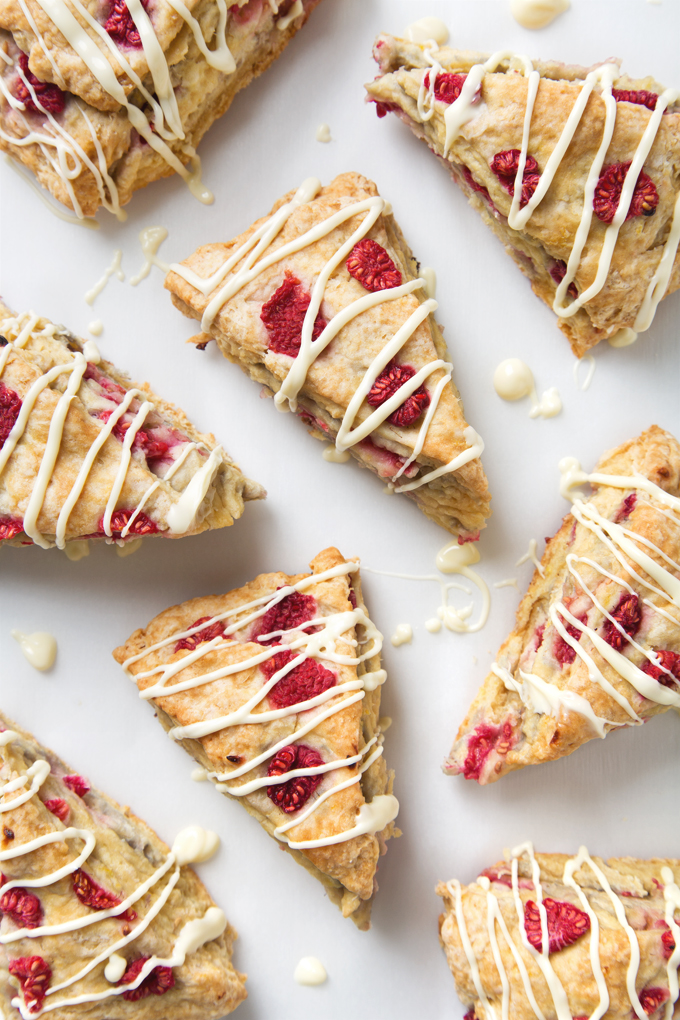 If you've ever felt intimidated by baking, these vegan raspberry scones are a great beginner recipe because they're only 10 basic ingredients. You can mix them by hand and get in a decent arm workout, or do what I do and let your stand mixer (with the paddle attachment) do all of the heavy-lifting.
They're loaded with fresh raspberries, made with a small amount of buttery spread (coconut oil also works but I was going for a classic buttery vibe), scented with lemon zest and vanilla, and topped with a quick white chocolate drizzle to really make them next-level awesome.
P.S. If you're gluten-free, I've had good results swapping out the all-purpose flour for this gluten-free baking blend.