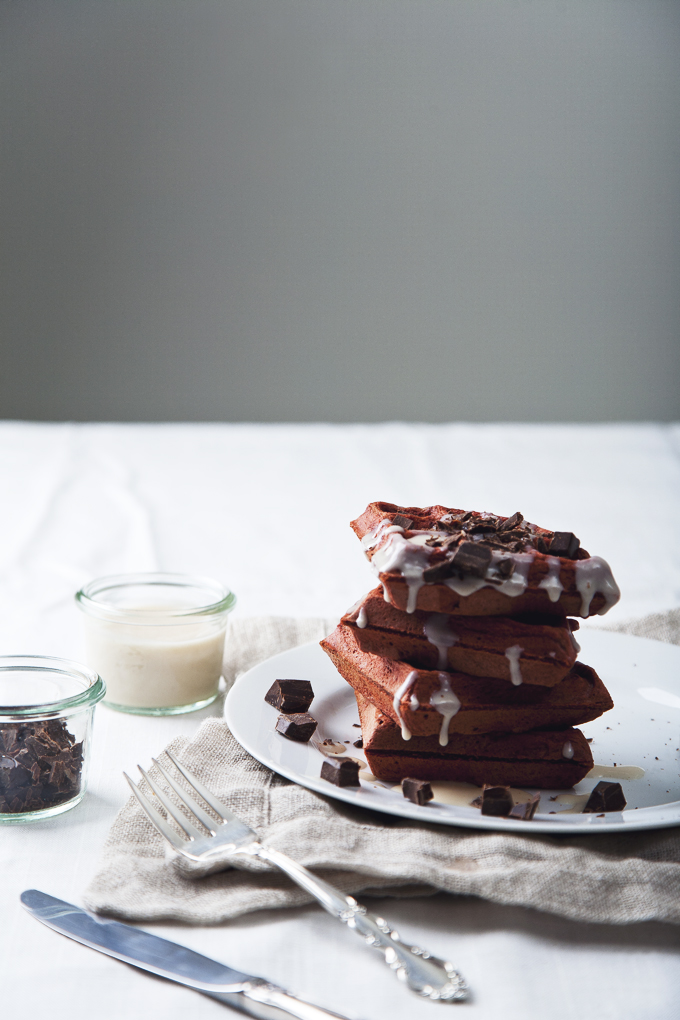 I'm perpetually on a mission to de-clutter and pare down our belongings to only what we actually need and use. The other week I tackled our bathroom cabinets. The thing about having more space and more storage compared to our last apartment is that it's easy to let things fill the space. Hanging on to old bottles of nail polish I never wear (I used to have a slight nail polish obsession, which I blame on working next to a Sephora…very bad for my bank account), almost-empty bottles of lotion, and make-up that's no longer my nearly bare-faced style. That task was easy and it didn't really pain me to ditch any of those things for the joy that I get from clean, organized shelves.
Feeling braver, I got to work on sorting through my clothes. I believe the general rule is that if you haven't worn something in a year, it's time to donate it. As someone who used to also work next to an Anthropologie (really terrible for my bank account), I still have pieces I love but don't wear. Because I work from home with a lot of time spent making a mess in the kitchen, and my co-workers are of the furry/shedding variety, it just doesn't make sense for me to wear those pretty, flowy, dry-clean-only blouses. And forget the heels. Those are most definitely not happening. I put on a pair the other week (to go nowhere, might I add) and Aaron actually laughed because he found it so out of character. Slowly but surely though, I'm parting with the clothes I still like but don't wear. I know they're just things, but they do require a sort of acknowledgement that I'm no longer the girl who works in a big building in the city, spending her lunch breaks shopping at Sephora and Anthropologie and buying zero-calorie spray butter ← I found an old grocery list while going through my coat pockets and I shocked even myself. It was extra heavy on the chemicals.
The area of the house I have the most trouble simplifying, however, is our kitchen. Do I keep the bulky ice cream maker even though I only use it a few times a year? How about the pricier 9-tray dehydrator that I lusted over for years only to mostly let it collect dust?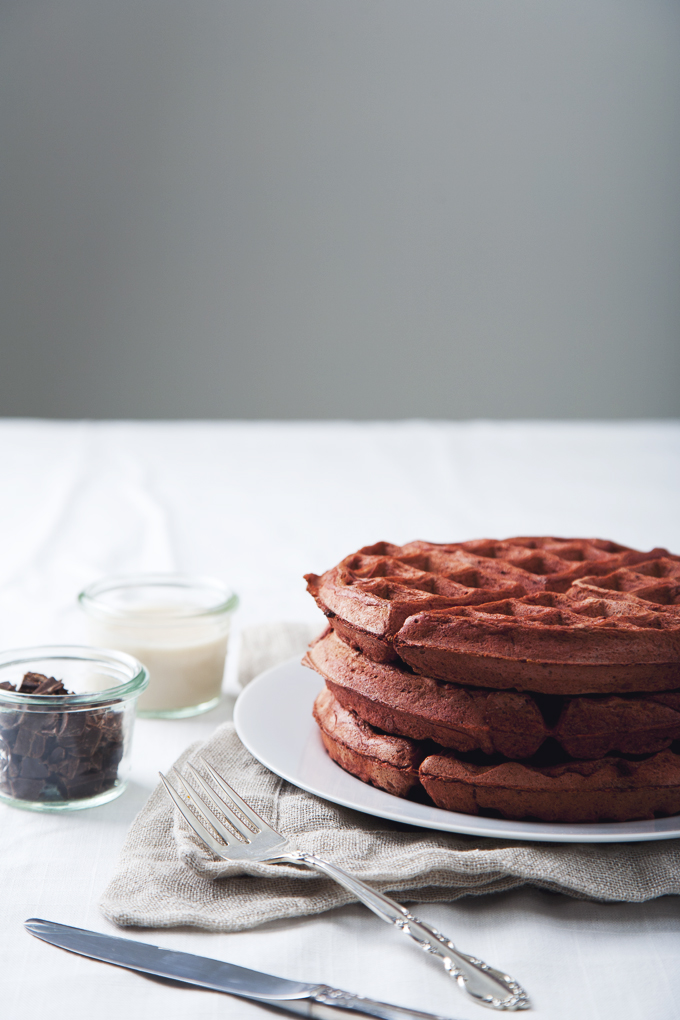 One appliance I re-discovered while looking through the cabinets is our waffle iron. This was also a purchase we put off for a while, mostly because I couldn't find one with decent reviews. We ended up buying one of the cheapest models and thankfully, it's served us well. The problem is that at least in our house, pancakes usually get center stage.
I'm on a mission to change that, starting with these surprisingly easy vegan red velvet waffles with cream cheese icing. Or, dessert for breakfast.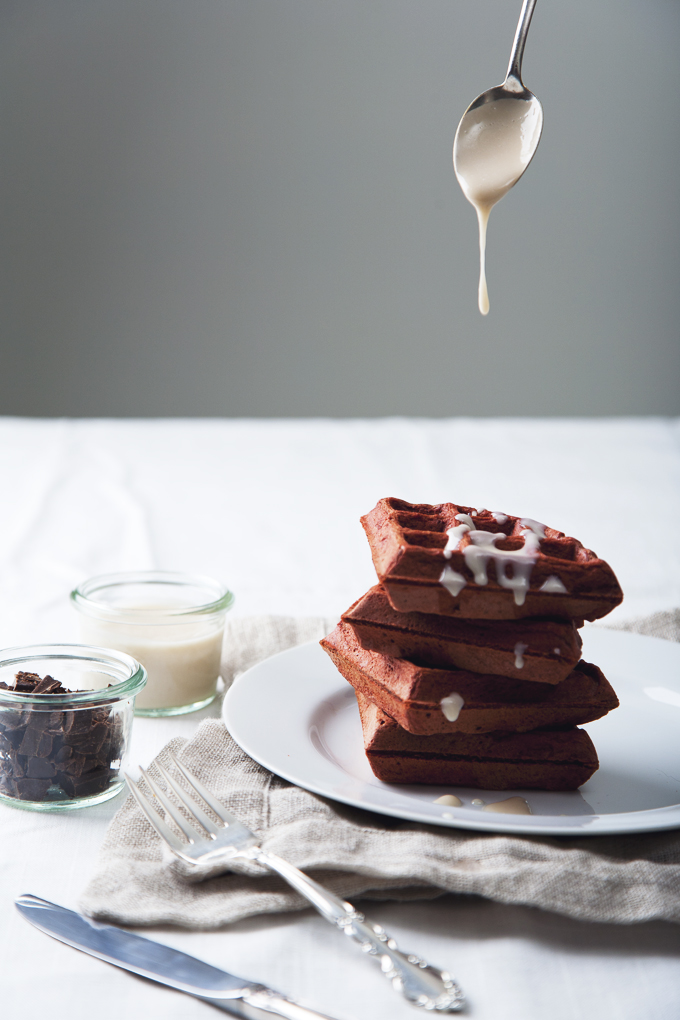 I adapted my most favorite vegan pancake recipe (gluten-free option!) that I've regularly been making for years. Because it's so basic (and almost as fast as opening a box of pancake mix), I find that it lends itself well to a bit of jazzing up. This was my first red velvet baking experience and though I felt confident I could pin down a vegan version, I put a small challenge on myself to do so sans red food coloring. Instead, I decided to go with fresh beet juice, and you know what? The color is perfect! There's zero beet flavor in these waffles.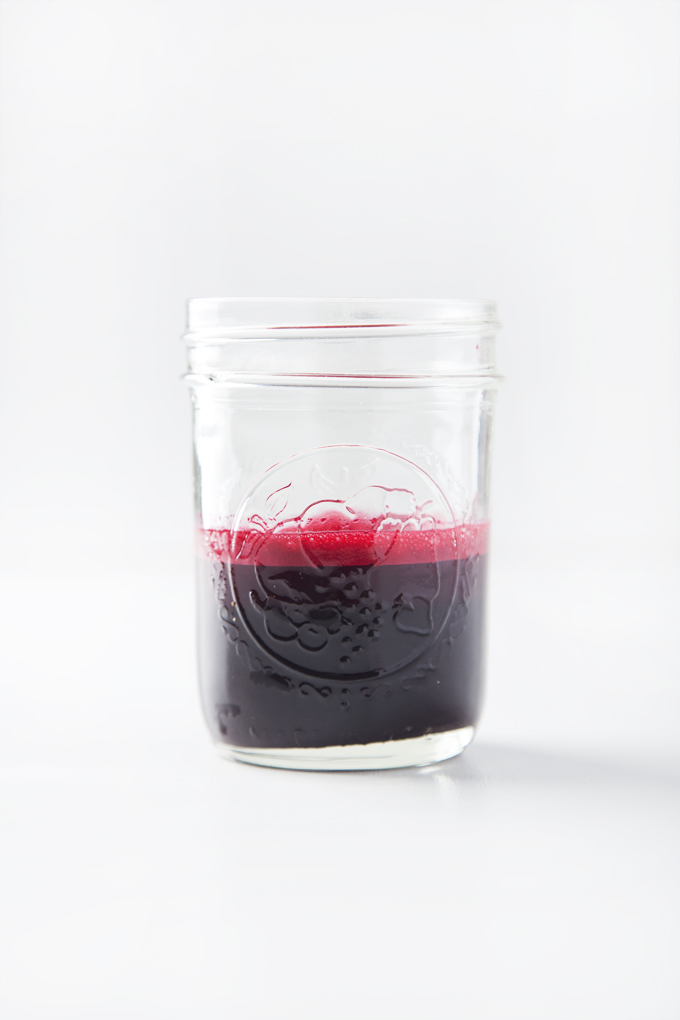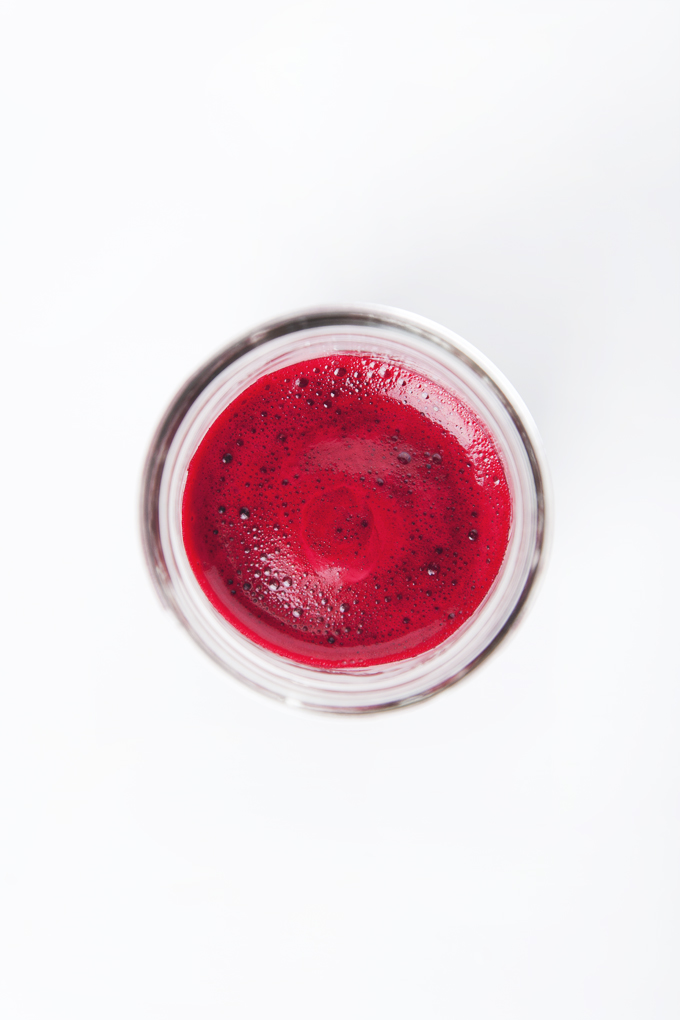 I also kinda sorta live for cream cheese frosting, so making a pourable vegan cream cheese icing was a no brainer. This one is super simple and what makes it special is the addition of fresh lemon juice. I just love the brightness it adds.
Top it all off with some chopped dark chocolate and this is one breakfast or brunch you won't soon forget.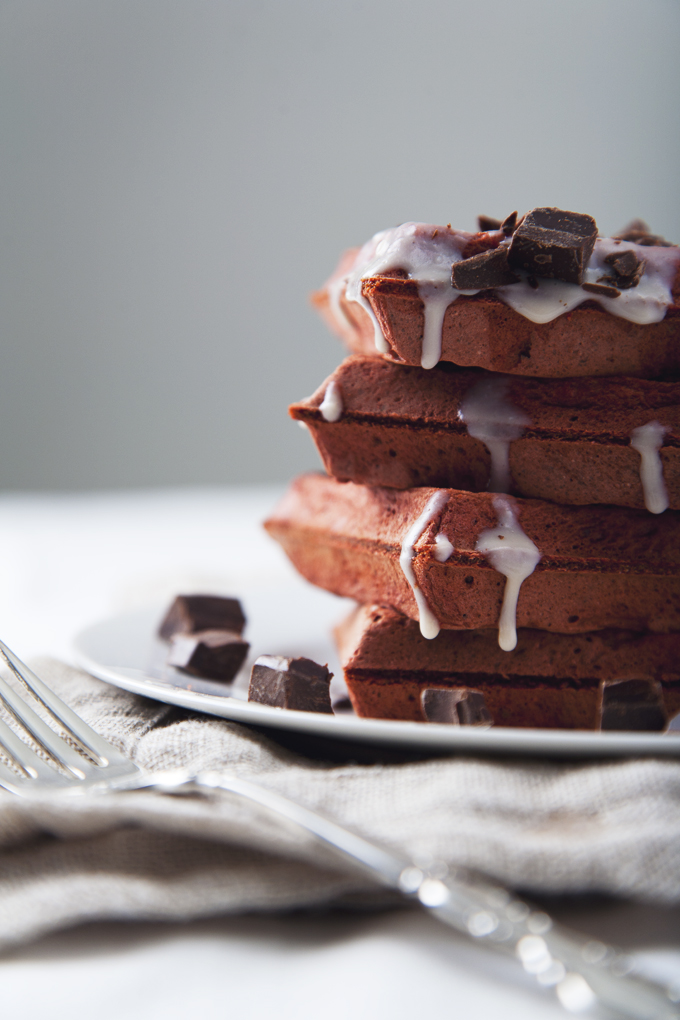 I guess the waffle iron can stay.