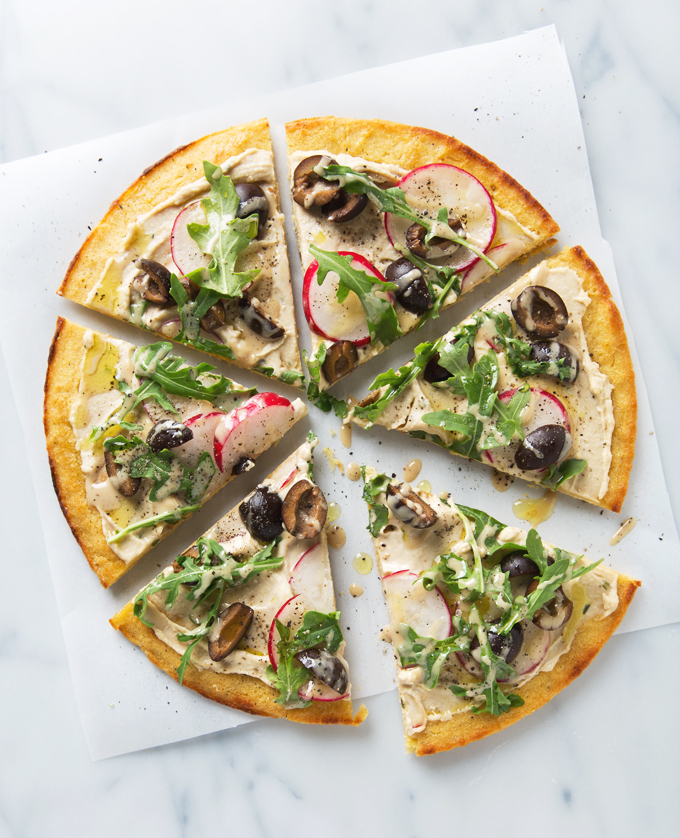 After another long winter, I've been feeling that itch to declutter inside and also to be outside constantly. I saw an illustration by one of my favorite artists on Instagram the other day that perfectly sums up Spring for me, with these dueling emotions of wanting a completely fresh start, but having a heavy dose of nostalgia in the mix. Are you feeling this too? On the food front, I've been spending less time in our kitchen and simplifying meals even more than usual. We're entering that time of year when produce starts getting really good again and you can basically eat it as-is. I love it!
To me, this simple socca pizza tastes like Spring and—hooray!—it couldn't get much easier to make. It's just 8 ingredients, with the only semi-specialty item being garbanzo bean flour. I can usually find it at Whole Foods, and of course Amazon sells it as well.  It's inexpensive, very filling, and I always have some in my freezer (it keeps longer that way!) for protein pancakes and now this 25-minute socca pizza. I've found that cooking the socca for a few minutes in a cast-iron or other oven-safe skillet on your stovetop, then transferring it to your oven to broil yields a crust that's crispy around the edges and doughy in the center, aka perfect.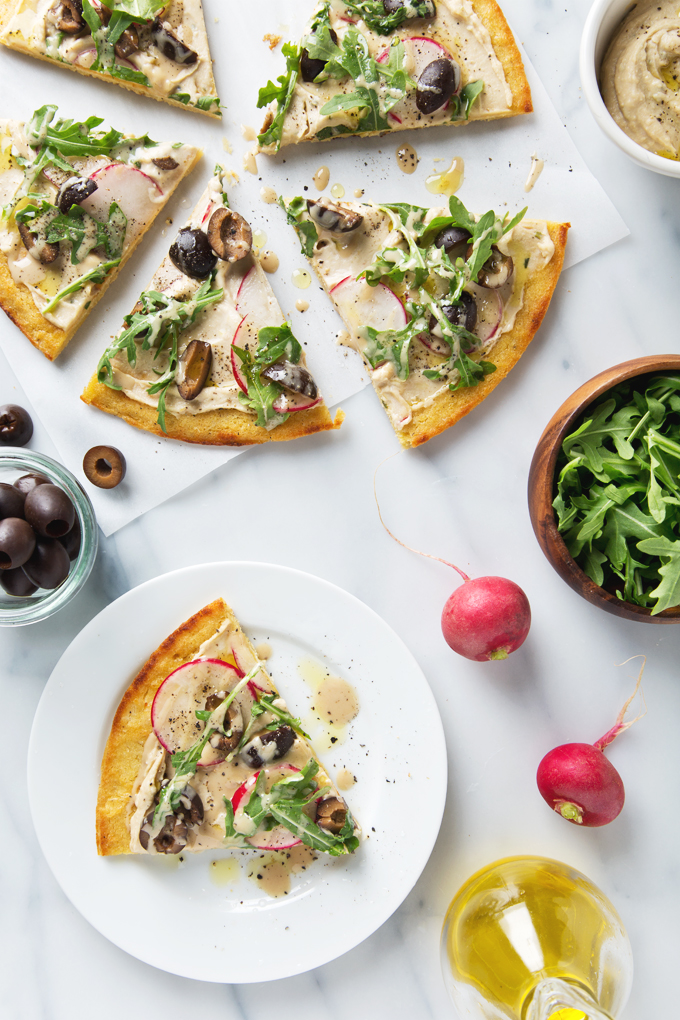 For toppings, I like either my cool ranch or Moroccan-spiced hummus (or pre-made garlic/chive…no shame in buying a tub at the grocery store!), plus baby arugula, thinly sliced radishes, olives, a drizzle of tahini and extra virgin olive oil, and a squeeze of fresh lemon juice. It's simple to the point of seeming almost too easy, and yet this meal always hits the spot.
Feel free to top your socca pizza with whatever produce looks best near you. I'm thinking some quickly blanched asparagus, chopped chives, and roasted artichoke hearts would all be amazing.