Thank you to Lodge Cast Iron cookware for sponsoring this post!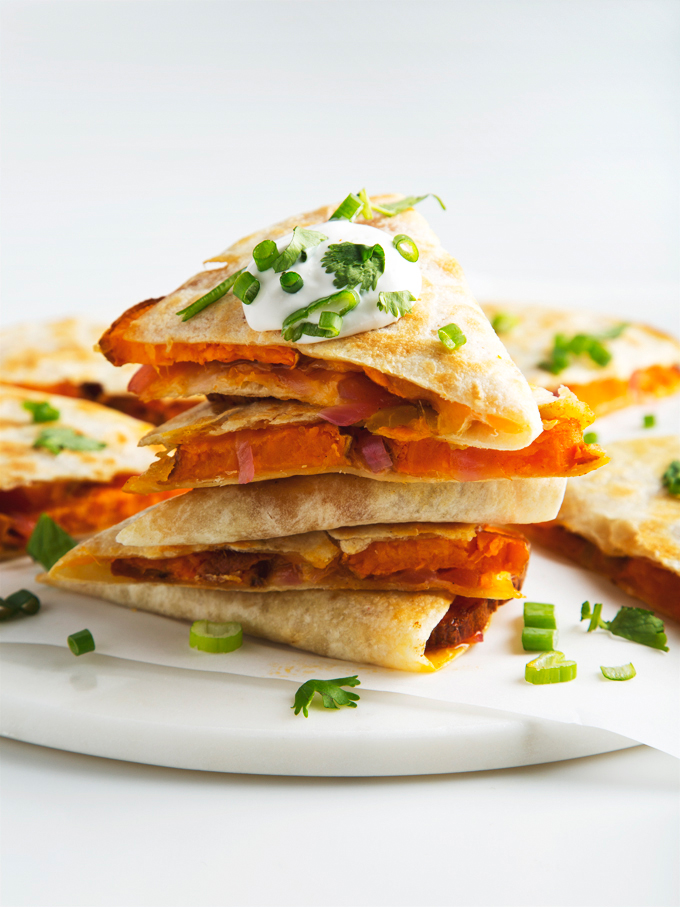 Raise your hand if you're in need of a vacation! (me too) The weather has been wacky in Boston, per usual, oscillating between 50 degrees and rainy several days in a row, then 75 and sunny the next…turning to rain in the afternoon. We're making up for the lack of rain this time last year, but despite the gloom I'm still feeling like it's summer in my mind. I'm longing for more time outside, changes of scenery mixed with visits to favorite places, allll the summer berries, and simple, familiar meals.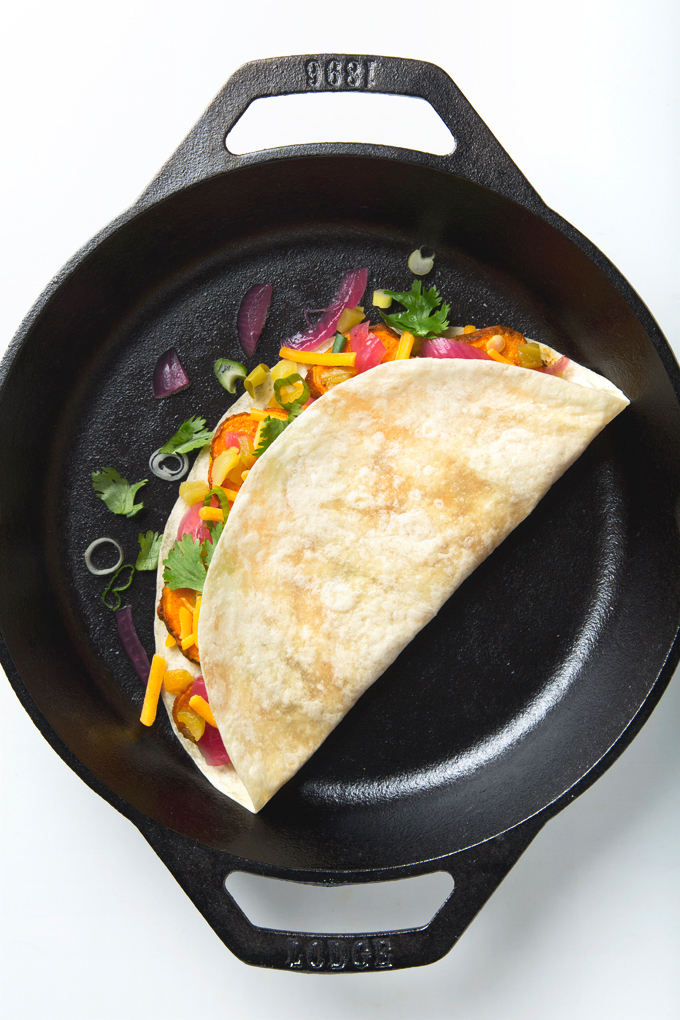 One of the lunches/dinners Aaron and I have been turning to recently is vegan sweet potato quesadillas. He grew up eating a lot of quesadillas, and when we first moved in together after college and most of our income was going toward rent and student loans, we frequently made veggie quesadillas as an inexpensive and easy meal. Needless to say, quesadillas hold a good amount of nostalgia for us.
But while some things haven't changed, we're certainly better and more health-conscious cooks today than we were immediately post-college, and we definitely have nicer cookware. We've traded flimsy (and most likely toxic-coated) pans for long-lasting cast iron, with our new go-to piece being this Lodge Dual Handle Pan that's easy to grip and lift. I really like this particular design because it fits better in a variety of places like the grill, oven, and smaller cabinets. And just like the other Lodge Cast Iron cookware that I've purchased over the years, this pan comes seasoned and ready to use! There's no complicated seasoning process needed to get started, plus it's super straightforward to clean. All you need to do is hand wash it, dry it promptly, and then rub it with a light coating of oil. (I like avocado oil because it stands up well to high heat.) It's a great everyday piece and it just so happens to be perfectly sized for making quesadillas!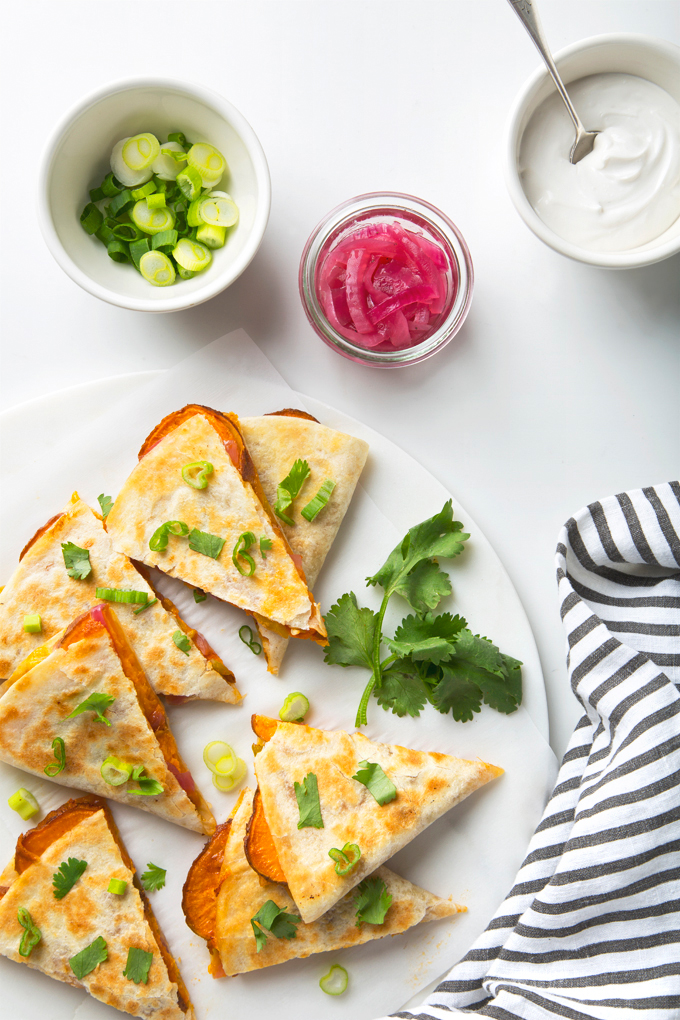 The filling in these quesadillas includes a layer of roasted and seasoned sweet potato rounds, some quick, pickled red onions, diced green chilis, and non-dairy cheddar cheese, all topped with fresh cilantro and scallions, plus a little vegan sour cream. The cast iron pan makes the tortillas golden and crispy, the cheese gets melty, and the sour cream balances out the heat.
These sweet potato quesadillas make for awesome weekday lunches and dinners, and they'd be great as an appetizer at your next summer get-together or 4th of July party too. Instead of making them on the stovetop, simply move your cooking outdoors to the grill!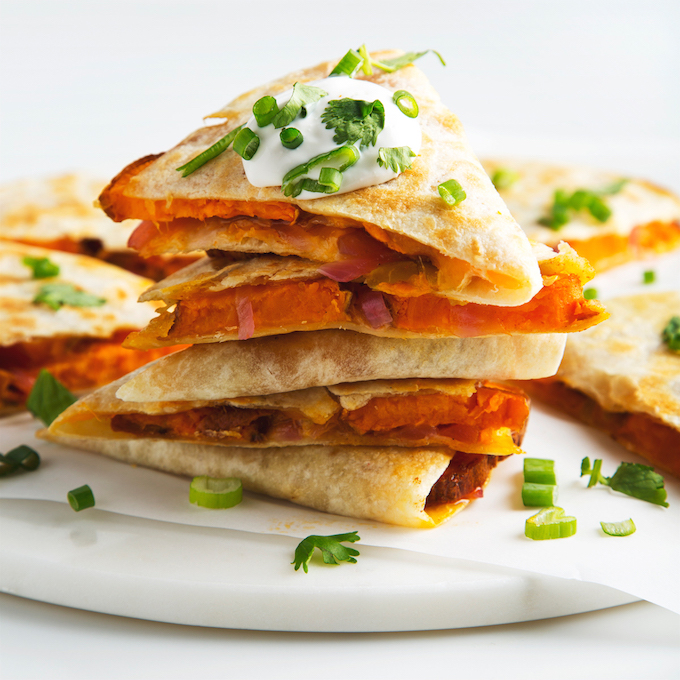 ---
This is a sponsored post written by me on behalf of Lodge Cast Iron cookware. Learn more about how to care for cast iron here (it's really simple, promise!).