What's the one sauce/dressing that just about everyone loves without fail? Today, I'm so excited to share my latest take on the condiment that can make just about any dish crave-worthy: peanut dressing! My version is a super quick blender recipe that uses creamy peanut butter, soy sauce (feel free to sub tamari), toasted sesame oil, fresh lime juice, garlic, ginger, and a little sriracha for heat. It's simple but so delicious, and I think you'll join me in risking your fingers* to get every last bit out of your blender and into your mouth.
*I'm totally kidding, please use a spatula and not your fingers.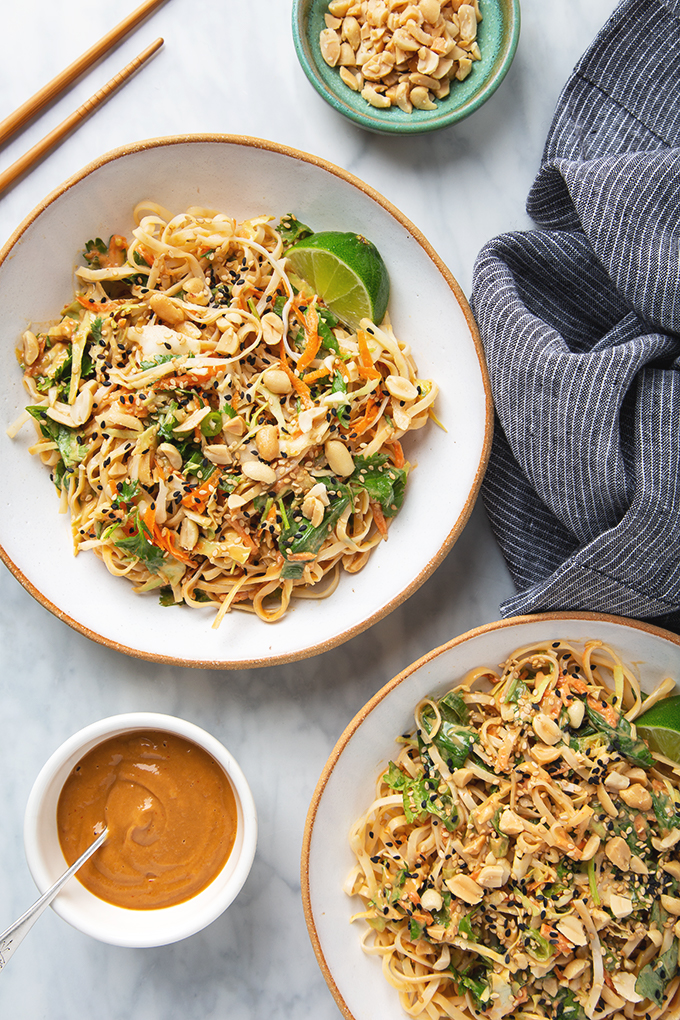 This dressing gets even better though, because it's going on an easy, better-than-takeout Thai Noodle Salad with lots of rice noodles, shredded green cabbage and carrots, cilantro, basil, and scallions (I put scallions on everything). I'm so smitten with shredded vegetables right now, after re-discovering the shredder attachment on my food processor and realizing it takes all of one minute to shred an entire head of cabbage, or a whole bunch of carrots. And have you tried fresh cilantro and basil together? The best!
Top your Thai noodle salad with chopped salty peanuts, toasted sesame seeds, and a squeeze of fresh lime juice, then devour. I dare you not to eat noodle salad for lunch, dinner, and lunch again the next day. Yes—this meal is that good.