After only first discovering vegan banh mi a few years ago, it's safe to say I've been slightly banh-mi-obsessed ever since. When Aaron and I were looking to buy a home back in 2014, we discovered a café in our neighborhood that makes a seitan banh mi sandwich. Every time we would go house-hunting, we'd make it a point to stop there for lunch or dinner, order banh mi sandwiches, and take a moment to just chill from the chaos of trying to break into the Boston real estate market.  In all honesty, the sandwiches were only meh and usually took way too long to get to our table, but the spicy pickles alone were enough to keep us coming back for more. (also, they had strong cold brew and cookies)
Now that we're settled and lucky enough to have a kitchen we enjoy cooking in, we skip the banh mi from down the street and make restaurant-worthy versions at home. When you break it down, the components are actually pretty simple and the prep time is short, even if the ingredient list at first appears to be a little long.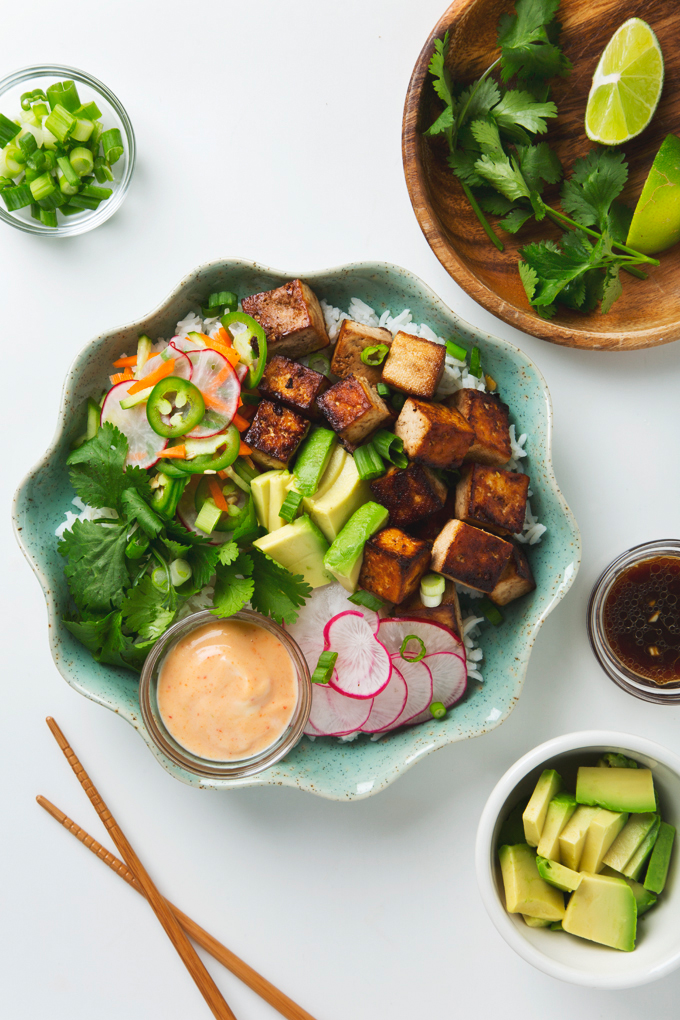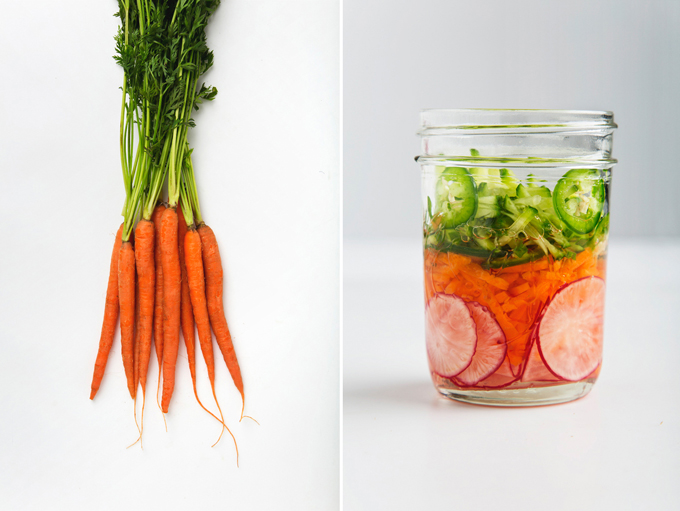 There are a couple of kitchen tools that have made all the difference, especially on days when I'm feeling tired or lazy:
an awesome fruit and vegetable slicer
a super sharp peeler
You might remember from previous posts that I hate prepping produce. I'll happily spend an hour icing cookies, but thinly slicing cucumbers or peeling carrots? Ehhhh. I'm not into it. That's why unless it was absolutely necessary for a recipe, I'd do a minimal rough chop and skip the peeling altogether. Well, that was until I discovered a new-to-me German brand, Börner, and their V5 PowerLine Slicer and 6 in 1 Peeler.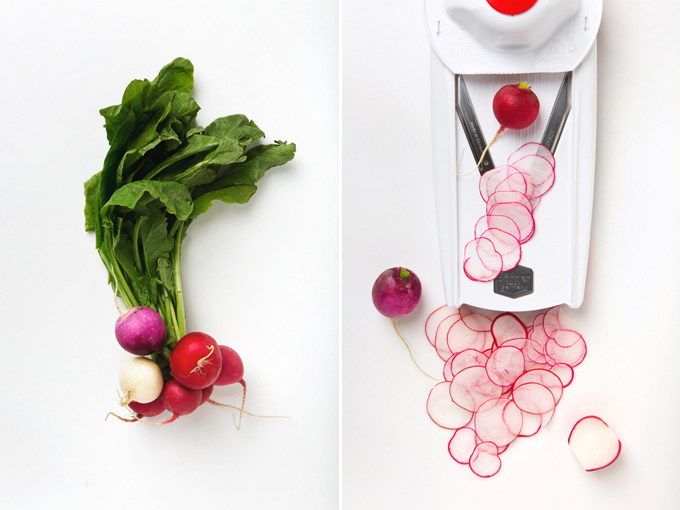 Börner has just started branching out to offer their kitchen tools in the USA and I'm seriously smitten. The difference between these tools and the mandoline slicer and peeler I had been using (or rather, not using) is like the difference between cutting an apple with a disposable plastic knife and a high-end chef's knife. The stainless-steel blades are laser-sharpened, the plastic is BPA-free, and all of their products come with a five year guarantee. I peeled an entire bunch of carrots in under a minute, and sliced and julienned radishes, cucumber, and jalapeño in no time at all. It was so speedy and fun, I almost looked for more things to slice.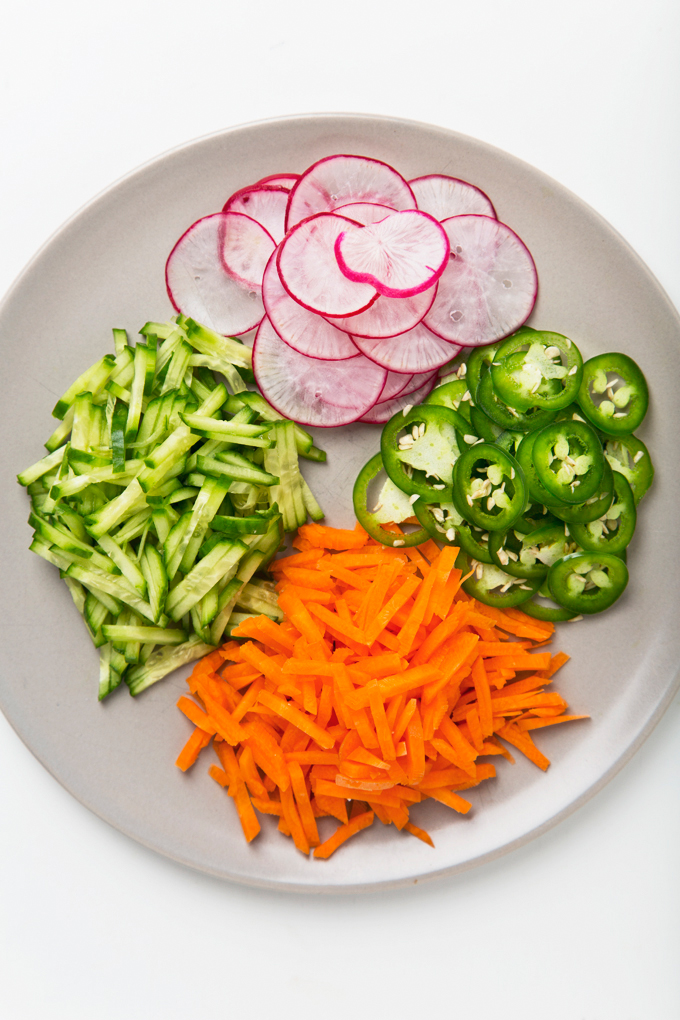 Another thing I love about these Börner tools is that they're exceptionally well-designed and multi-functional. The V5 Slicer has three adjustable inserts: one slices in four different thicknesses, one does thicker julienne cuts, and the third does thinner julienne cuts (you can also use the julienne inserts to make cubes that are diced or finely minced—perfect for quickly prepping onions without the tears). For the banh mi quick pickles, I made paper-thin radish and jalapeño slices and small, julienned carrots and cucumbers. They turned out much tastier than the pickles I had been making using my old knife, and in about a tenth of the time. And because the veggies are sliced so thin, they're ideal for non-messy sandwiches and wraps!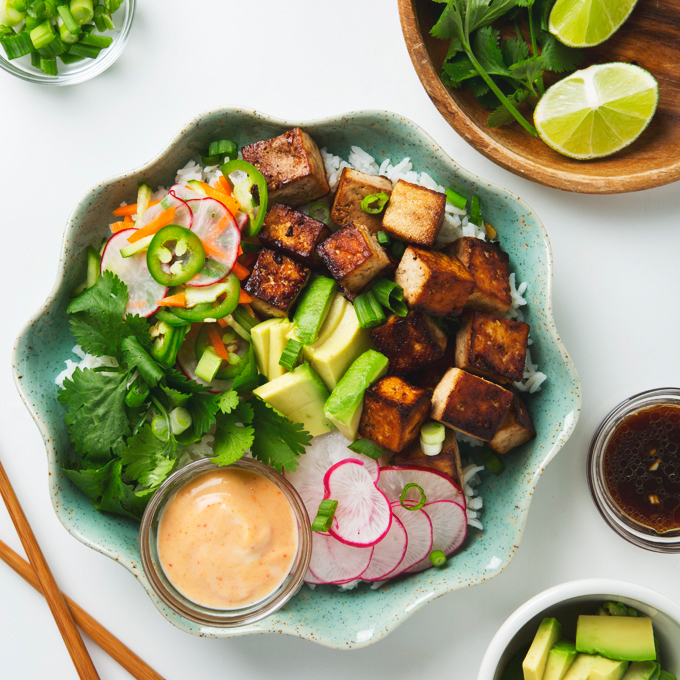 Nerding out over kitchen tools aside, I'm pumped with how this vegan and gluten-free banh mi bowl turned out! I used rice as the base in mine (quinoa would work too), and marinated some pressed extra firm tofu in a simple mixture of soy sauce, fresh lime juice, garlic, and peanut oil. Since I pressed the tofu until it was about half of its original thickness, it really soaked up the marinade to become extra flavorful, chewy, and crispy when cooked. If you've tried tofu in the past and found it to be mushy or blah, definitely give this method a try!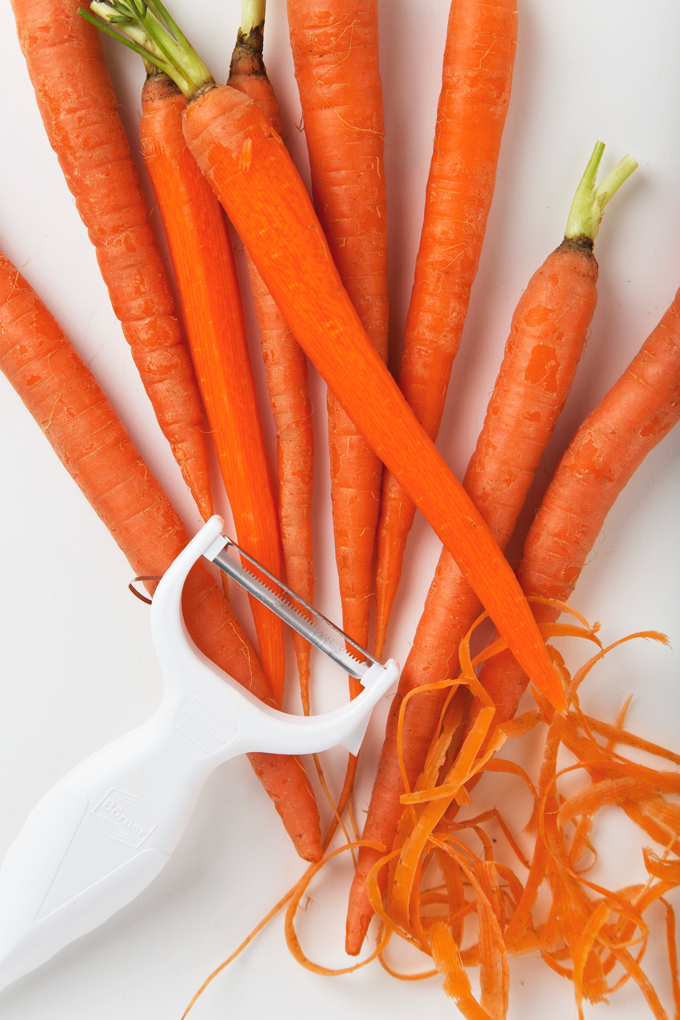 Börner Coupon:
Interested in buying a Börner slicer? Use coupon code "picklesnhoney" to get 10% off your purchase!
The giveaway is now closed.
Börner is generously giving away their signature peeler, the Garnish Peeler 6 in 1 with Rasp, to one lucky P&H reader! This is the peeler I use and love. It has a sharp serrated blade and an integrated grater on the back that allows you to peel, decorate, grate, cut out and garnish your fruit and vegetables—six functions in one tool! Or, if you'd rather have a different Börner product, let me know in the comments and we'll send the winner a $20 coupon code to use toward anything she (or he) likes.
To enter, simply like Börner on Facebook and follow them on Instagram, then visit their website and leave a comment on this post letting me know which color you'd most like to win!
I'll randomly choose a winner on Wednesday, December 28th at 12pm ET. Please note that the giveaway is open to US residents. Good luck!
---
Thank you to Börner for sponsoring this post! Make sure you visit their website to watch videos for the V5 PowerLine Slicer and 6 in 1 Peeler in action (they're really quite impressive).
Börner kitchen tools can be purchased directly from their website or you can find them on Amazon!