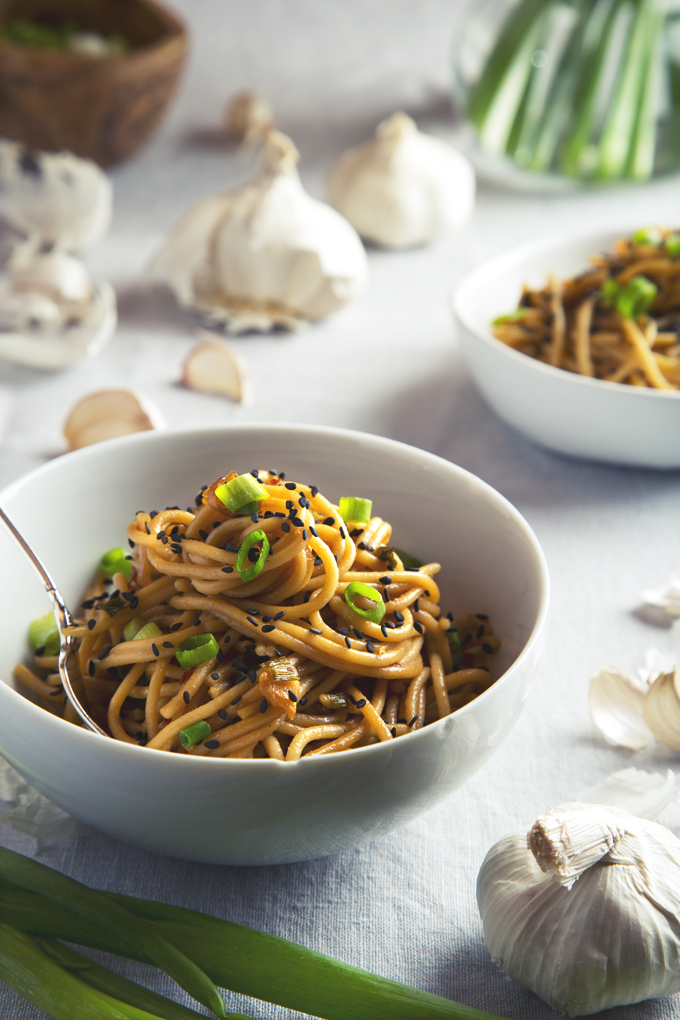 Most nights, especially Monday through Friday, I'm all about quick and easy dinners—simple ingredients, short prep times, and minimal dishes to wash afterwards. The days are usually busy and tiring enough, and the last thing I want to do is stress about dinner. That said, if I'm going to spend the time to make a meal (even if it's only 30 minutes), it needs to be delicious and satisfying. Something I actually want to eat, as opposed to something I feel obligated to eat.
Today I'm sharing five of my go-to weeknight dinner recipes, in case you're in need of some new dinner ideas and inspiration. All of these recipes are vegan (and also happen to be gluten-free!), they're easy to make, and they're easy on your wallet too.
(Click on the recipe name below the photos to go to each recipe)
Pictured above: Garlic Sesame Noodles
This was the first recipe I made after Aaron and I set out for a full year road-tripping around the country. Meal prep took a backseat to getting out and exploring, and these garlic sesame noodles, with only nine basic ingredients that we could find at just about any grocery store (off the grid or in the city), really hit the spot. These salty/sweet, garlicky/spicy noodles have since become a staple for us, especially on nights when we're craving Chinese take-out.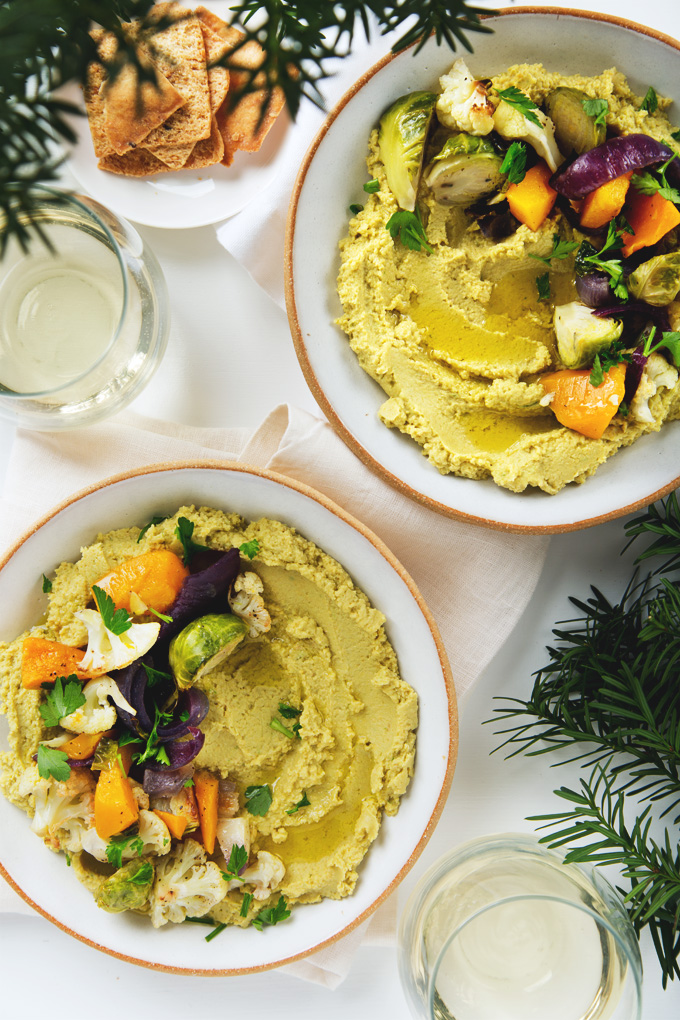 Roasted Vegetable Hummus Bowl
This bowl is how I turn my favorite snack of chips and hummus into a legit lunch or dinner, as well as a lighter happy hour type appetizer. I like to use roasted butternut squash, brussels sprouts, and cauliflower, plus an easy homemade (or store-bought) hummus as the base. It's super adaptable to what you have on hand (think: chopped broccoli, shallots, and sweet potatoes, just to give you a few examples).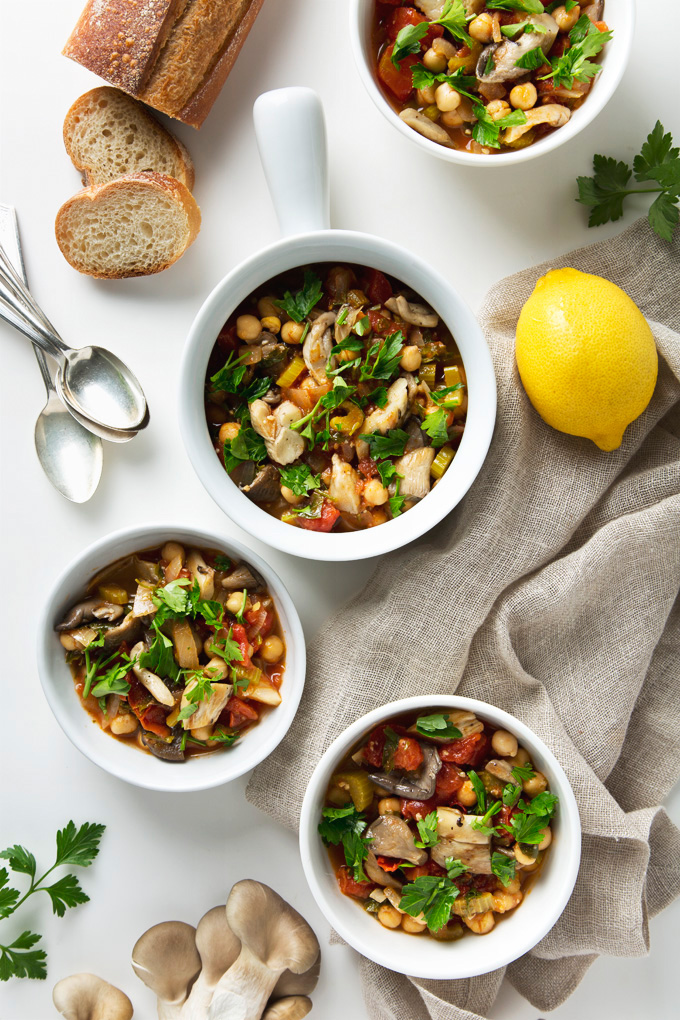 Vegan Cioppino with Oyster Mushrooms
My take on vegan cioppino uses chickpeas for protein (and because I love them) and some roughly chopped oyster mushrooms instead of fish. The oyster mushrooms are perfect in this stew. After I sear and lightly season them, the stems really do remind me of scallops and the mushroom tops have a definite "fishy" texture. In traditional San Francisco fashion, I recommend enjoying your cioppino with lots of crusty sourdough to sop up every last bit of broth.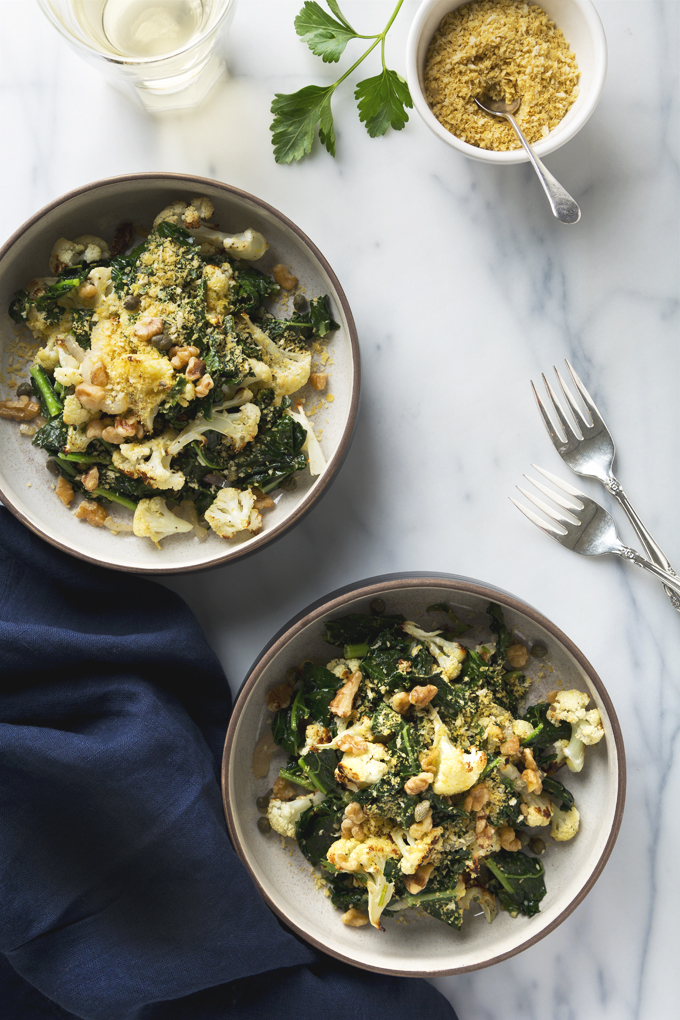 Warm Cauliflower and Kale Salad
Whenever I feel like I need to eat more vegetables but I'm having trouble getting in the mood for a salad, I turn to this meal. It's made from warm roasted cauliflower and lemony sautéed kale, plus my go-to lemon/olive oil dressing jazzed up with fresh parsley, salty capers, and chopped walnuts. What really seals the deal, though, is the cheesy toasted bread crumb and nutritional yeast topping that's so good, I can't help but sneak bites of it straight out of the mixing bowl.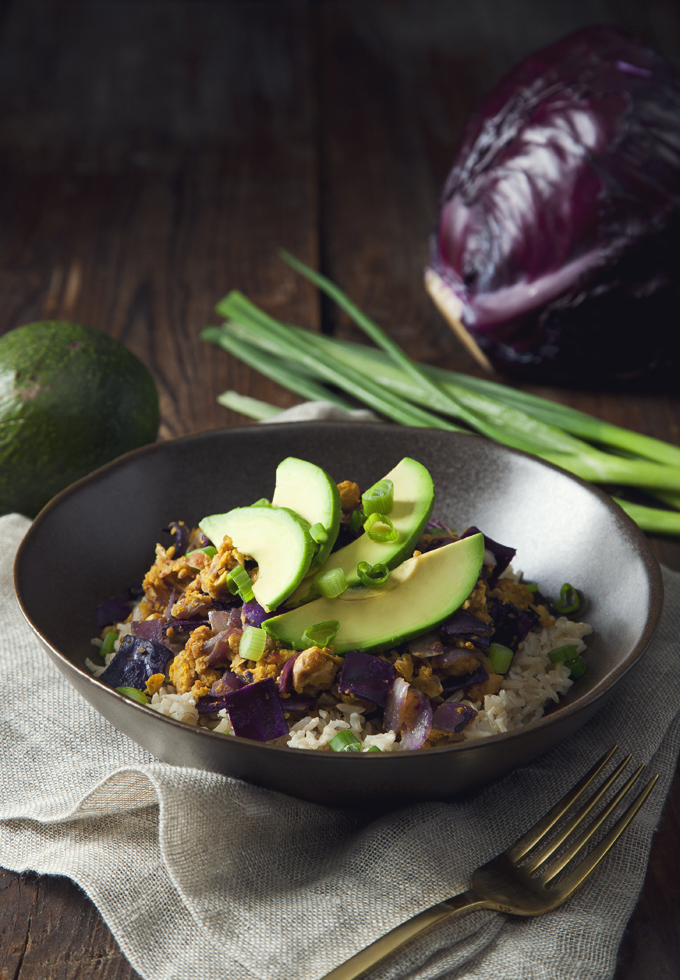 Chickpea Scramble and Red Cabbage Brown Rice Bowl
I first made this chickpea scramble a couple of years ago on a whim. Our fridge was looking sparse and I didn't feel like spending much time making dinner, so I reached for some sesame oil, turmeric, and garlic powder. It's hard to go wrong with chickpea scramble on its own, but the addition of a generous squeeze of bright lemon juice and crunchy red cabbage really takes it over the top. I like to serve mine over a big bowl of hearty brown rice for extra chew and staying power, and top it with creamy avocado and sliced green onion. It's an especially satisfying meal in terms of flavor and texture.
---
We'd love for you to follow us on Instagram!
Tag photos you post of our recipes with #picklesnhoney so we can see.