Did that title get your attention? I'll be honest, part of the reason for Monday's kale salad recipe was because I subsisted on beer and chocolate on Friday, followed by more chocolate on Saturday and Sunday. I think most of the green in my diet came from edible glitter that I dusted on the truffles.
Sidenote: I am such a sucker for glitter and sparkles. Even better if it's hot pink.
But before I get to the chocolate, let's talk about the beer!
I (finally!) met up with the lovely Lauren from Oatmeal After Spinning on Friday, along with her awesome husband, Greg. They were in town for a wedding, and so Aaron and I took it as an excuse to take the day off, hang out, and drink some good beer.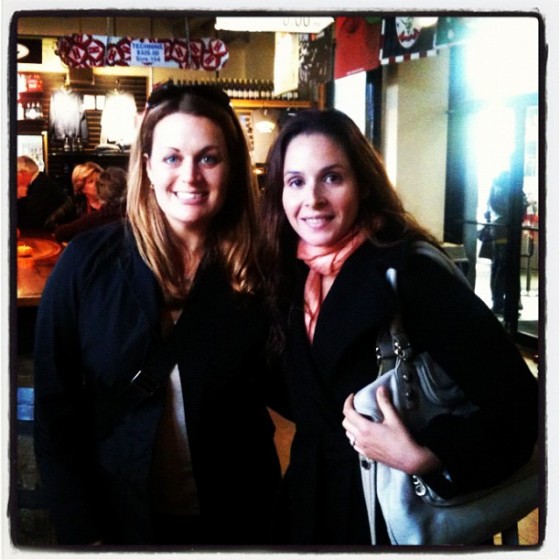 Sam Adams at 12pm on a workday…why not?
I very rarely drink beer because I don't like the bitterness, and quite honestly, I'd rather drink juice or kombucha or coconut water. However, I do like learning about the brewing process and tasting the different beers side-by-side, and Lauren and Greg are also really knowledgeable about beer. It was fun to hear their thoughts, and I know Aaron appreciated the fact that they were just as excited about it as he was. I was most excited about the Harpoon hard apple cider (aka apple juice) and pumpkin beer (shocking).
After a great day with Lauren and Greg at Sam Adams and Harpoon, Aaron and I attended a three-hour chocolate making class at Chocolee in the South End. I had purchased the class through a LivingSocial deal last year and completely forgot about it until two days before it expired. Thankfully, Chef Napoli was kind enough to fit us into the next class.
There were about 15 people in the class, which was a great size, and we learned everything from the recommended brands of chocolate (we used Callebaut), to the best temperature to store it (room temperature), to how to temper it and prevent it from blooming or seizing.
After learning the basics, we then made a plain, cinnamon, and cardamom ganache for truffles, chocolate for coating, and toasted almond bark. There was a lot of sampling going on, and Aaron and I happily left with a better understanding of how to work with chocolate. We also left with two boxes filled with truffles and candies, which I tried to pawn off on my family and Aaron's co-workers. I love chocolate, but even I had to call uncle after three straight days of it.
All-in-all, it was a pretty awesome way to spend a Friday. Although, I sure am ready for vegetables this week.