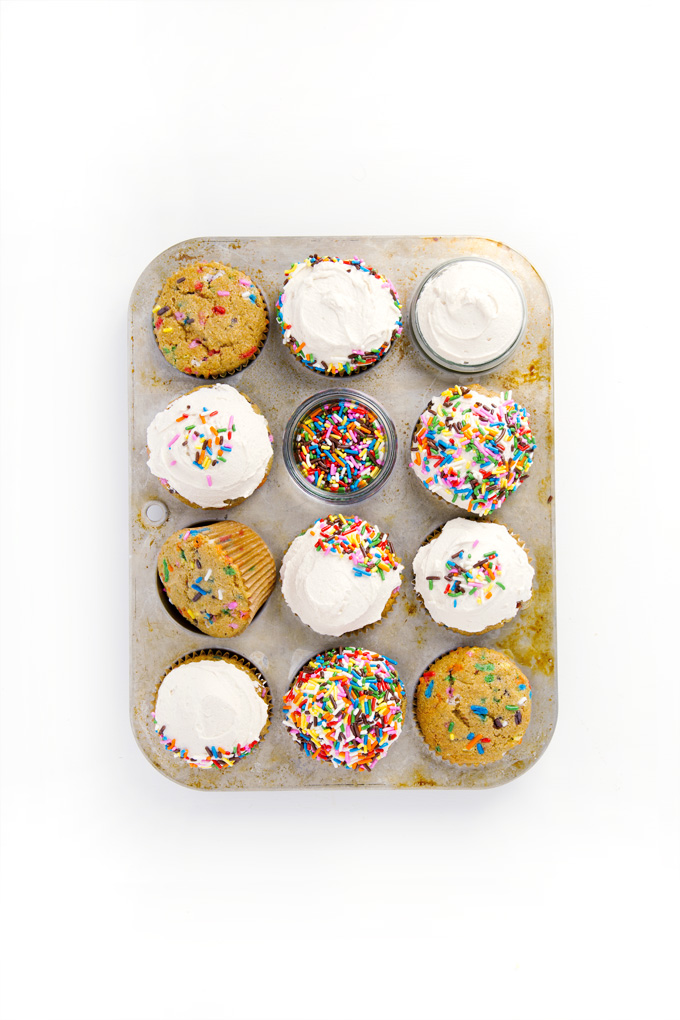 What is it about rainbow sprinkles that is just so damn fun?
Is it the childhood birthday cake memories, strong association with summertime and afternoon trips to get vanilla soft-serve, or the bright and happy colors? Probably all of these things.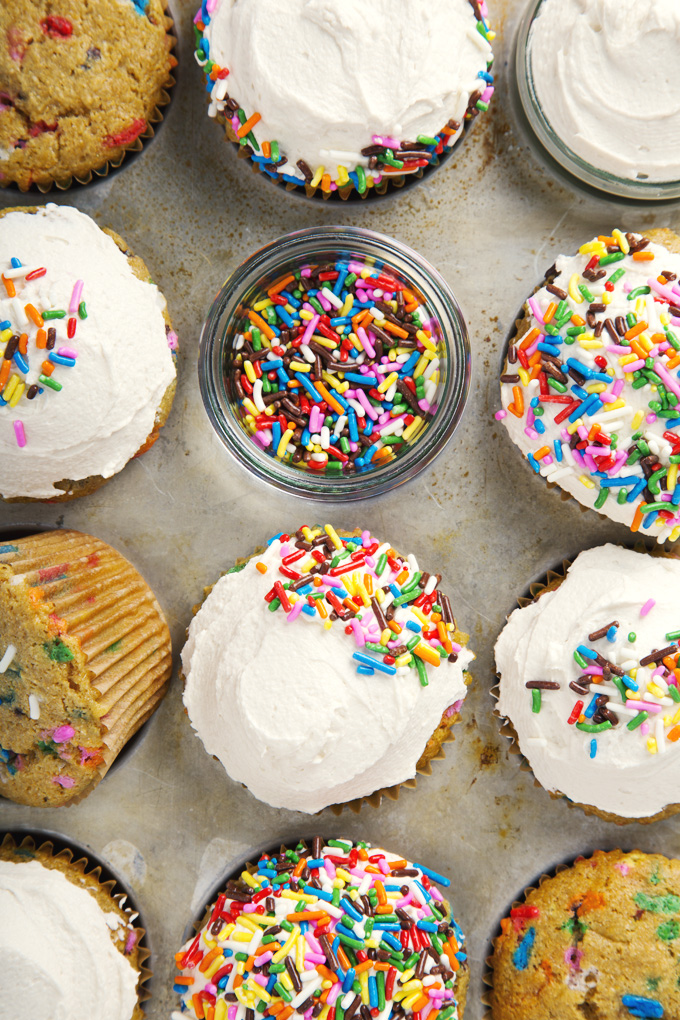 I'm learning that the grown-up version of me is very similar to the wee version of me. I still love hot pink, ballerina tutus (my mom was a real-deal ballerina before she had me), glittery anything, and yes, sprinkles. I won't ever turn down chocolate sprinkles, but I still believe that the rainbow ones are more fun. Also, I realize I'm making myself sound like a girly-girl here, and I am in a lot of ways, but I feel the need to put it out there that I'm actually very low-maintenance on the beauty and clothing fronts. Give me a tinted lip balm, stretchy black leggings, and pink running shoes and I'm ready to go. Where I am high(er) maintenance is my skincare products. That's a post for another day.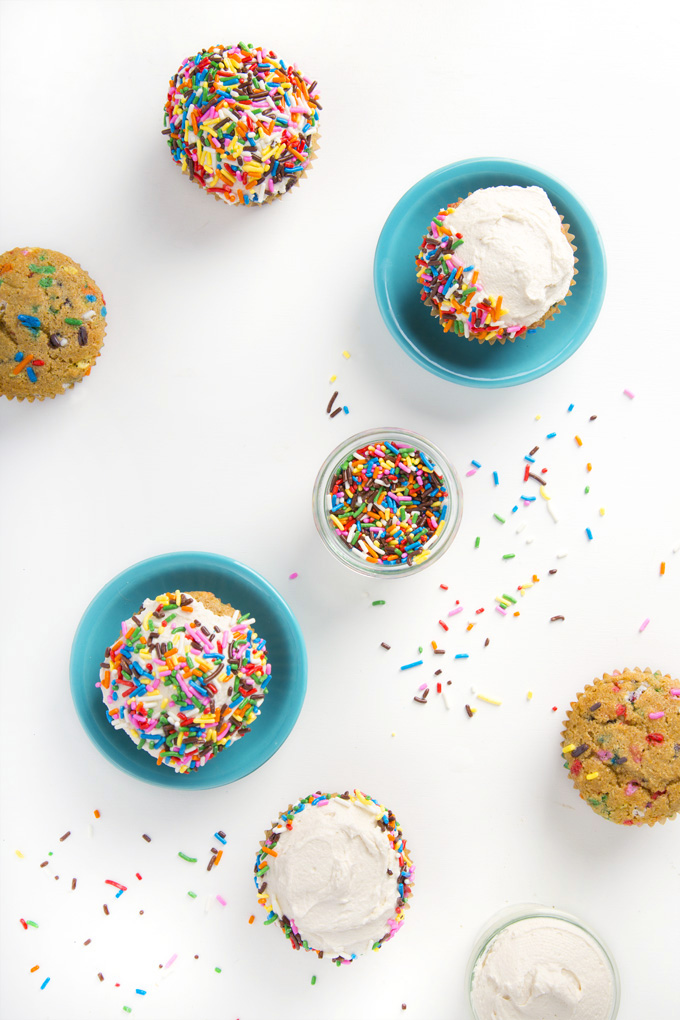 Today is all about the vegan funfetti cupcakes!! These are some of my favorite vanilla cupcakes to date. They're light and fluffy, all without the eggs and dairy and with significantly less oil than most recipes. Applesauce and non-dairy yogurt do the heavy lifting, and then there's a bit of unrefined coconut oil for the perfect buttery richness. I mentioned on instagram that it took me three stores to find sprinkles, but I was wrong: it was actually four stores. Aaron drove me all around town in search of rainbow sprinkles. After store #3 was a fail, I thought I was going to have to stop by the vegan cupcake store near us and beg for a cup full of sprinkles. I've made some notes about this in the recipe, but you may just want to buy yours online.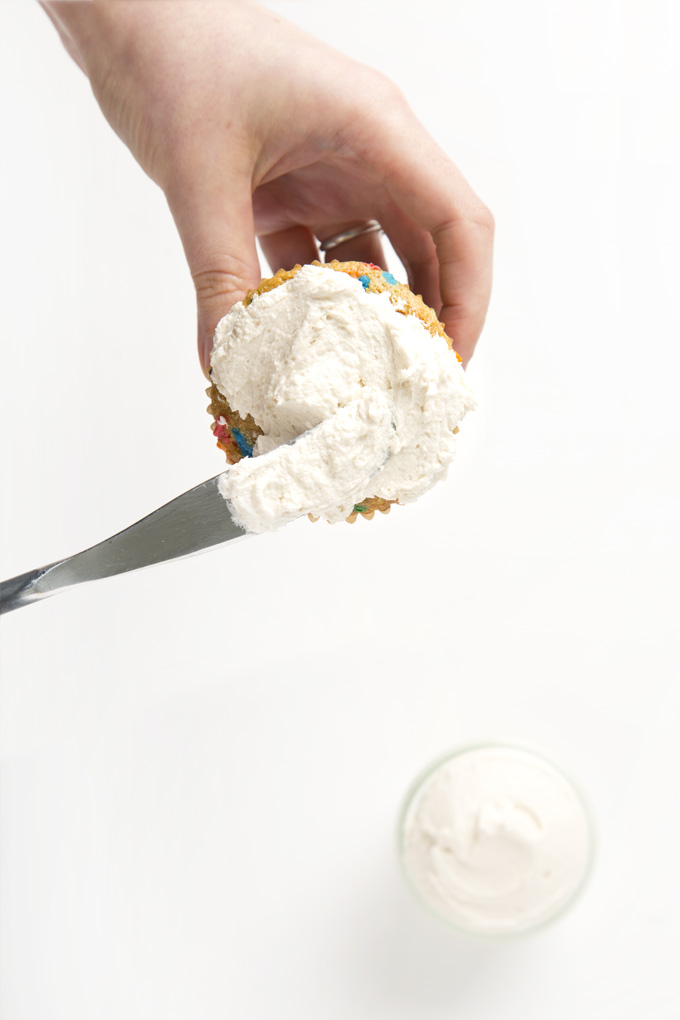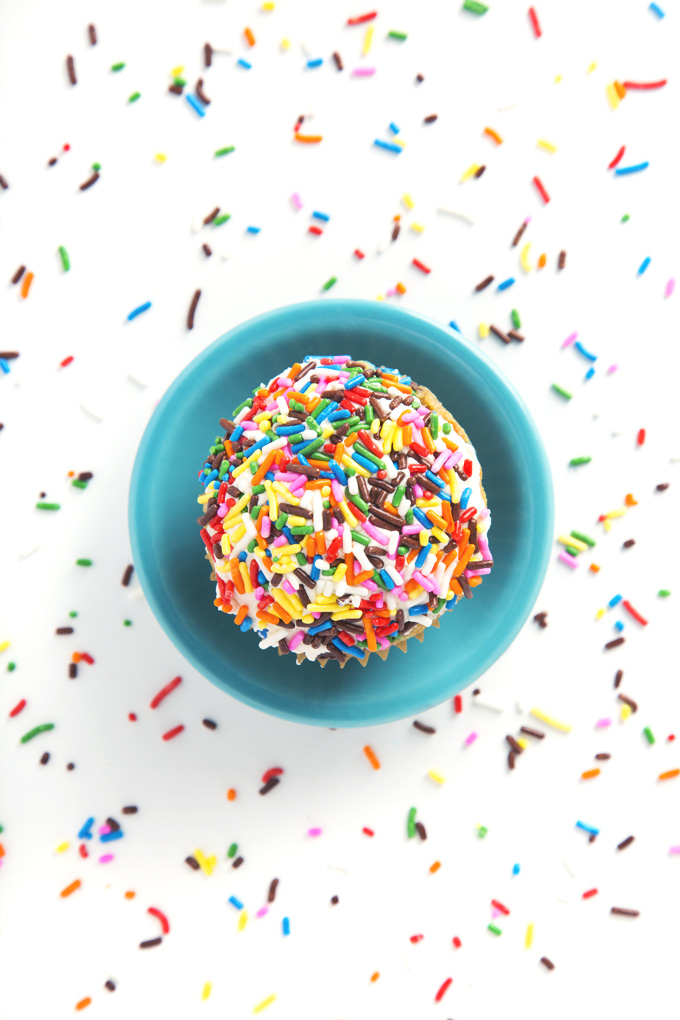 I have to give props to Aaron not only for being a very patient driver, but also because this weekend he was hit hard with some sort of flu thing. He rallied anyway to take these photos before crashing on the couch and letting me watch back-to-back episodes of Girls. I repaid him in cupcakes but I don't think he can really taste them (though he swears they are delicious). Today, I'm pumping him (and me) full of zinc and homemade lemon ginger turmeric tea.
And cupcakes, naturally. They're good for the soul.