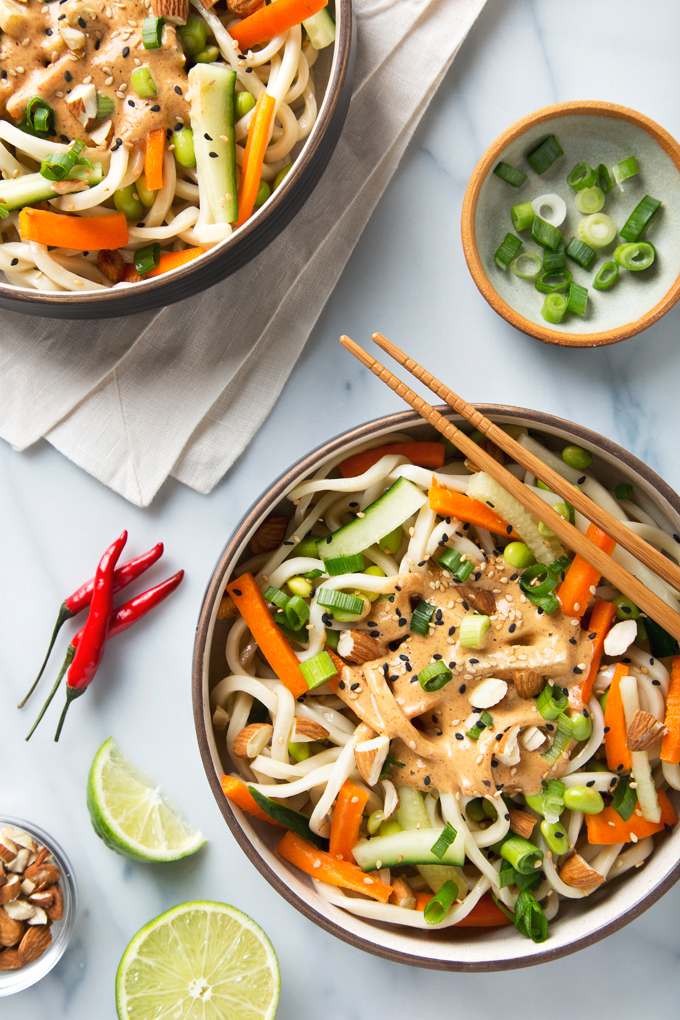 Today I'm pressing the pause button on the macro bowls I've been eating on repeat because it's been super snowy and cold lately and all I want is a giant bowl of spicy almond butter noodles! Peanut butter gets a lot of love at our house (especially peanut sauce with noodles), but this week I couldn't shake a craving for creamy almond butter sauce and chewy udon noodles—it sounded too good. This dish is full of noodles and generous on the sauce, with raw veggies to help round it out and add some crunch.
I've dubbed March in Boston "the new February" (not a compliment), but in an attempt to bring in some much-needed Spring vibes, I added in some julienned carrots and seedless cucumbers and tossed them in that delicious almond butter sauce. Seriously, that sauce will make you very excited to eat your vegetables.
Even though I'm calling these "spicy" noodles, they're not actually super spicy. They're spicy by my standards, which involve adding a tablespoon of sriracha to the almond butter sauce. That's easily scaled up or down, depending on your preference. So if you consider mild salsa spicy (hi, Mom!), you can still enjoy these noodles. Topping your noodles with extra sriracha is optional, but don't skip the sliced scallions, chopped almonds, and sesame seeds. I'm all about the toppings, and those really elevate this meal (especially the chopped almonds). Also, if you're someone like me who lives for the convenience of leftovers, you should definitely pack up any for your lunch the next day. These noodles hold up perfectly!