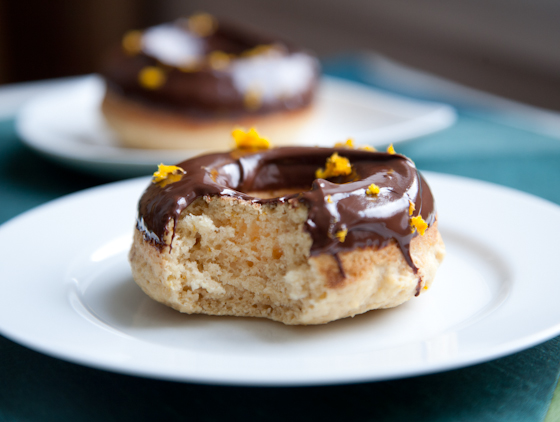 As I was scrolling through my Google Reader last night, there was one blog post title that immediately caught my attention: Chocolate Chip Waffles with Kumquat Ice Cream. Chocolate and citrus is one of my absolute favorite flavor combinations, and as I read through the recipe, I debated making a last-minute Whole Foods run to buy kumquats.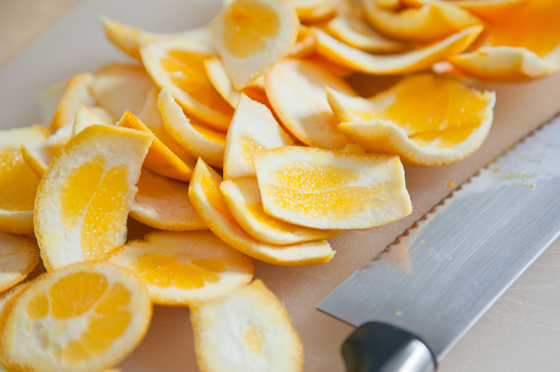 Then I remembered I don't own a waffle maker, and Modern Family was about to start (priorities). Just another perfectly valid reason I need a waffle maker and a DVR in my life. I had also already eaten chocolate chips straight out of the bag for dessert, but who's counting?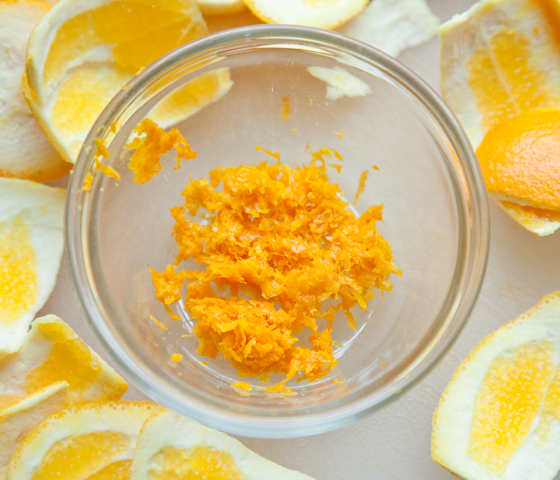 This morning, in true food blogger fashion, my first thought of the day was not about my work projects or errands I needed to get done. Instead, my mind went right back to that amazing chocolate citrus combination. And then I remembered my beloved, recently neglected donut pan. Bingo.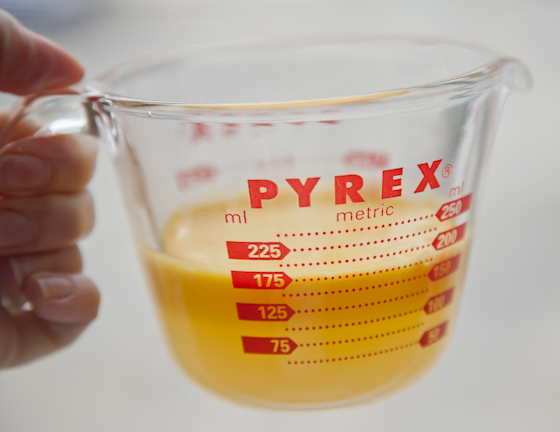 I used a variation of my pumpkin spice donut recipe, subbing out the spices for orange zest and the almond milk for orange juice. I didn't have any orange juice on hand, so I ended up juicing fresh oranges, not even thinking twice about having to clean the juicer – that's how excited I was for these citrusy donuts.
Rather than spooning the thick donut batter into the pan, I used a little trick I learned at a baking class a while back and piped the batter with a pastry bag. It was much easier, and because I wasn't dropping batter all over my counters, I found that I had just enough leftover to also bake a couple of muffins.
I replaced the Earth Balance with a mixture of equal parts melted coconut oil and applesauce in this recipe, and surprisingly, I think the texture is even better this way. I love it when that happens.
I topped my donuts with a rich, chocolatey glaze and a sprinkle of orange zest. If you're not into the whole chocolate-citrus thing, we can't be friends feel free to go with a powdered sugar glaze.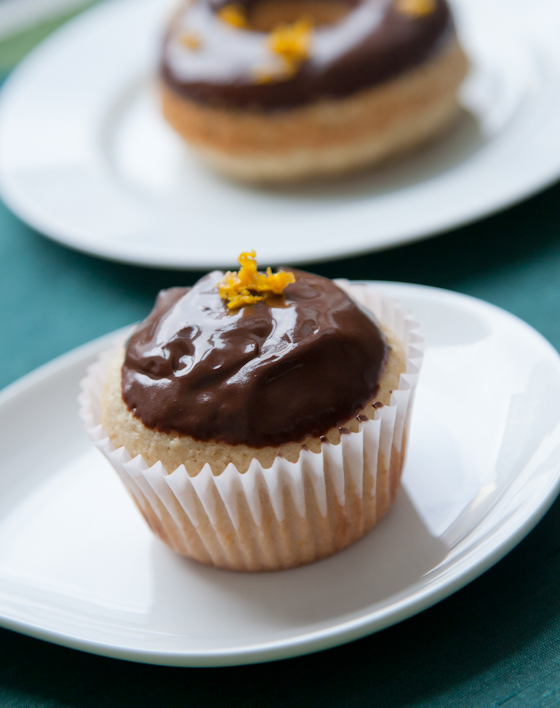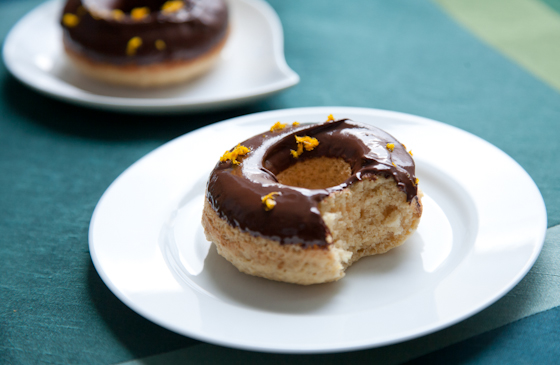 | | | |
| --- | --- | --- |
| Chocolate-Glazed Orange Donuts (Vegan) | | |
Author:
For the Donuts:
1 C. All Purpose Flour
1 C. Whole Wheat Flour
1 Tbs. Baking Powder
1 Tbs. Orange Zest, plus another Tsp. for garnish
1/4 Tsp. Salt
3/4 C. Orange Juice
1/2 C. Granulated Sugar
2 Tbs. Coconut Oil, melted (or other vegan buttery spread)
2 Tbs. Unsweetened Applesauce
1/2 Tsp. Pure Vanilla
For the Chocolate Glaze
1/2 C. Vegan Chocolate Chips (I used TJ's brand)
1 Tbs. Coconut Oil
Pre-heat oven to 350 degrees.
Lightly grease a donut pan.
In a large bowl, combine flours, baking powder, and salt.
In a small bowl, combine orange zest, orange juice, granulated sugar, melted coconut oil, applesauce, and vanilla.
Add wet to dry and mix until just combined. Be careful not to over-mix.
Spoon or pipe batter into greased donut pan.
Bake for 10-12 minutes, until donuts are golden brown and firm to the touch.
Allow donuts to cool slightly before transferring to a cooling rack.
While donuts are cooling, prepare the chocolate glaze by melting the chocolate chips and coconut oil.
Dip each donut into the chocolate and garnish with a sprinkle of the remaining orange zest.
I used a donut pan from Crate & Barrel, and this recipe made about 6 small donuts, plus some leftover batter that I used to make 2 muffins. Donut pans can vary a lot in size, so donut yield will likely vary. You may need to adjust your baking time accordingly.
No donut pan? No problem! You can use the batter to make delicious muffins. Just be sure to bake them for an additional 3-5 minutes until a toothpick inserted in the center comes out clean.