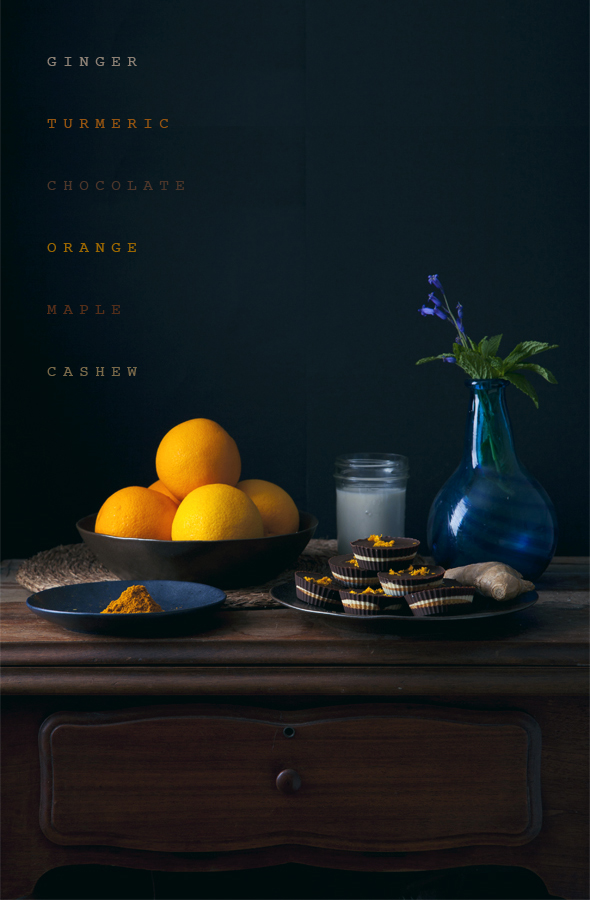 Longest title award? It should actually be more like Anti-Inflammatory Ginger Turmeric Dark Chocolate Cups with Maple Orange Cashew Cream Filling.
I chose chronic inflammation as my area of focus for my culinary nutrition course, both because I have personal ties to it (I work to manage what I would consider a sometimes overreactive immune system—hello, allergies!), and also because the more I learn about nutrition, the more convinced I am that an anti-inflammatory way of eating is the path towards excellent health. I do not believe in a 'one diet fits all' mentality, although I feel very strongly that it is our responsibility to choose as compassionately as possible and to proactively research how our food gets to our plates. How we feed ourselves has implications far greater than our own bodies.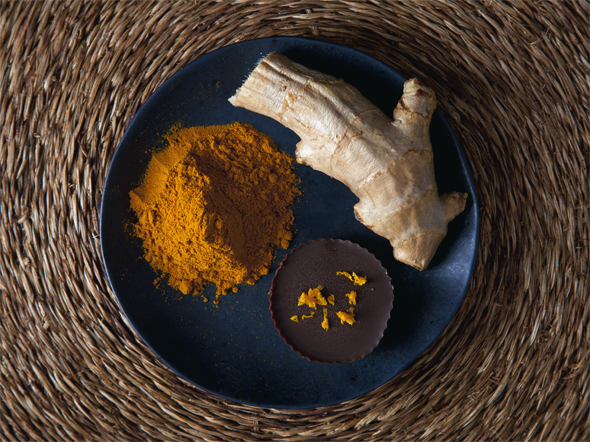 When we think of anti-inflammatory foods, what often come to mind are colorful salads and green smoothies. These are wonderful, however, I think it's also important to acknowledge that eating an anti-inflammatory diet need not be about restriction or skipping dessert. My inspiration for today's recipe was to show that eating this way can be fun and joyful, and yes, even include a little chocolate! Studies have shown that cocoa and dark chocolate actually slow the production of the signaling molecules involved in inflammation. The key is to get them without too much processed sugar.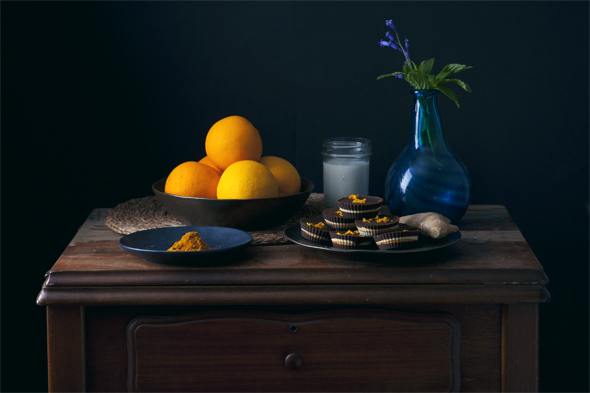 I adapted one of my most favorite recipes for homemade dark chocolate, made with raw cacao and a small amount of low-glycemic coconut sugar. To that, I added turmeric and ginger, which also have potent anti-inflammatory properties, further enhanced by the unrefined coconut oil in the cream filling. Finally, cashews are an excellent source of monounsaturated and polyunsaturated fatty acids, and there's research that says the healthy omega-3s in nuts and seeds may also help Alzheimer's and dementia patients.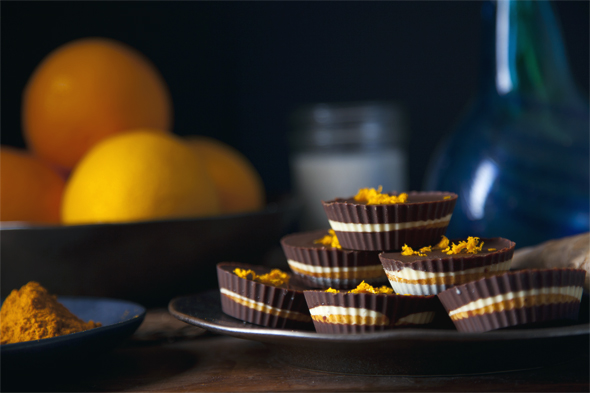 I've made variations of this chocolate many times (one filled with a homemade vanilla maple almond butter, one spiced like gingerbread, another flavored like spiked eggnog), and I am always blown away that a handful of basic ingredients can combine to produce something so special. But that's probably one of my biggest takeaways from my almost three years of food blogging: when you're working with high quality ingredients that are in their whole form or very minimally processed, there is absolutely no need to get complicated. Simple is the way to go.
This dessert is feel-good all around, and–fair warning–you may never want to buy store-bought chocolate again.