This past weekend, one of my good friends, Jen, was in town for a friend's wedding. Jen and I met at our first jobs out of college for a start-up home furnishings e-retailer. We both worked in the advertising department, where over the course of three years, Jen went on to head up the paid advertising team, and I went on to lead the natural search (SEO) portion of the business. It was extremely fast-paced, high stress, and slightly chaotic, and we instantly became friends, relying on each other to stay sane through all the ups and downs.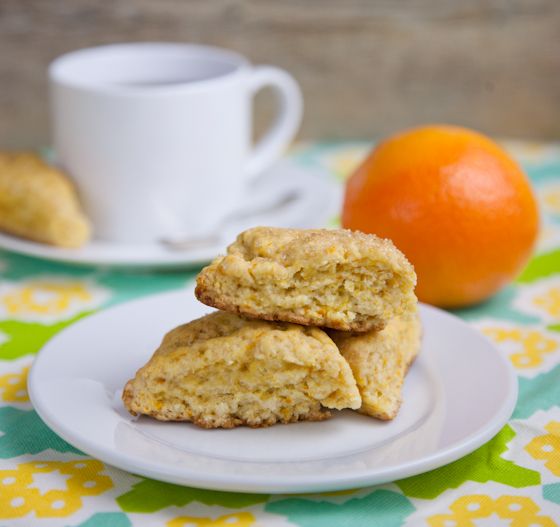 In addition to our similar work experience, we also both shared a love for baking, particularly when it came to taking traditional recipes and making them healthier. There was a time when we were so burnt out with our 9-5s that we even talked about starting our own bakery… except we were so slammed at work that we never did get beyond the initial brainstorming phase. Still, baking remained a source of stress relief and fun for us, and we were always testing new recipes and comparing notes.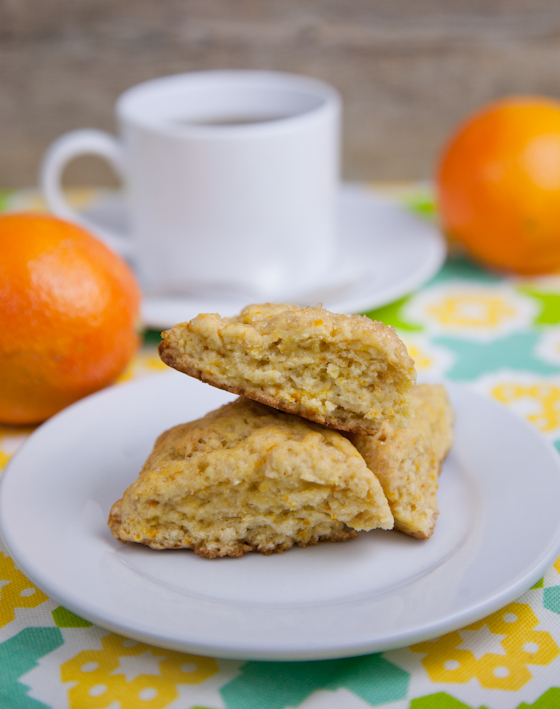 Of course, I wanted to impress Jen with a new baking creation when I saw her on Saturday. However, I've been having some trouble with baking now that I've been trying to cut back on gluten,  and I was very much in need of a recipe win. So, instead of throwing a bunch of ingredients into a bowl and crossing my fingers (not the best game plan when it comes to baking!), I decided to go with an old favorite: scones.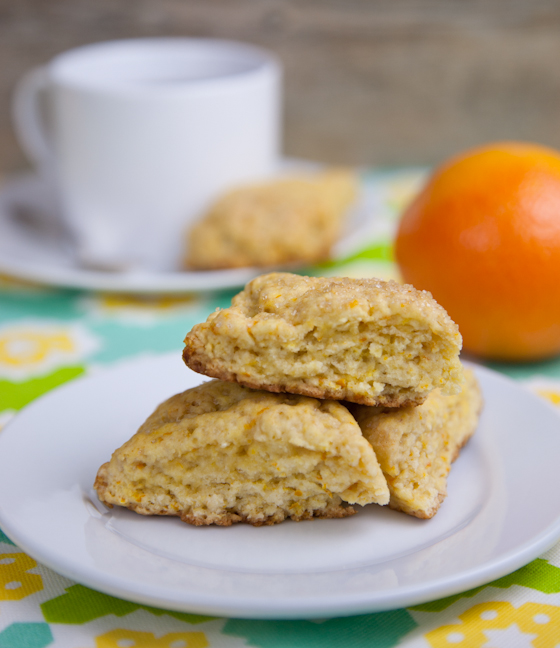 I adapted my kumquat scone recipe to create orange scones, using gluten-free flour and slightly less sugar – the natural sweetness of the orange juice more than makes up for it. And just like the kumquat version, these scones turned out crispy around the edges, and perfectly crumbly and a little doughy on the inside. Hooray!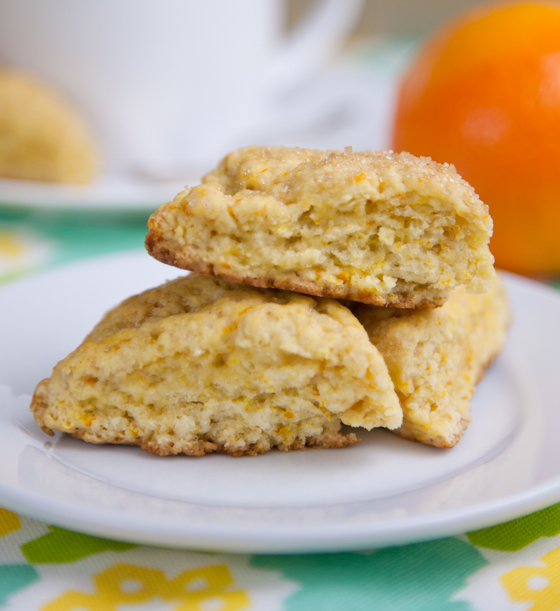 These are a definite gluten-free win, and one I was happy to share.
| | | |
| --- | --- | --- |
| Gluten-Free Vegan Orange Scones | | |
Author:
Serves:
8 large or 16 petite scones
2 1/2 C. All-Purpose Gluten-Free Flour (I used Bob's Red Mill brand, but see note below)
1/3 C. Raw Turbinado Sugar, plus more for dusting
2 1/4 Tsp. Xanthan Gum (see note below)
2 Tsp. Baking Powder
1/2 Tsp. Sea Salt
Juice & Zest of 2 Organic Oranges (1/2 C. juice & 2 Tbs. zest)
1/4 C. Earth Balance
1/4 C. Unsweetened Applesauce
Pre-heat your oven to 375 degrees F.
Lightly grease or line a baking sheet and set aside.
In a large bowl, mix together the flour, sugar, xanthan gum (if using), baking powder, and salt.
Add the Earth Balance to your dry ingredients, and using a pastry cutter or your hands, cut in the Earth Balance until it forms course crumbles. The Earth Balance should be about the size of peas.
Stir in the applesauce, orange zest, and orange juice until just combined.
Divide dough into two equal parts, form into balls, and flatten onto your prepared baking sheet.
If you like, sprinkle a little raw turbinado sugar on top to give the scones a bit more crunch and sweetness.
Cut each round into 4 parts for larger scones, or 8 parts for petite scones.
Bake for approximately 25 minutes, until the scones are golden brown and firm to the touch.
Allow the scones to cool slightly and enjoy with your favorite mug of tea!
Feel free to use whatever flour you prefer. Whole wheat pastry flour, or half whole wheat and half all-purpose flour would be great. If you're not using gluten-free flour, you should omit the xanthan gum.