Today is a very special day around Boston. It's Marathon Monday! And to make it even more special, my brother, Dylan, is running it! This is his first marathon and he's running to support Respond, Inc. to raise money to aid victims of domestic abuse. It's going to be in the high 80s today, which adds an extra challenge, but I know he's going to rock it! So, while I'm out cheering for him and all of the other inspiring runners, I thought I'd post a giveaway to make your Monday a little more fun!
…
I was recently contacted by a company called GoodBelly Probiotic Juice Drinks, offering me free product coupons to take part in their 12-Day Challenge, where I would essentially drink GoodBelly every day and see how I felt.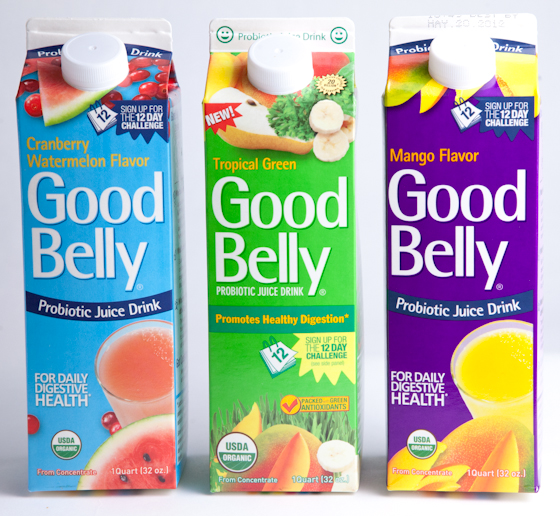 Here are a few things they believe differentiate their products from other probiotics:
Always dairy-free, soy-free and vegan.
Unlike many 'live and active cultures' found on the market, GoodBelly's probiotic strain survives the stomach's acidic environment in order to reach the rest of the intestinal tract.
While Lp299v is widely available in Europe, GoodBelly is the only beverage in the United States that offers this patented probiotic strain.
Some studies suggest that GoodBelly's probiotics may help balance bacteria in your gut when eaten daily as part of a nutritious diet and healthy lifestyle.
I had never tried probiotics before, but I was impressed with their ingredient lists (organic and with the exception of the bacteria, all things I'm familiar with and can pronounce) and I liked that the drinks are vegan. I found them at Whole Foods and picked up 3 different flavors (they have around 8 total to choose from), including:
Cranberry Watermelon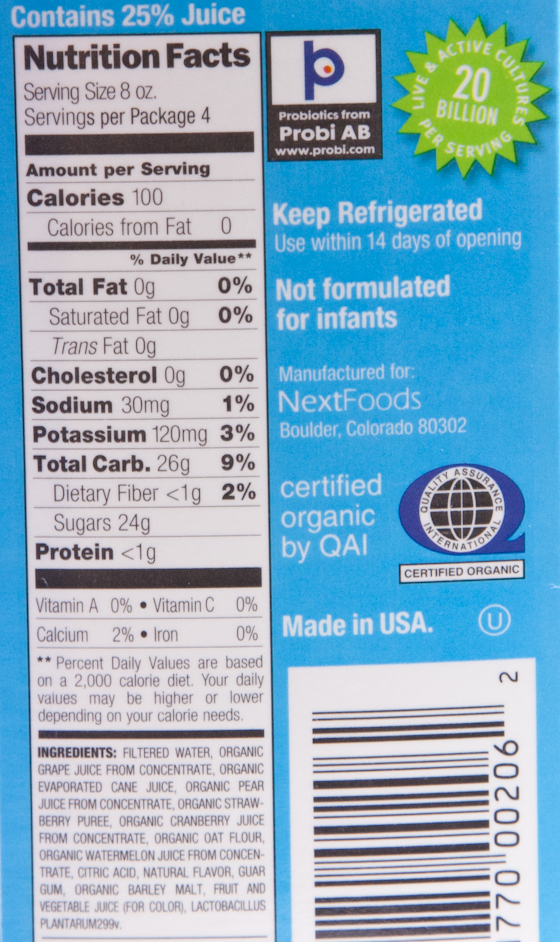 Tropical Green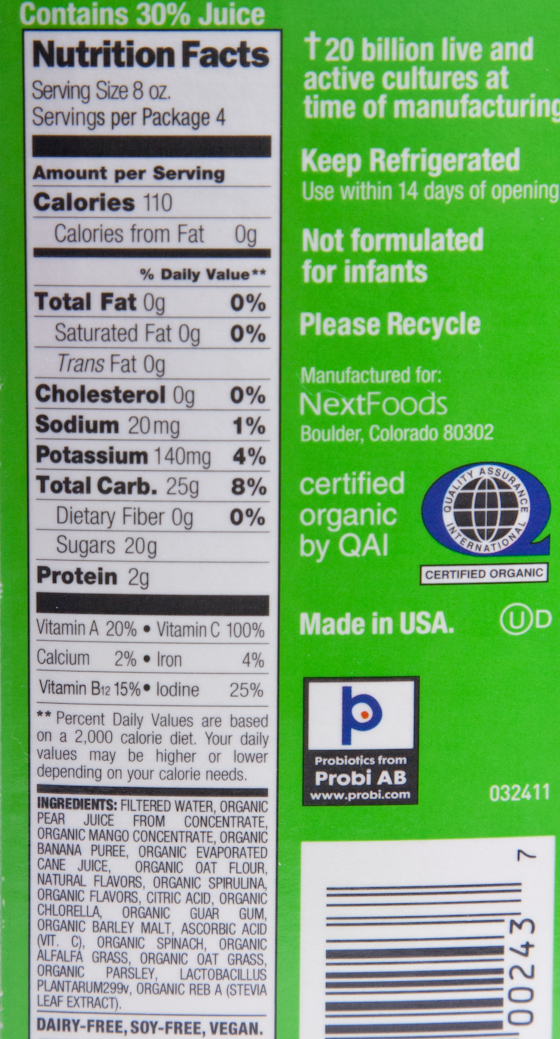 Mango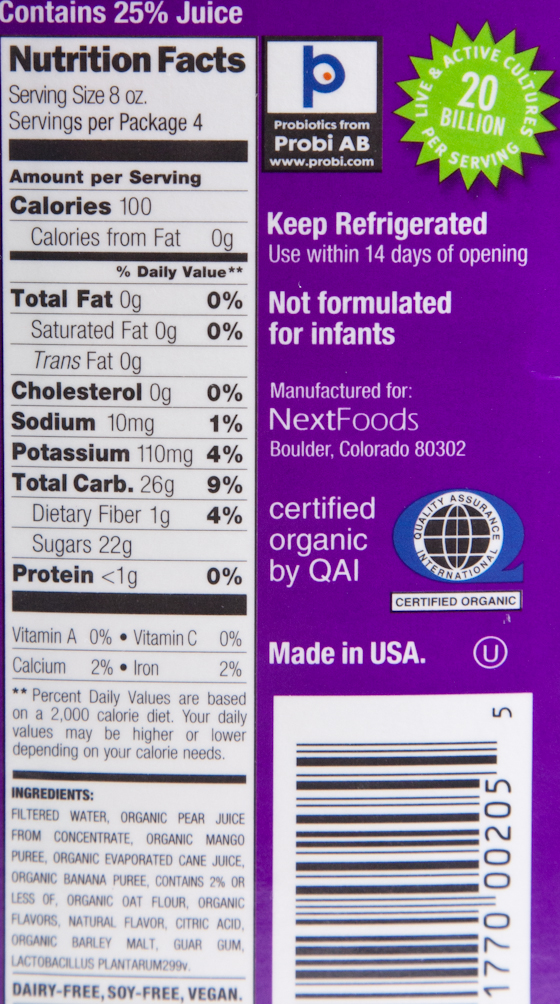 I ended up really liking all three flavors, but if I had to choose, I'd say the Tropical Green was my favorite. I loved the addition of spirulina and other greens, although it was the least photogenic of the bunch. Kind of like swamp water, but I'm used to that with my green juices and smoothies.
In terms of how I felt, the difference was subtle, but I think it's important to keep in mind that I had just finished up the 21-Day Crazy Sexy Diet Cleanse and I had started brewing my own kombucha. Things were working well already and my stomach was generally happy. However,  I did notice that even on days when I was kind of lax with my healthy eating or I went out to eat, I didn't have any digestion issues. This is actually a pretty big deal, as restaurant food, even if it's vegan, tends to mess with my sensitive stomach at least a little.
GoodBelly retails for around $3.50-$4 per quart, so it's just under $1 per serving. Not cheap, but worth a try, in my opinion, if you're having digestive issues or have simply been wanting to incorporate a probiotic into your diet. The flavors I tried were around 100 calories per serving, but they do have a coconut water that's around 70 calories (my Whole Foods was out of it, or I would have been all over that). I drank the juices straight-up, and I think they'd also be great in smoothies, or mixed with seltzer water for a lighter drink.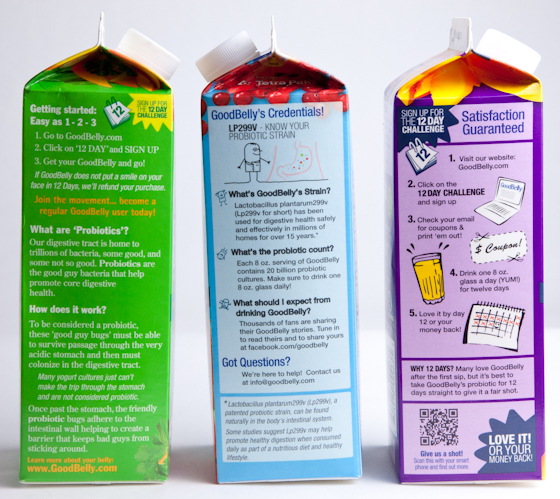 …
Alright, time for a giveaway! GoodBelly has offered 3 free product coupons so that one of you can also try the 12-Day Challenge!
Here's how to enter:
1. Mandatory: leave a comment telling me whether you've tried a probiotic before and/or which GoodBelly flavor(s) you'd like to try.
2. Additional entry: tweet about the giveaway – "I entered the @goodbellydrink giveaway @picklesnhoney is hosting! bit.ly/IFKJgI". Make sure to leave a separate comment letting me know you tweeted!
The giveaway is open to US residents only. I'll choose a winner Friday at 12pm EST.
…
Have a great start to your week and please send some positive running thoughts my brother's way!
Please Note: GoodBelly is a food product and not a treatment or cure for any medical disorder or disease. If you have any concerns about your digestive system, you should consult a healthcare professional.
Giveaway is Now Closed