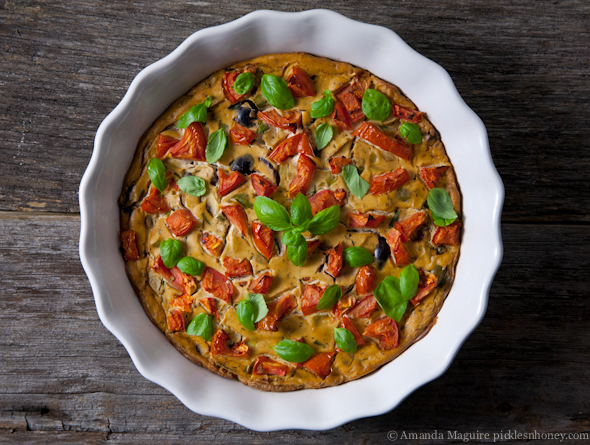 If you're a long-time Pickles & Honey reader, you probably know that Robin Robertson is one of my favorite cookbook authors (um, banana brown betty anyone?). As I mentioned in a previous post, Robin's Vegetarian Meat & Potatoes Cookbook was actually the first cookbook I purchased when I became vegetarian and started cooking for myself back in college. At the time, I really appreciated that her recipes were straight-forward yet consistently delicious, and years later, I still love this about her more recent recipes. They are definite confidence boosters when you're a little unsure in the kitchen.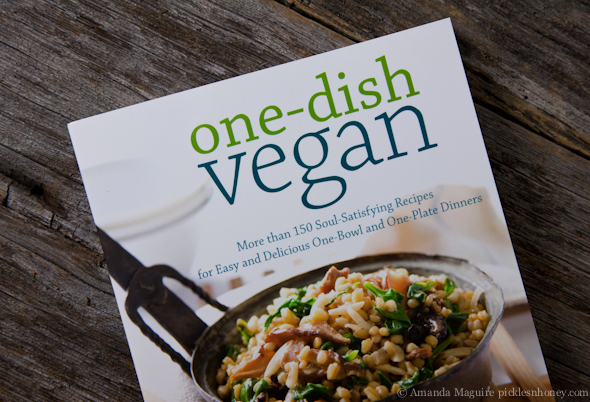 I am so excited to be a part of her latest blog book tour for One-Dish Vegan, which as you can tell from the name, is a continuation of Robin's easy and delicious approach to food. It includes a little over one hundred and fifty recipes, requiring only one bowl for preparation (and one plate for serving). I love it when clean-up takes no more than a few minutes!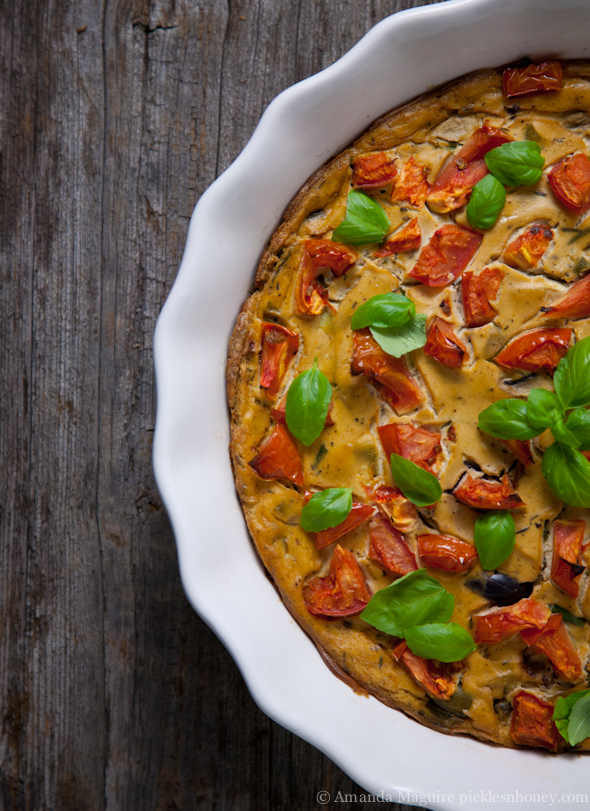 As always, I perused this cookbook for a good long while before narrowing it down to a recipe to share with you (it's hard to choose when there are meals like Lime-Dressed Vermicelli with Edamame and Green Papaya, Orange-Scented Chipotle Chili, and Mac and Thai). Ultimately, though, I decided on a Frittata Puttanesca. I saw the olives, capers, sun-dried tomatoes and I was sold. Plus, I knew Aaron would appreciate a dish that is quintessentially brunch.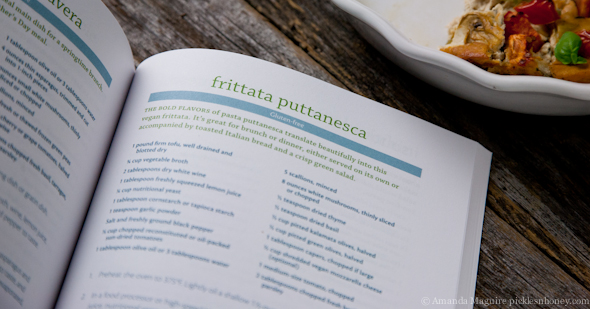 I like that Robin gives the option to sauté the vegetables in water instead of oil, which is something I've been playing around with lately, opting to add fats in the form of whole foods. I also skipped the optional vegan mozzarella cheese (not a fan) and found that the nutritional yeast imparted plenty of cheesy flavor. Nutritional yeast is amazing, isn't it?
This frittata turned out beautifully! I only pressed the tofu for about twenty minutes because I forgot to plan ahead, and the finished product still held together. I did have to bake it for about ten minutes longer than Robin suggests, which could have been due to the extra water, or it might just be my wonky oven. Regardless, this recipe was a total success and so flavorful and easy.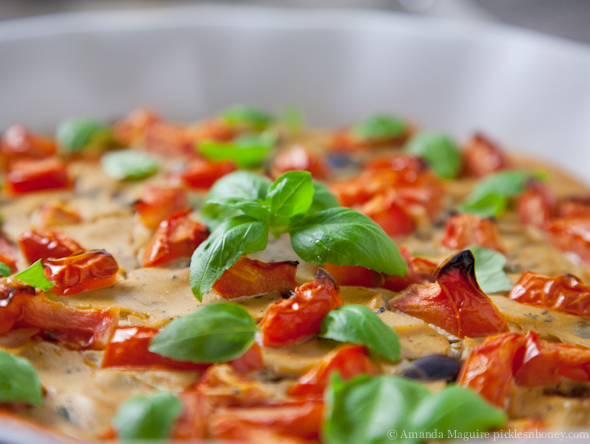 Frittata Puttanesca (Vegan & Gluten-Free)
Recipe Type
:
Brunch or Dinner
Author:
Prep time:
Cook time:
Total time:
The bold flavors of pasta puttanesca translate beautifully into this vegan frittata. It's great for brunch or dinner, either served on its own or accompanied by toasted Italian bread and a crisp green salad.
1 pound firm tofu, well drained and blotted dry
3/4 cup vegetable broth
2 tablespoons dry white wine
1 tablespoon freshly squeezed lemon juice
1/4 cup nutritional yeast
1 tablespoon cornstarch or tapioca starch
1 teaspoon garlic powder
Salt and freshly ground black pepper
1/3 cup chopped reconstituted or oil-packed sun-dried tomatoes
1 tablespoon olive oil or 3 tablespoons water
5 scallions, minced
8 ounces white mushrooms, thinly sliced or chopped
1/2 teaspoon dried thyme
1/2 teaspoon dried basil
1/3 cup pitted kalamata olives, halved
1/3 cup pitted green olives, halved
1 tablespoon capers, chopped if large
1/2 cup shredded vegan mozzarella cheese (optional)
1 medium-size tomato, chopped
2 tablespoons chopped fresh basil or Italian parsley
Preheat the oven to 375°F. Lightly oil a shallow 1 1/2‑quart baking dish.
In a food processor or high-speed blender, combine the tofu, broth, wine, lemon juice, nutritional yeast, cornstarch, garlic powder, and salt and pepper to taste. Add 1 tablespoon of the sun-dried tomatoes and process until smooth and well blended. Set aside.
Heat the oil or water in a large skillet over medium-high heat. Add the scallions, mushrooms, thyme, dried basil, and salt and pepper to taste, and cook for 3 to 4 minutes. Stir in the remaining sun-dried tomatoes, both kinds of olives, and the capers.
Spread the cooked vegetable mixture evenly in the bottom of the prepared baking dish. Add the reserved tofu mixture, stirring to combine all of the ingredients, then spread the mixture evenly. Sprinkle on the vegan cheese (if using) and tomato. Bake until firm, golden brown, and slightly puffed up, about 40 minutes. Sprinkle with the fresh basil, cut into wedges, and serve hot.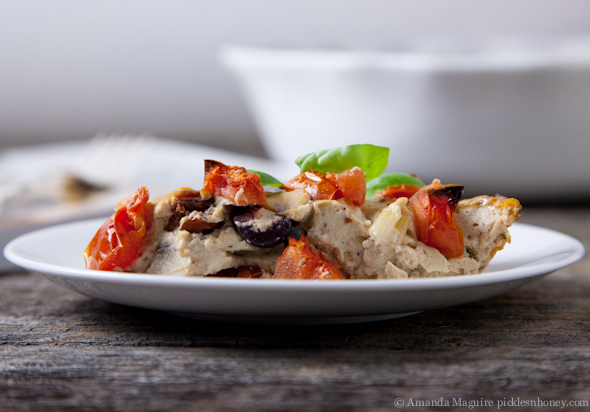 How would you like to win a free copy of the One-Dish Vegan cookbook, courtesy of The Harvard Common Press?
The giveaway is open to US and Canada residents. I'll randomly choose a winner on Tuesday, November 19 at 12pm ET.
xo
Amanda
…
Recipe © 2013 by Robin Robertson and used by permission of The Harvard Common Press. Photos copyright Amanda Maguire.
Disclosure: I received One-Dish Vegan for free, but as always, all opinions are my own.