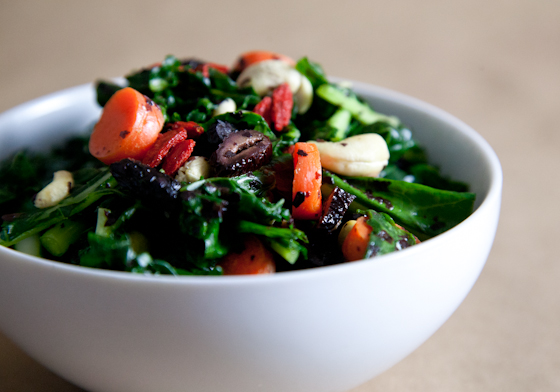 It's no secret that like so many health-conscious food bloggers, I love kale. Part of this I attribute to my dad, who frequently cooked side dishes like collard greens and caramelized onions when I was a kid. I actually don't think he cooked kale all that often, but collards definitely set the stage for liking the more subtle kale.
It wasn't until a couple of years ago that I started appreciating kale in its raw form. Aside from enjoying it sauteed or as chips (life-changing!), I wasn't even aware that it would be anything other than tough and bitter in something like a salad. And that's when I started seeing recipes for massaged kale everywhere. Massaged kale is like what pumpkin is to food blogs in the Fall—overdone, but so darn good, at least in my opinion.
I could happily eat kale massaged with a little lemon juice and avocado all on its own, but it's even better when tossed with some extra veggies, fruit, and nuts or seeds. So, I was thrilled when Sunfood recently offered to send me some samples of their organic, raw cashews, black botija olives, and a few other ingredients to make some seriously delicious salads and snacks. They also happened to include a recipe card for a Superfood Kale Avocado Salad that I tried, loved, and asked if I could share.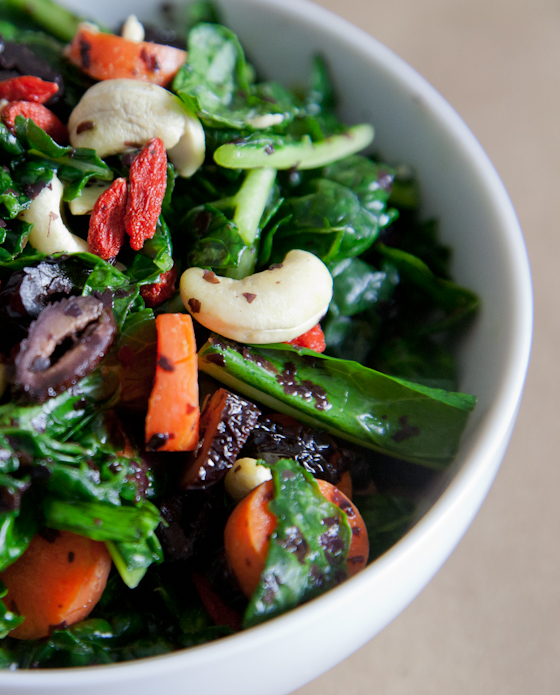 I didn't have all of the ingredients to follow their recipe exactly, so I omitted the tomato, sprouts, and herbs, and opted for a couple of tablespoons of dulse flakes instead of fresh dulse. Nonetheless, this salad was filled with flavor (the Botija olives are intense—in a good way!), lots of different textures, and a little sweetness, thanks to the goji berries.
I know the recipe says it serves one to two people, but I devoured this for lunch all on my own. I also just really love big salads, so…maybe it does serve two? Still, it wouldn't hurt to double the recipe. If you have leftovers, massaged kale is even better the following day.