Easy brown rice sushi with sweet mango, crisp cucumber, creamy avocado, and healthy micro greens. Serve with spicy sriracha mayo and soy sauce or tamari for dipping!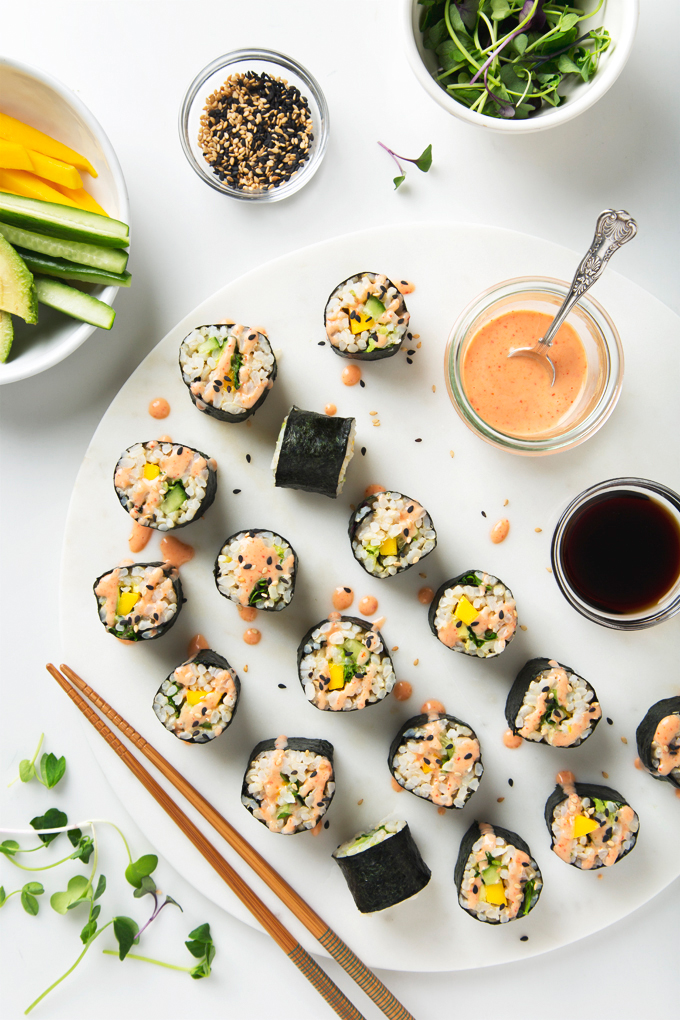 A few years ago, Aaron gave me one of the best gifts I have ever received: a trip to New York City to visit as many of the vegan restaurants and shops I could cram into one very awesome long weekend. It was a food-lover's dream come true, and I immediately got started creating an itinerary for us based on my list of must-visit places. It took me half a day just to carefully narrow it down to what we could ambitiously cover.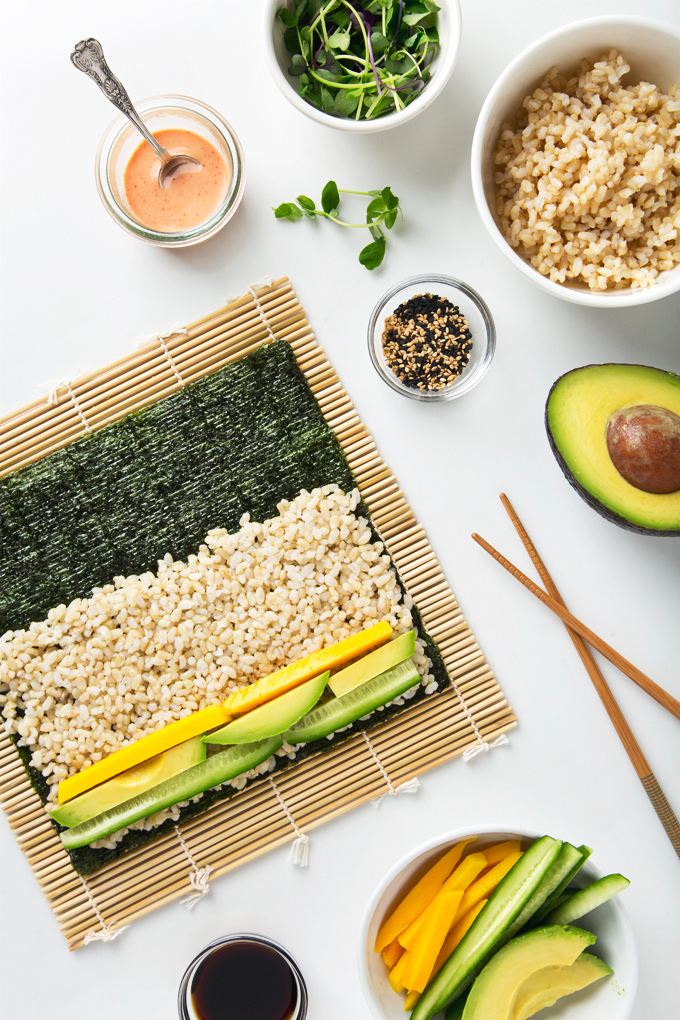 As luck would have it (or maybe as Yelp would have it), every place we visited lived up to its hype and we didn't have a single bad meal, snack, or drink while we were visiting. Nearly 4 years later, I can still taste those meals, with one of my favorites being our lunch at Beyond Sushi. We stopped by their Gramercy location and ordered a combo option so we could try a bunch of different items on their menu. The food was delicious, and I particularly loved the "Spicy Mang Roll" with black rice, avocado, mango, cucumber, and toasted cayenne sauce.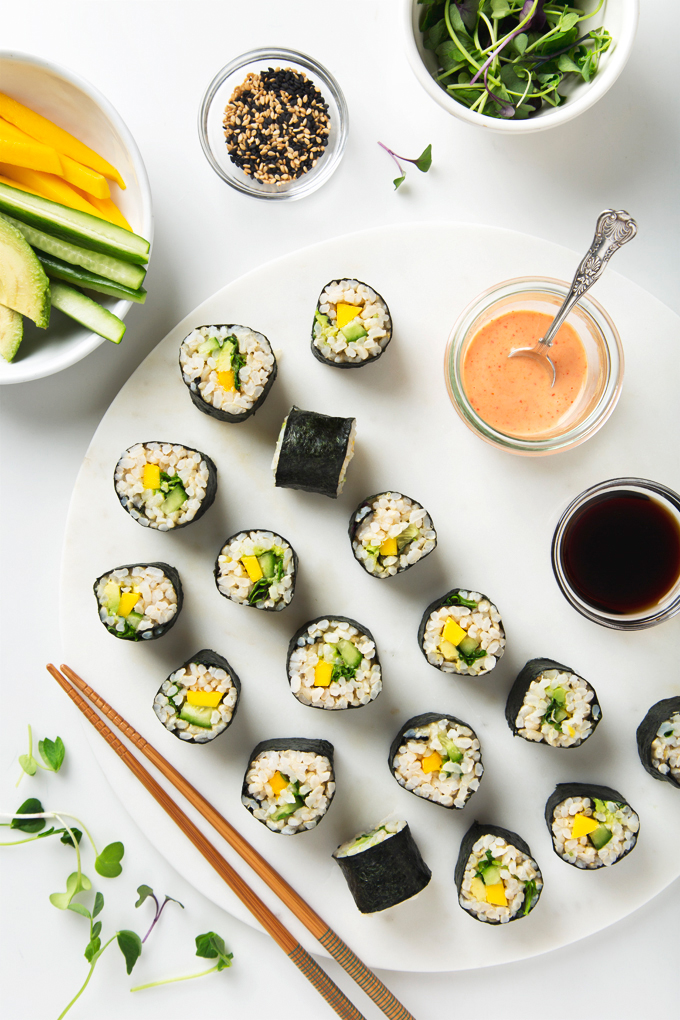 It's taken me a while to put my own spin on this meal because I've always considered homemade sushi to be a little intimidating and complicated. Not so much the assembly part, but definitely figuring out how to roll sushi without making a complete mess. And much like rolling a burrito, I've learned that the key is not to overstuff your nori. A thin layer of sticky rice, a few rows of thinly sliced vegetables/fruit, and a light sprinkling of greens (because I'm always down for extra veggie power).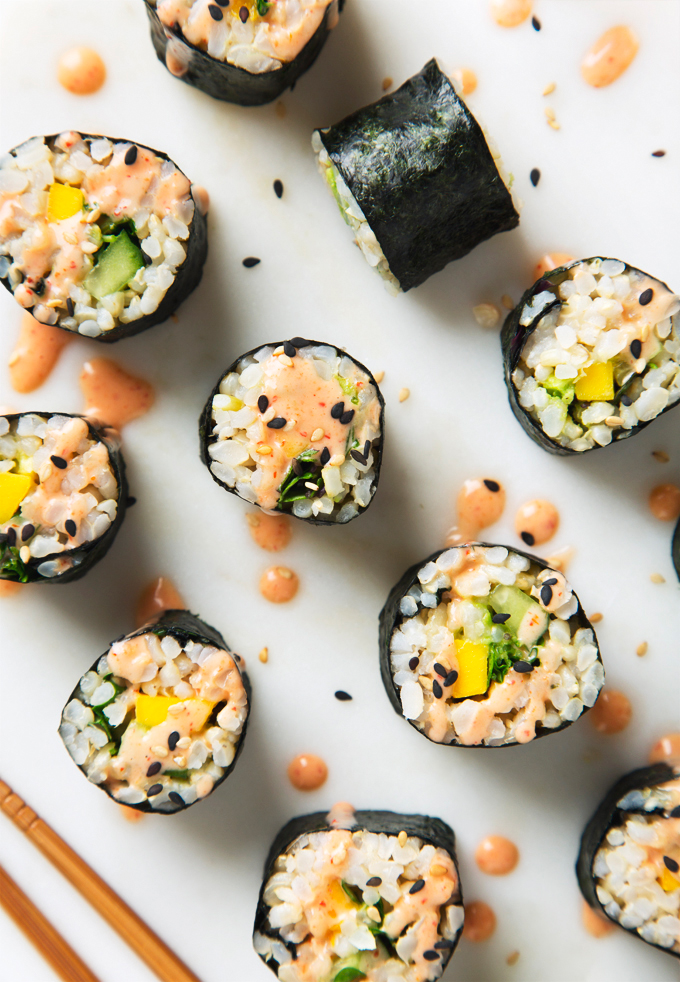 The vegan sushi recipe I'm sharing today is everything I loved about our sushi meal in NYC, simplified. I've replaced the black rice with more widely available short grain brown rice and the cayenne sauce with spicy sriracha mayo. It's salty, sweet, spicy, crunchy, creamy, and best of all: easy. If you've ever felt intimidated by homemade sushi, this recipe is for you!
P.S. Something to keep in mind: even the not-so-pretty rolls still taste great. ♥