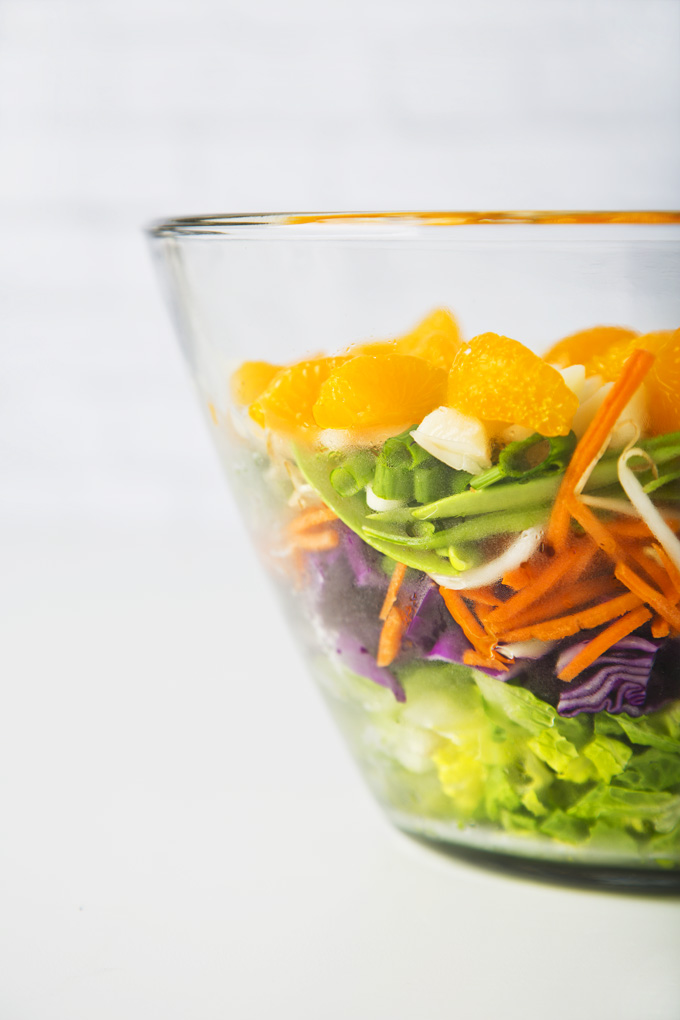 Before we delve into this crave-worthy vegan Chinese chicken salad, which uses crispy chickpeas in place of chicken (!!!), I'd first like to share something a little more personal with you that's been on my mind. For as long as I can remember, it's been of utmost importance to me that I not just be okay or proficient at the things I take on, but really good at them. Receiving an A- always irked me, and a B+…forget it. For some people I think this personality trait is more about pleasing others. For me it's about pleasing myself. It's also not about being "the best" because that's totally relative in most situations and there are always going to be people who are better. That's life. I know what I'm capable of and I know how hard I'm willing to work to get there.
I was having one of those long and exhausting cathartic talks with Aaron a few days ago. The ones that seem to go round and round in a circle with one person repeating the same thing in different ways (me) and the other person getting burnt out (him). He was telling me we've been having the same conversation for months and I was saying this is how I work things out. Finally I stumbled out of my own head for a minute and confided that this blogging thing is really difficult. It seems so simple from the outside, except to do it well—the recipes, the writing, the photography—requires serious skill. It is almost certainly the most challenging endeavor I've taken on, even more challenging for me than managing a multi-million dollar SEO department in a previous life. Blogging well requires turning on the parts of my brain that were turned off way back in high school when I chose AP calculus and economics over art classes. Thank goodness for that one senior year english class that ignited my passion for words. I'll never forget when my teacher gave me a D on my first assignment and made me realize I would need to work a hell of a lot harder to write anything worth reading. And I did. And I hope to never stop.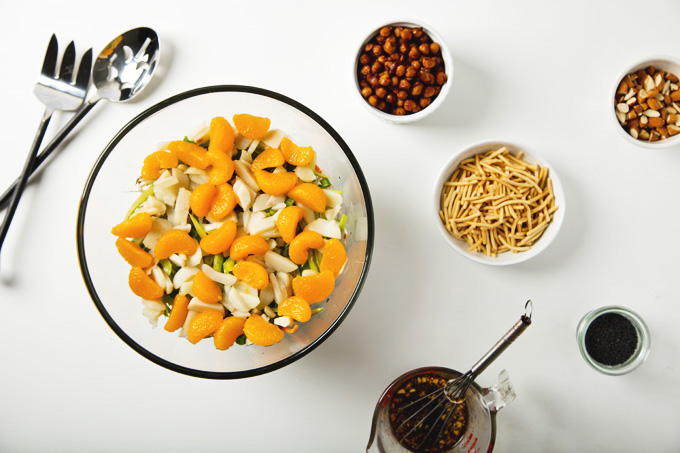 The thing about writing and photography is that I know what awesome work looks like. It is a craft that someone has practiced over and over and over again. I don't know that you get to that level without being at least a little or a lot obsessive. I can look back over my posts and realize they're better than they were three and a half years ago, but they're still not where I want them to be. This will always be a thing, wanting to be better. So in an effort to be better, Aaron and I are going to begin scaling down our frequency of posting in order to ramp up the quality of those posts. Instead of three new recipes each week, we'll put our time into one and start giving ourselves the space to more fully embrace the world that surrounds us and better replenish our creative energies. It feels like a lot to hang on every post, but it also feels really, really exciting. We know what awesome work looks like and we want to get there.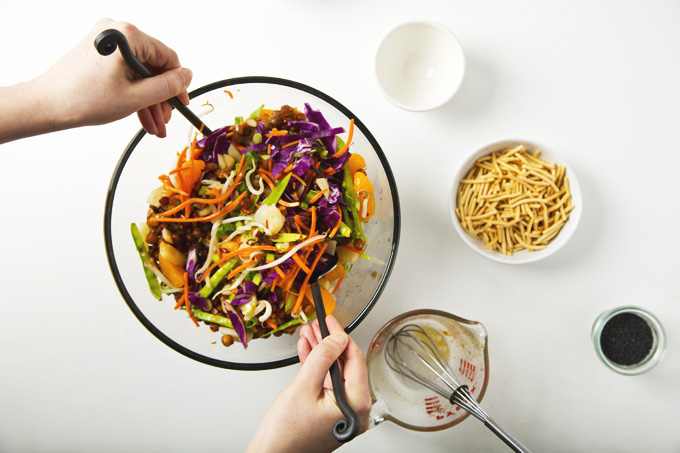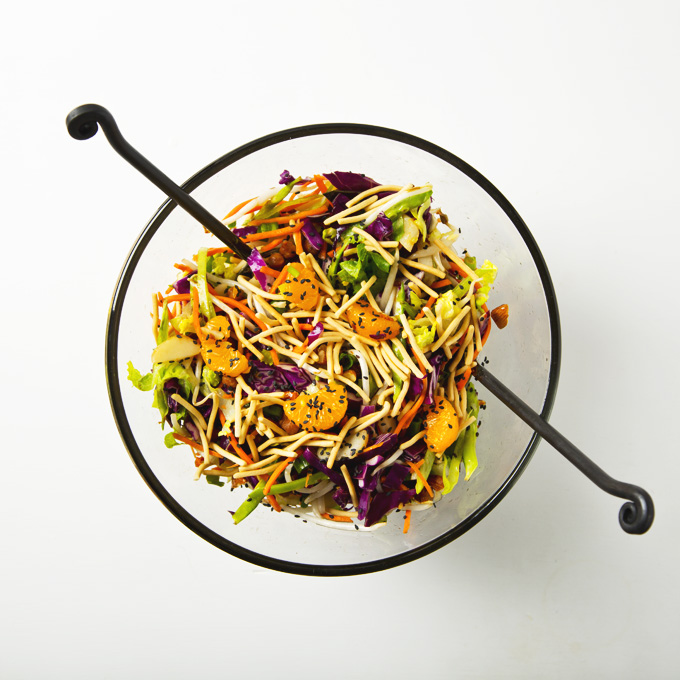 Now that the weather has warmed up, we're finding ourselves craving big salads with lots of color and texture. I used to always order Chinese chicken salads at restaurants, with that addictive salty and sweet combination and those crispy noodles that I could never stop eating. This vegan Chinese chickpea salad is my take on that old favorite and I have to say, the chickpeas really do make the perfect addition. Coated in a mildly spicy garlic sesame soy sauce, they bake up crispy with a sticky glaze that pairs so well with the crunchy vegetables and sweet mandarin oranges. I added chopped roasted almonds and crispy noodles for even more texture, all coated in a light but flavorful easy rice vinegar dressing. I still can't stop eating those crispy little noodles.
A quick heads up: this recipe has a longer-than-usual ingredient list, but don't be deterred! It comes together quickly and makes for one very satisfying vegan Chinese chicken salad.
P.S. This video is exactly where I'm at. xo Amanda