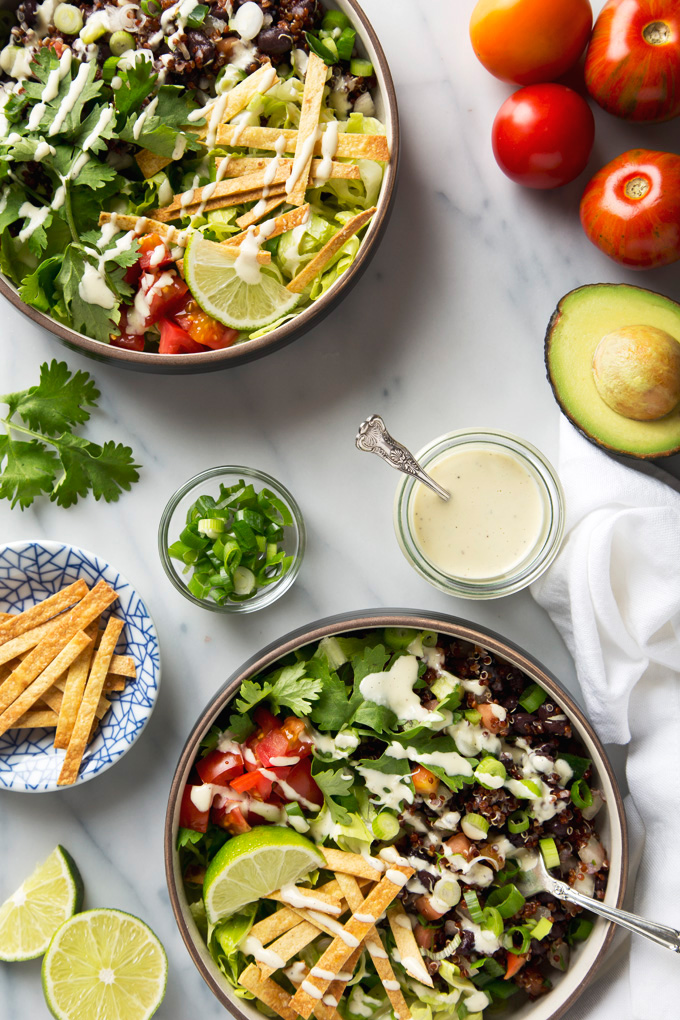 Today's Quinoa Taco Salad recipe is one that's been on my ever-growing "must-share" list since last Spring. I may have gotten a little distracted by n'ice cream and sparkling peach cocktails these last few months (oops!), but Aaron and I have been enjoying variations of these vegan taco salad bowls on repeat all the while because they just never get old.
The base is made of protein-packed red quinoa and black beans, plus some fresh pico de gallo that I always add to our weekly Terra's Kitchen meal kit deliveries. If you're not familiar with pico de gallo (aka salsa fresca), it has chopped tomato, onion, cilantro, and jalapeños, and it's seasoned with sea salt and lime juice. It's a great way to add more flavor to your usual grain and bean bowls.
Because the pico de gallo is light and spicy, I like to balance it with a richer, creamy dressing. My go-to is a simple 4-ingredient recipe that I make in my blender from cashews, extra virgin olive oil, garlic, and lime. I usually just toss in a raw clove of garlic to keep it extra easy, but if you'd prefer a more mellow flavor, you can slice your garlic and give it a quick sauté in some olive oil before blending.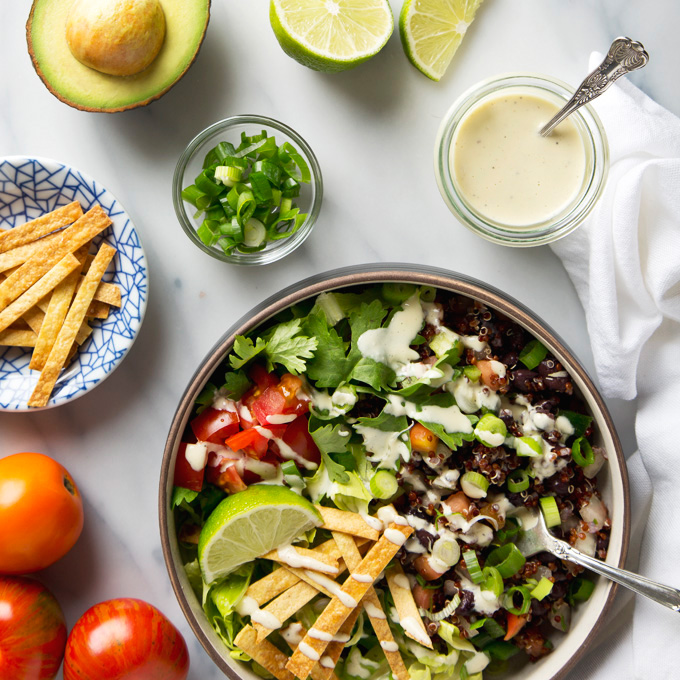 Feel free to assemble your quinoa taco salad however you like—we add sliced romaine, avocado, and scallions, plus a handful of chopped cilantro (extra cilantro for me)—but whatever you do, don't skip the crispy baked tortilla strips! They are too good. In fact, you may even want to make a double batch of them because if you're anything like Aaron and me, half of your tortilla strips won't even make it past the baking sheet.
---

Thank you to Terra's Kitchen for sponsoring this post! We love their wholesome, 30 minute (or less!), plant-based meal kits, plus their option to add salads, smoothies, and pre-prepped fruit and vegetable sides to your order. You can read our full review of their meal-kit delivery service here, and enter PICKLES at checkout to take $35 off your first order!