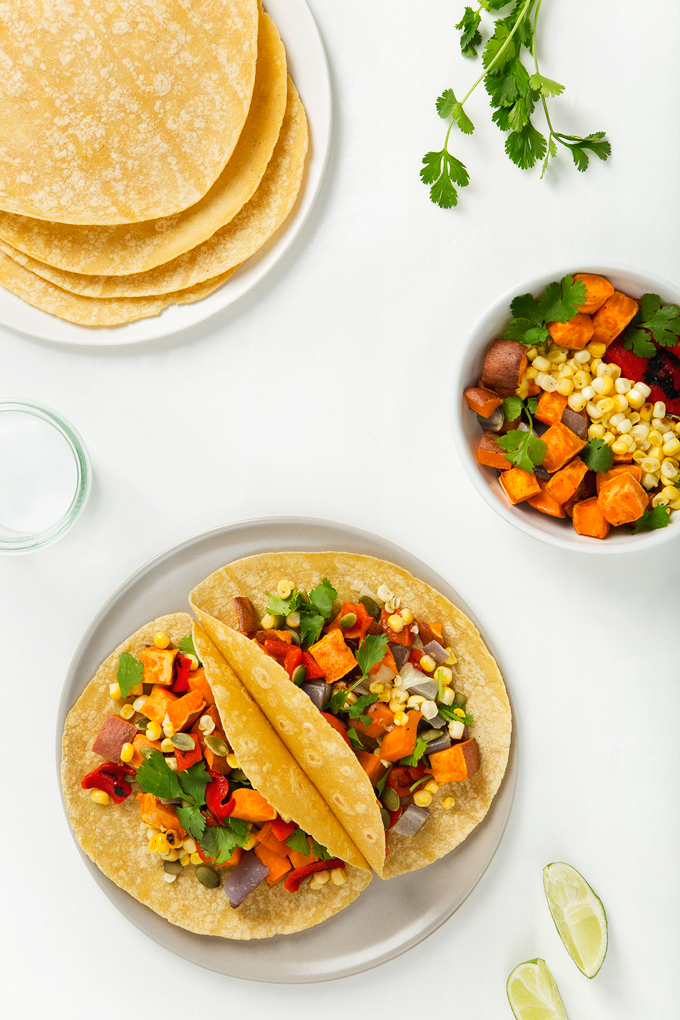 Yesterday was 70, sunny, and perfect in Boston, and I suddenly realized it's already the 3rd week of April! Before we know it, flowers will be in full bloom, the grass will be green, and the trees will have leaves! (unless you live in California where it's always like this, in which case #jealous) I can't even tell you how pumped I am for consistently sunny and warm weather, farmer's markets, and lighter/brighter meals.
I'm so excited to share this latest recipe creation with you: easy gluten-free and vegan sweet potato tacos! They're going to be on regular rotation for us because they:
remind us of a healthy version of the insanely delicious papadulce tacos at Taco Deli in Austin
take under 30 minutes to prepare
involve sweet potatoes, grilled corn, and roasted red peppers—three of our favorite things
they're tacos (no explanation needed)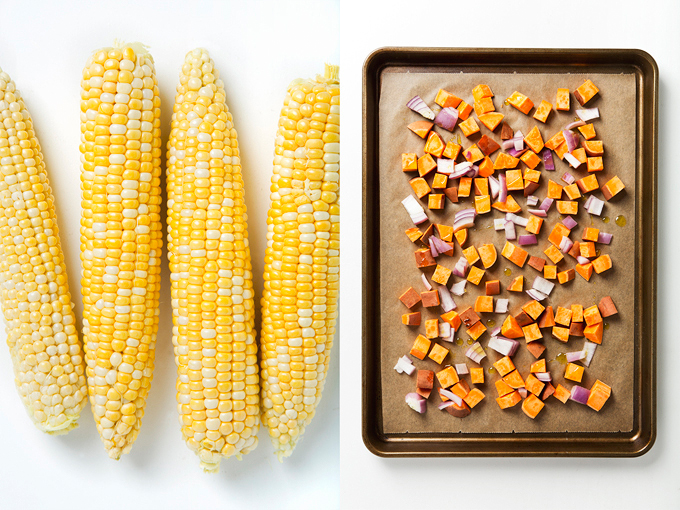 I know a recipe is a winner when I serve it to Aaron and he keeps commenting throughout the meal about how much he likes it, then goes back for seconds and thirds. We're planning to host a little Cinco de Mayo get-together in a couple of weeks and these sweet potato tacos will definitely be on the menu, along with some good-quality (aka grown-up) tequila for sipping. While I did my trial run of the tacos, Aaron did his own trial run of the tequila with lime wedges and ice (repeat x3). He says he feels mostly confident in his tequila pouring and lime squeezing skills, but more "recipe testing" may be necessary. Ha!
These sweet potato tacos though—these are pretty dang perfect.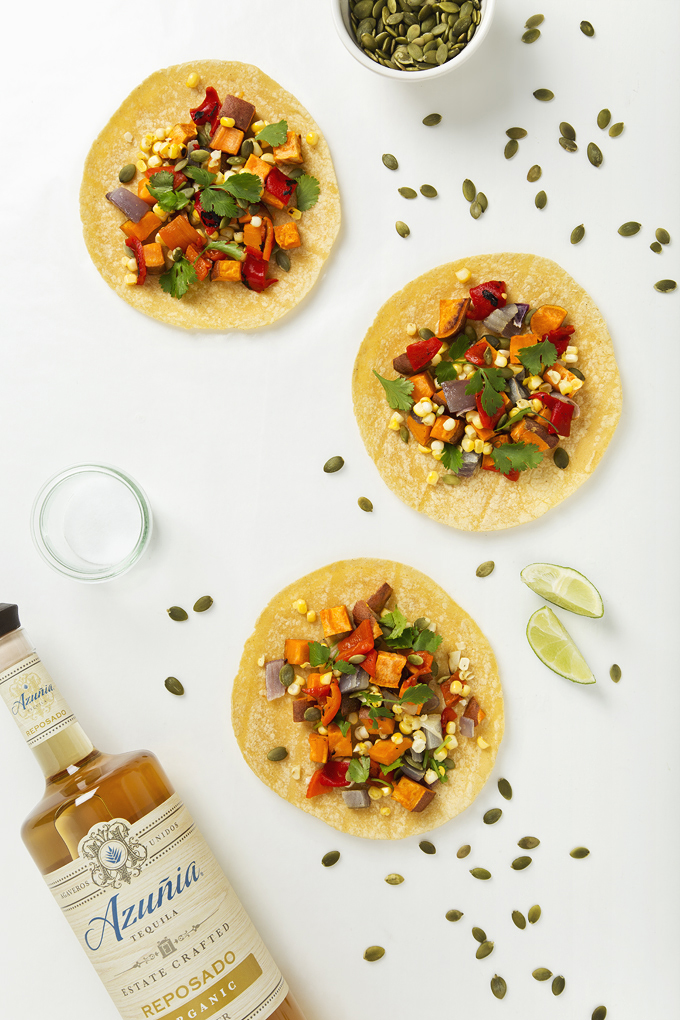 …
This recipe is our entry for the Azuñia Tequila Cinco de Mayo recipe contest, which is running through April 29th and highlighting festive recipes that pair well with their flavorful and smooth tequila. Truly—it really is sip-able. Cinco de Mayo, like tequila, sometimes gets a bad rap (one word: college), but we'd argue that the celebration is way more fun when the food and drinks actually taste good and won't leave you feeling less than stellar the next day.
If you have a moment, Aaron and I would be so grateful if you would vote for our easy sweet potato tacos. We'd be pumped to see not only a super healthy recipe win, but a vegan and gluten-free one too. Let's do this!
P.S. If you vote, you'll also be entered to win some really cool prizes like gift cards and a mixologist kit!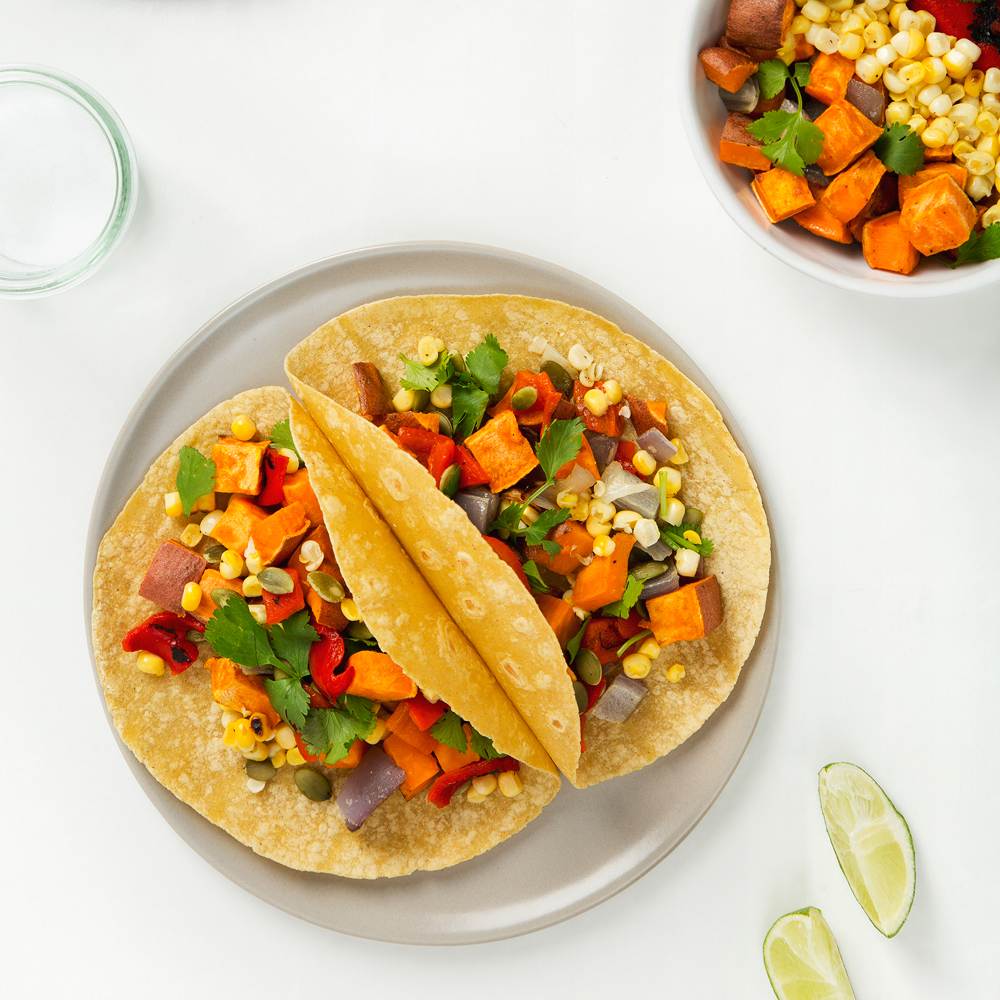 Happy (almost) Cinco de Mayo!
A big thanks to Azuñia Tequila for sponsoring this post! We love their organic, 100% blue agave tequila.