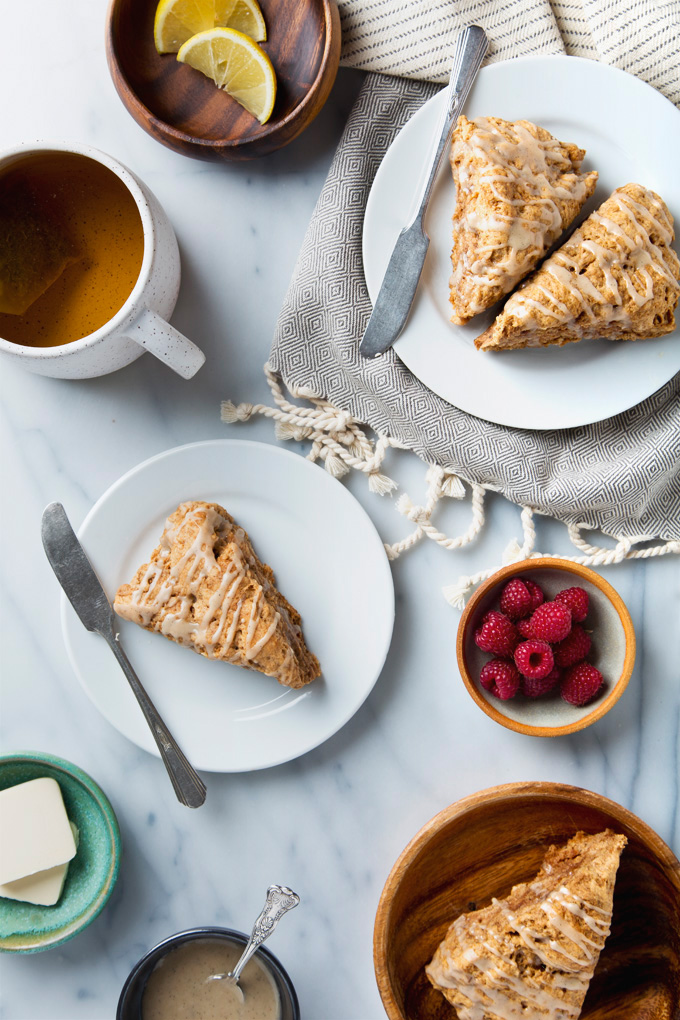 Scones are one of those foods that hold a lot of nostalgia for me. For many weekends growing up, my mom would make a batch first thing on Saturday mornings and we would all gather around the kitchen table in our pajamas to eat scones with butter and jam. She usually made orange scones, but I have a feeling she would also approve of these vegan vanilla scones because they're spiced with cinnamon and cardamom (her favorites), then topped with a sweet vanilla bean glaze. (As I write this, I'm realizing I should bring her a few…)
I always say that if you've ever felt intimidated by baking, you should make scones. The ingredients are simple and they only require stirring everything together in a big bowl. You can mix them by hand and get in a nice little arm workout, or use your stand mixer with the dough hook or paddle attachment (my preferred method).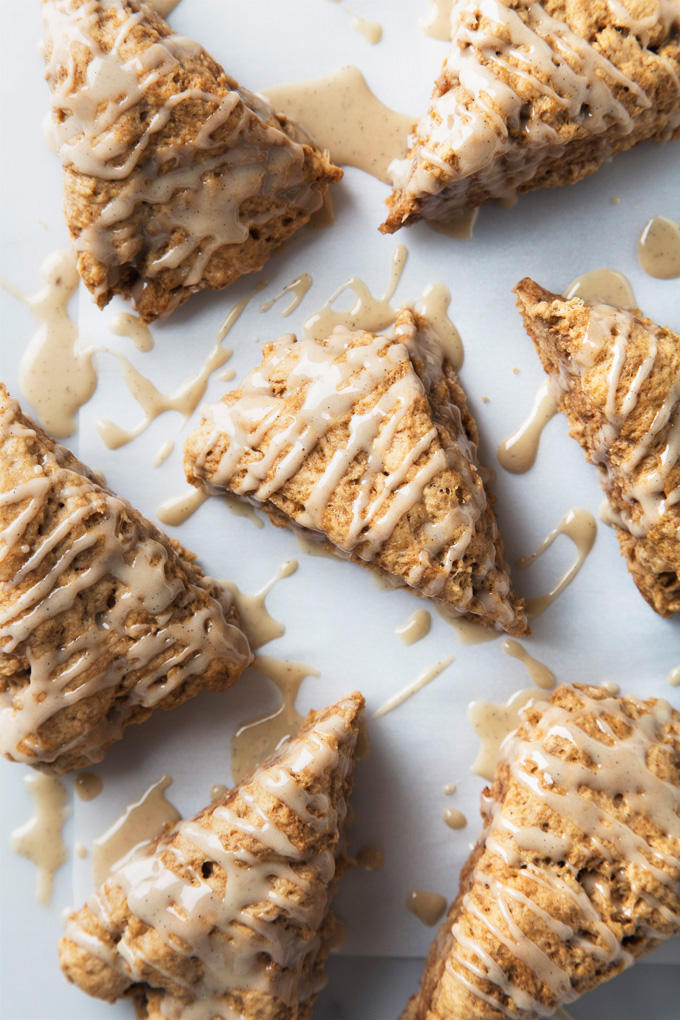 I like to make my scones with coconut oil instead of butter, and then go heavy on the vanilla and spices. To really amp up the flavor and add in some extra protein, I replaced my usual almond milk with REBBL's Vanilla Spice Protein in both the scones and the glaze.
I'm obsessed with their protein drinks because the texture is so on-point. They use a coconut milk base with a blend of pea, sunflower, and pumpkin protein, but unlike a lot of other plant-based proteins, REBBL's blend isn't chalky or gritty, and equally important—it's easy to digest. I honestly can't even tell it's a protein drink, and yet a single serving has a whopping 16 grams in it!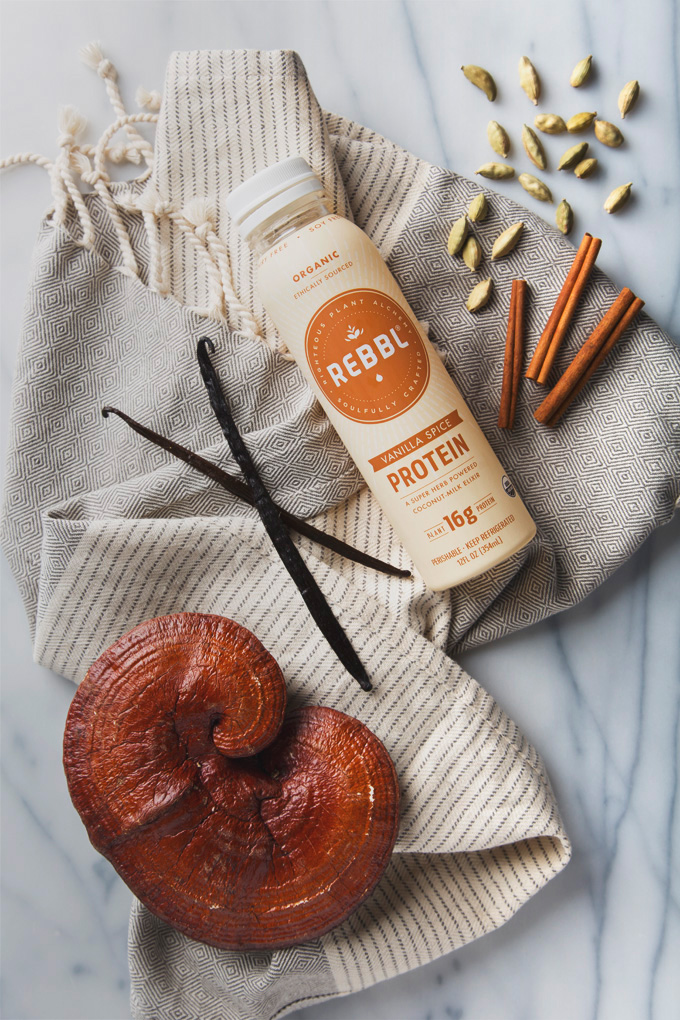 Another thing I love? It also includes reishi, which is one of my go-to super-herbs. If you're not already familiar with reishi, it's a medicinal mushroom with a host of health benefits including assisting with detoxification, boosting immunity, and helping the body respond to stress. REBBL includes reishi in a handful of their elixirs and protein drinks, so if you're curious, I can't think of a more delicious way to give it a try! October 15 also happens to be National Mushroom Day, and REBBL is celebrating with a bunch of awesome giveaways leading up to the big day. You can enter to win on Instagram or search #MagicOfMushrooms to learn more.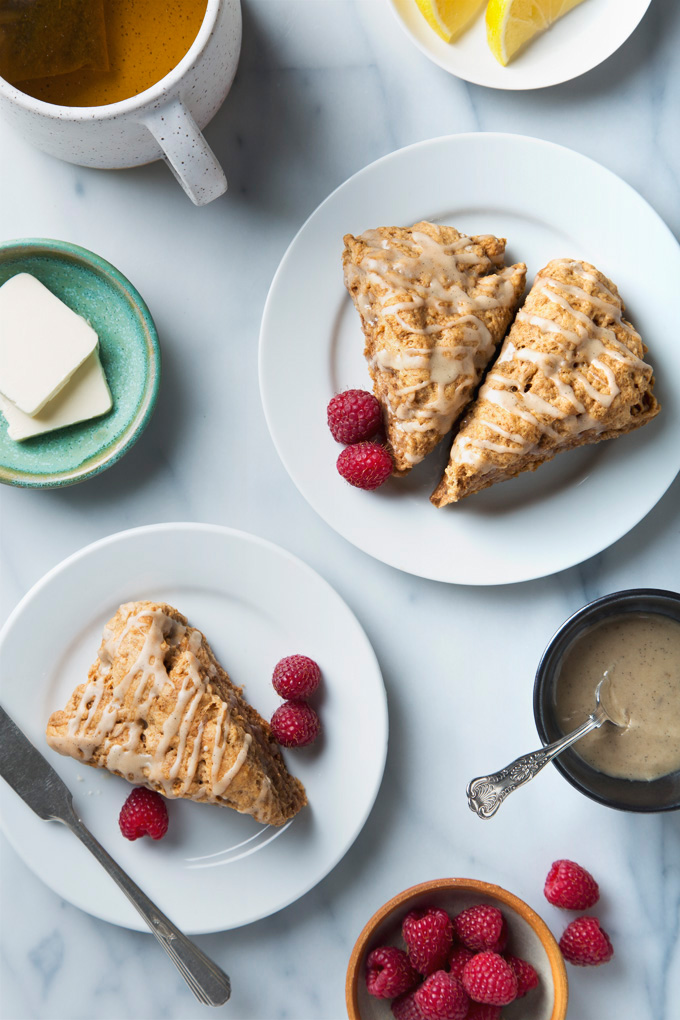 This easy vanilla scone recipe makes 1 round, which slices into 8 small-medium scones. We always devour them within a couple days, but it's worth noting that they freeze well too. If you go that route, simply let them thaw on the counter at room temperature, then drizzle on the vanilla bean glaze.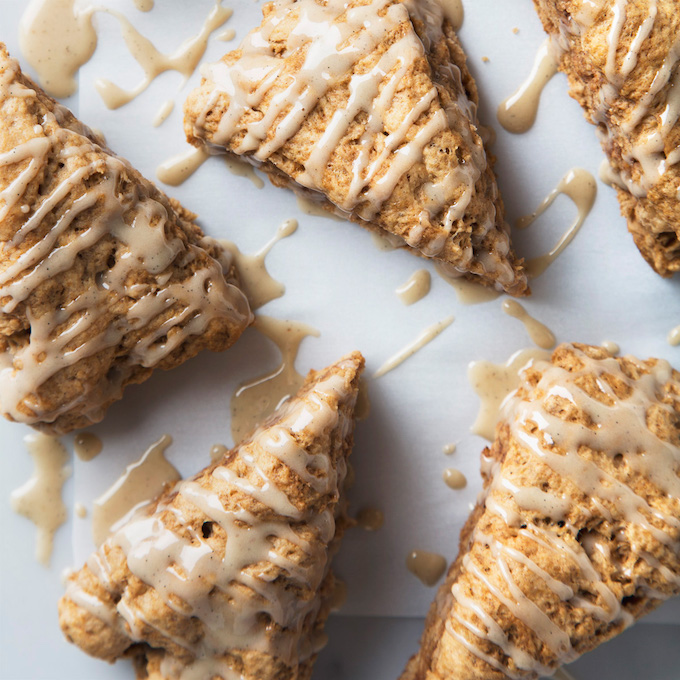 ---
Thank you to REBBL for sponsoring this post! We love their Super Herb Elixirs and Plant-Based Proteins, especially because when you buy any of their beverages, you help give back 2.5% of every purchase to Not For Sale in their mission to eliminate human trafficking and uplift vulnerable communities around the globe. Check REBBL's store locator to find their drinks near you!