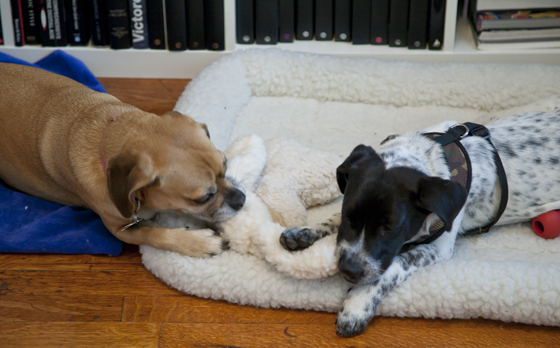 In December of last year, Aaron and I brought an adorable, energetic little fifteen-pound puppy into our lives. We had been wanting to add a second dog to our family for a couple of years, both because we love dogs and because Honey is so social and playful. Instead of going to a breeder, as we did with Honey, we wanted to adopt from a shelter and give one of too many homeless pets a loving home. We explained our living situation to the shelter (two bedroom apartment, in the city, no yard but access to a park down the street) and after multiple visits and careful consideration, we brought a Blue Heeler/Pointer mix puppy home.
On the drive home, I excitedly called my mom to tell her we found the dog, and she looked up the breeds because Aaron and I weren't familiar with Blue Heelers or Pointers. She said, "Well, it says they're not apartment dogs and have tons of energy…but you guys will do training and take her to the park. It'll be fine."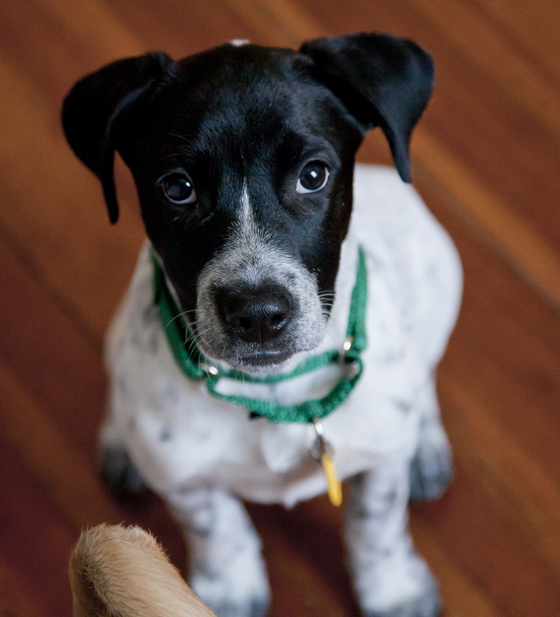 If you've been reading my blog for a while, you'll know that we spent seven months in puppy training, countless hours outside of class working on commands, and nearly three hours a day taking Olive on brisk walks, runs, rollerblading (Aaron bought them specifically for Olive), to the park, and even borrowed my parents' treadmill so she could burn off some energy throughout the day. Aaron and I have had dogs all of our lives, but neither of us had ever experienced a dog with this much energy. It was extremely frustrating, both for us and for Olive. She just kept going and going, and on days when the park wasn't an option (due to rain, other events, or because it's only dog-friendly from dawn to 1pm), Olive would buzz around our apartment all day, chasing her tail or hanging on Honey because she couldn't settle down. Honey would hide under the furniture or try to jump in my lap to get away.
We spoke to trainers, veterinarians, friends with dogs, and went back and forth for months about what to do. Do we try to find her a home with a large yard, or do we do more training, exercise, doggy daycare? In August, after another conversation with our veterinarian, we were given a couple of contacts at rescue groups and shelters. We explained our situation, they evaluated Olive, and told us that her behavior was totally normal given her mix of breeds. They thought it would be easy to place her in another home given the amount of training we'd done and also that she's a really, really nice dog. We agreed to move forward, keeping Olive in our home until we could find that perfect fit.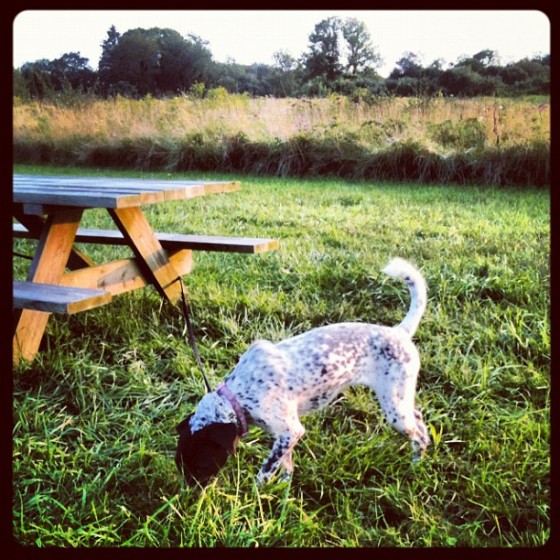 This past week, we finally found an ideal family for Olive. They live in the town next to where Aaron and I grew up, they have a large yard, a big house, a second home on the Cape, a twelve-year-old son, a mom who works part-time and is home during the day, and lots of experience raising border collies. They recently lost their dog and were devastated, and so it almost felt like fate that Olive was meant to live with them.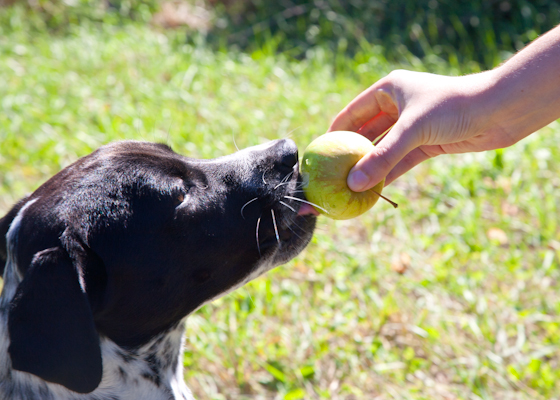 Aaron and I are heartbroken that we couldn't provide the type of home Olive needs, but ultimately, we've accepted that it just wasn't a good fit. She's a great dog and so loving, and although we're really sad, we know we made the right decision for her and also for us. Olive is going to be so happy in her new home, running around her big yard, chasing chipmunks and eating sticks.