These Apple Cinnamon Vegan Protein Pancakes require just 10 ingredients, 1 bowl, and take under 30 minutes start to finish! They're a delicious source of plant-based protein and are sure to keep you full.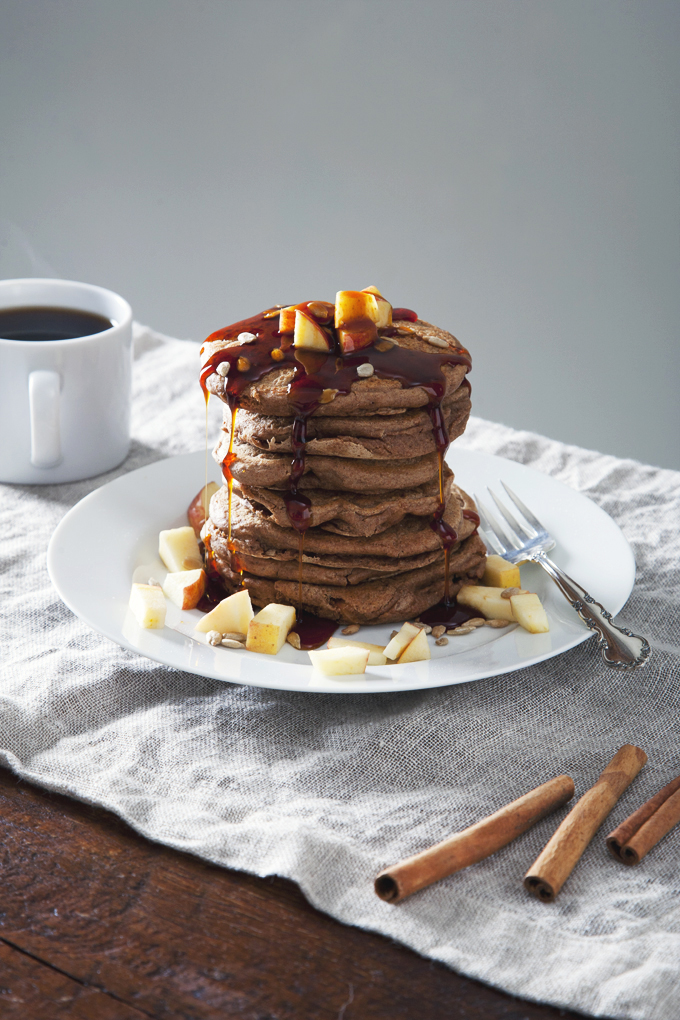 Lately, Aaron and I have been adapting our favorite vegan pancake recipe to be higher in protein, mostly because he has some steep protein requirements for his fitness goals and also because I hate it when I eat pancakes and then get hungry an hour later. The protein seems to keep us fuller for longer.
We recently had the opportunity to try out a new (to us) protein powder from Sunwarrior. This is a brand that I'm sure many of you are already familiar with. I had always heard good things about their protein, but for whatever reason simply hadn't gotten around to trying it. So far, we've tried the vanilla flavor and can see why Sunwarrior comes so highly recommended—the texture is smooth, the flavor is a true vanilla (because they actually use vanilla extract), and it's not overly sweet. That last point is a biggie. I find so many of the vegan protein powders to be way too heavy on the stevia and so sweet they're borderline inedible.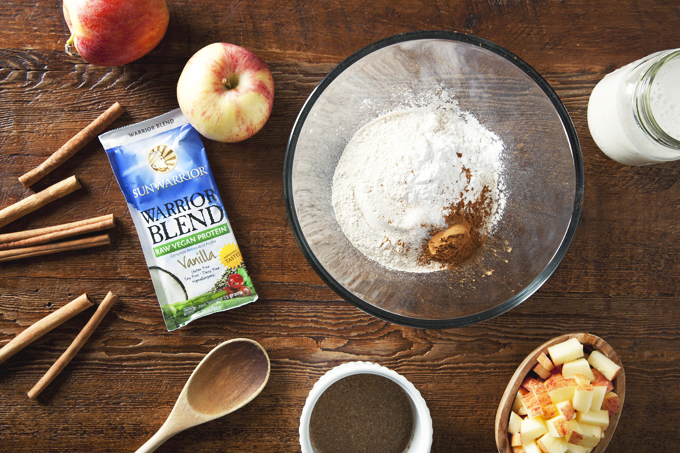 We've added the Warrior Blend to our pancake batter for the last couple of weeks with really good results. There's no denying that the pancakes take on a bit of the flavor of the protein powder, but it's subtle compared to other brands we've tried. My new favorite thing is to add lots of cinnamon and chopped apple to make apple cinnamon vegan protein pancakes. I just love the apple pie vibe and you almost don't even need any syrup. Almost.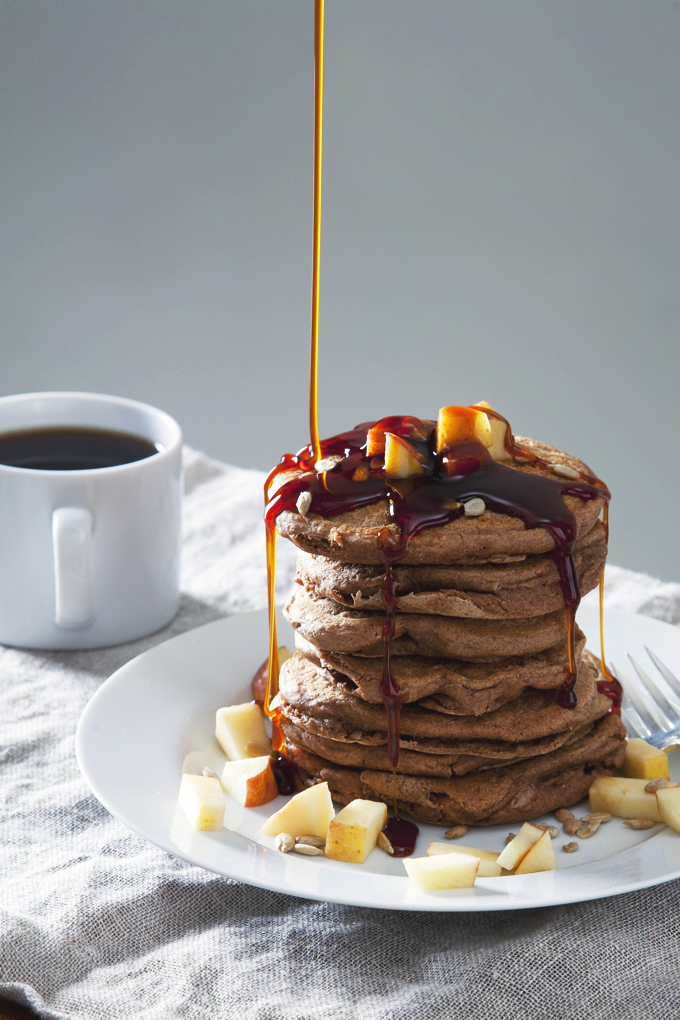 We were all out of maple syrup and I spaced on picking up more at the grocery store, so I subbed in raw coconut nectar with great (and low-glycemic!) results. Then I remembered we also had some creamy peanut butter leftover from making those crave-worthy peanut cold sesame noodles I can't seem to get enough of, and mixed up a small batch of 3-ingredient vegan caramel sauce. Definitely, definitely do that. Apple cinnamon pancakes + peanut butter caramel sauce is an amazing way to start or end your day. I'm a big fan of breakfast for dinner.
Here's how these vegan protein pancakes break down:
10 ingredients
1 bowl
25-30 minutes
10 medium pancakes
19 grams of additional protein
They're doable even on weekday mornings; however, I like to make them on Sundays and refrigerate or freeze the leftovers for quick meals during the week. Just pop 'em in the toaster, then add your favorite toppings for a comforting but healthy pancake breakfast that will truly keep you full for hours.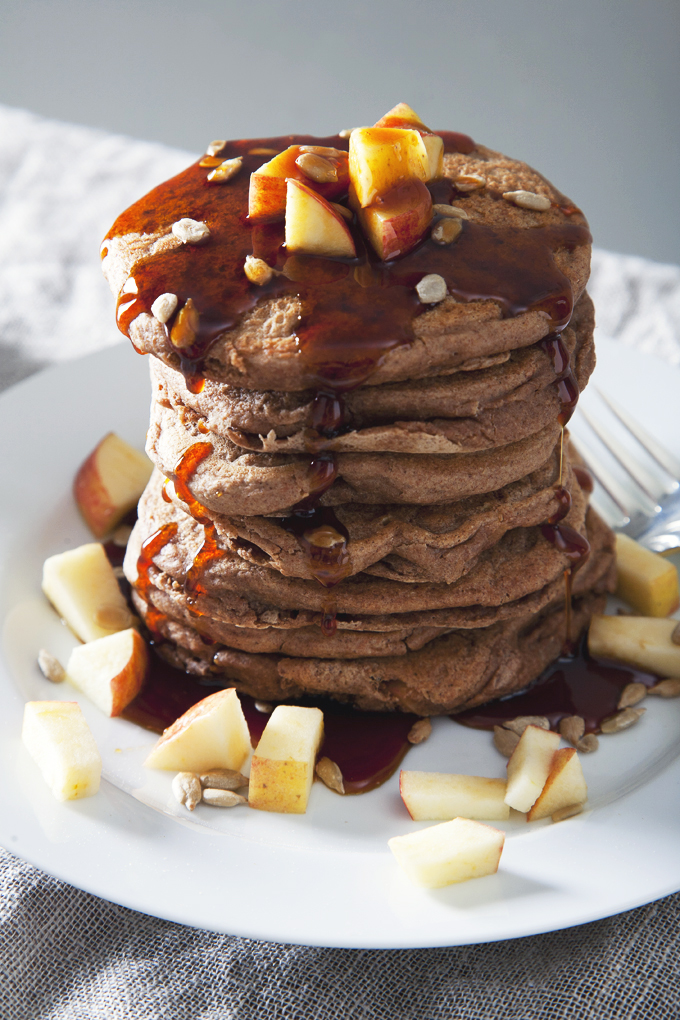 Thank you to Sunwarrior for sponsoring this post!