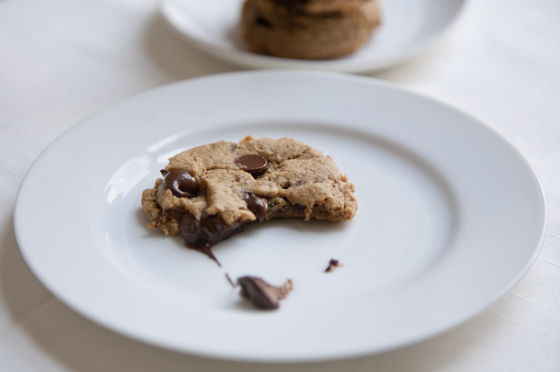 By far, my favorite kind of cookie is one that's slightly crispy on the outside and a little gooey on the inside. It should be chewy, not crunchy, and loaded with chocolate chips.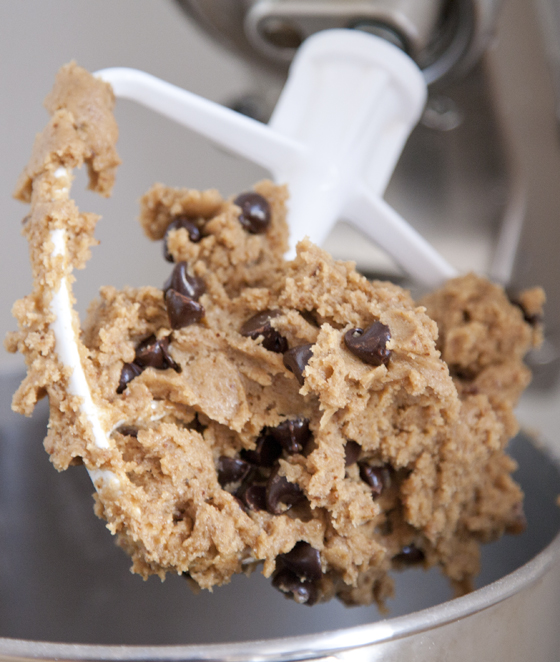 Unfortunately, it can be a challenge to create the perfect chewy texture when you don't use butter and eggs. However, if at first you don't succeed…
Try a little fig butter.
I've had an almost full jar of TJ's fig butter in my fridge for a couple of weeks, and it occurred to me that the combination of chocolate and figs could be delicious. Don't get me wrong – pumpkin butter would be outstanding in this recipe, but I wanted to try something slightly off the beaten path.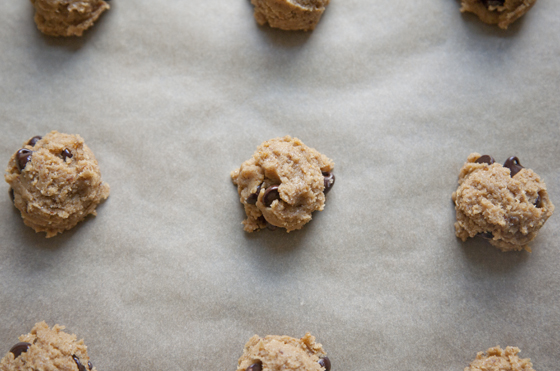 The fig butter doesn't lend a very noticeable flavor to the cookies, but it creates the best texture in a vegan cookie I've made to date. So, if you're looking for a no-one-will-ever-know-this-is-vegan cookie, this is the one.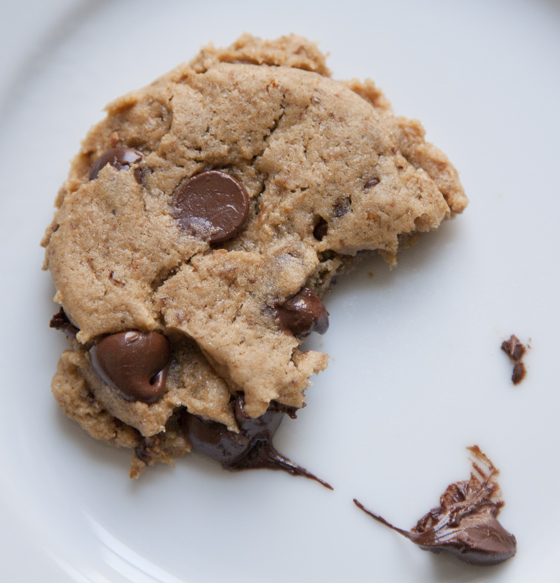 | | | |
| --- | --- | --- |
| Chewy Chocolate Chip Fig Cookies (Vegan) | | |
Author:
1/2 C. Earth Balance, melted
1/2 C. Brown Sugar
1/2 C. Granulated Sugar
1 Flax Egg (1 Tbs. ground flax, 3 Tbs. water)
1 Tsp. Vanilla
1/2 C. Fig Butter (or Pumpkin Butter*)
2 C. All-Purpose Flour
1/2 Tsp. Baking Soda
1/4 Tsp. Sea Salt
1 C. Vegan Chocolate Chips (I used TJs brand)
Pre-heat oven to 325 degrees F.
Prepare flax egg by combining 1 Tbs. ground flax with 3 Tbs. water. Allow to set for 3-5 minutes until it has a gel-like consistency (similar to an egg).
In a large bowl, mix melted Earth Balance and sugars until combined. Add flax egg, vanilla, and fig butter and mix until smooth.
Sift in flour, baking soda, and salt and mix to combine. Batter will be very dry and crumbly at first.
Fold in chocolate chips.
Refrigerate dough for 20 minutes, then spoon using a cookie dough scoop or heaping tablespoon onto a parchment-lined baking sheet, 1-2 inches apart.
Use a spatula to flatten dough balls slightly.
Bake for 15-17 minutes, until golden around the edges.
Allow to cool completely for optimal texture.
I used a KitchenAid stand mixer and recommend doing the same if you have one, as the batter is very thick.
If you're using pumpkin butter instead of fig butter, just keep in mind that it contains honey. I'd also recommend adding a Tsp. or so of pumpkin pie spice to bring out the pumpkin flavor.