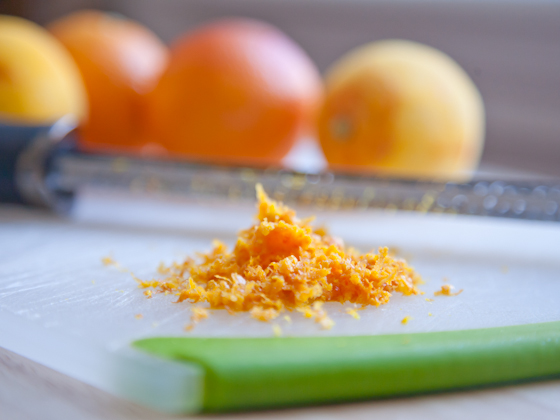 To say I'm obsessed with citrus right now would be an understatement. Between tart kumquats and ruby red grapefruits, my vitamin c intake is doing just fine.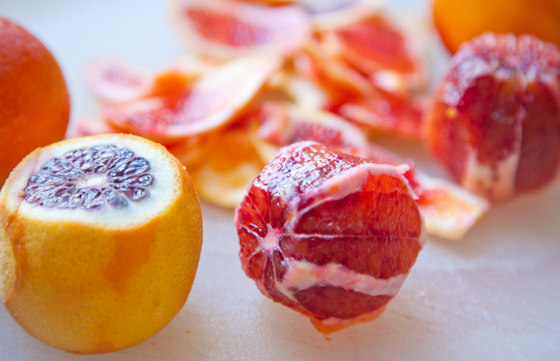 But out of all of the awesome citrus available right now, I was perhaps most excited to find blood oranges at TJ's this past week. I don't personally find them to be any more delicious than regular old oranges, but their color…this alone is reason enough for me to make a special trip to the grocery store.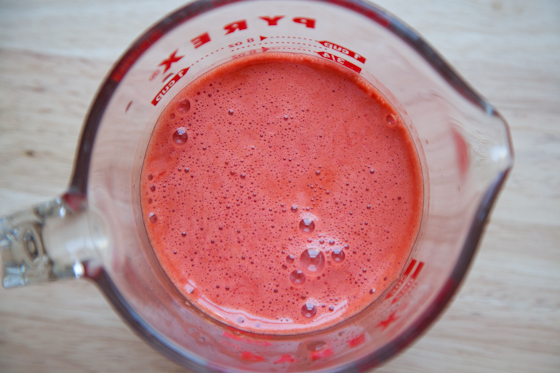 I was so happy with how my lightened-up, chocolate-glazed orange donuts turned out the other week (subbing in applesauce for half of the oil), that I had to make them again – this time using blood oranges. And while I don't really buy into all of the hype that comes with Valentine's Day, I have to admit that I was excited to make a pink powdered-sugar glaze with a little of the blood orange juice. I had hoped that the donuts might also come out a lovely, light shade of pink, but no such luck. I think a little food coloring (or perhaps beet juice?) would be necessary.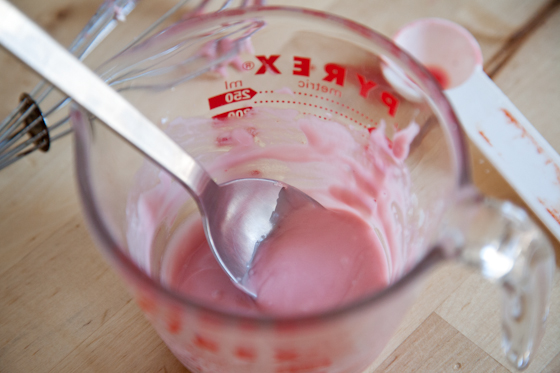 So, while Aaron and I will be spending our Valentine's Day with Olive at puppy training, I recommend that you consider baking up a batch of blood orange donuts with a citrusy chocolate glaze. Don't worry if you don't have a donut pan – these make excellent cupcakes muffins, too.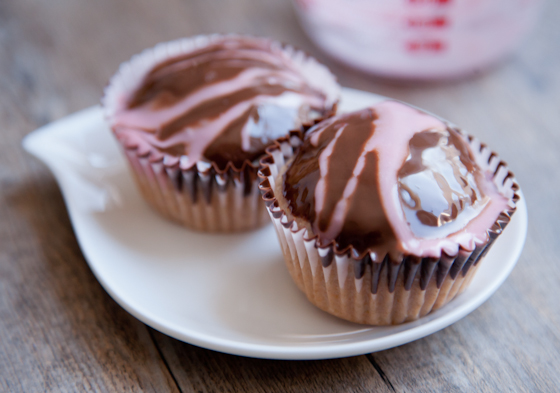 I'll just let the photos speak for themselves…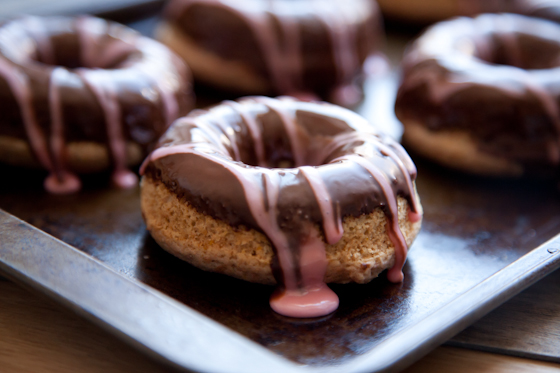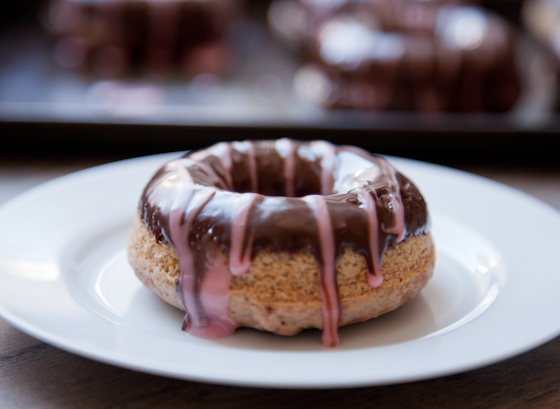 And my favorite part of the process…
It's a tough job, but someone has to do it.
| | | |
| --- | --- | --- |
| Chocolate-Glazed Blood Orange Donuts (Vegan) | | |
Author:
For the Donuts:
1 C. All Purpose Flour
1 C. Whole Wheat Flour
1 Tbs. Baking Powder
1 Tbs. Blood Orange Zest
1/4 Tsp. Salt
3/4 C. Freshly-Squeezed Blood Orange Juice
1/2 C. Granulated Sugar
2 Tbs. Coconut Oil, melted (or other vegan buttery spread)
2 Tbs. Unsweetened Applesauce
1/2 Tsp. Pure Vanilla
For the Chocolate Glaze:
1/2 C. Vegan Chocolate Chips (I used TJ's brand)
1 Tbs. Coconut Oil
For the Blood Orange Glaze:
1/2 C. Powdered Sugar
2-3 Tsp. Blood Orange Juice
Pre-heat oven to 350 degrees.
Lightly grease a donut pan.
In a large bowl, combine flours, baking powder, and salt.
In a small bowl, combine blood orange zest, blood orange juice, granulated sugar, melted coconut oil, applesauce, and vanilla.
Add wet to dry and mix until just combined. Be careful not to over-mix.
Spoon or pipe batter into greased donut pan.
Bake for 10-12 minutes, until donuts are golden brown and firm to the touch.
Allow donuts to cool slightly before transferring to a cooling rack.
While donuts are cooling, prepare the chocolate glaze by melting the chocolate chips and coconut oil, and the blood orange glaze by combining the blood orange juice and powdered sugar until no lumps remain (add the blood orange juice 1 Tsp. at a time until you reach the desired consistency).
Dip each donut into the chocolate and allow the chocolate to set for 1-2 minutes. You can put them in the freezer for a minute to expedite the process.
Drizzle the blood orange glaze over the tops of the donuts.
I used a donut pan from Crate & Barrel, and this recipe made about 6 small donuts, plus some leftover batter that I used to make 2 muffins. Donut pans can vary a lot in size, so donut yield will likely vary. You may need to adjust your baking time accordingly.
No donut pan? No problem! You can use the batter to make delicious muffins. Just be sure to bake them for an additional 3-5 minutes until a toothpick inserted in the center comes out clean.